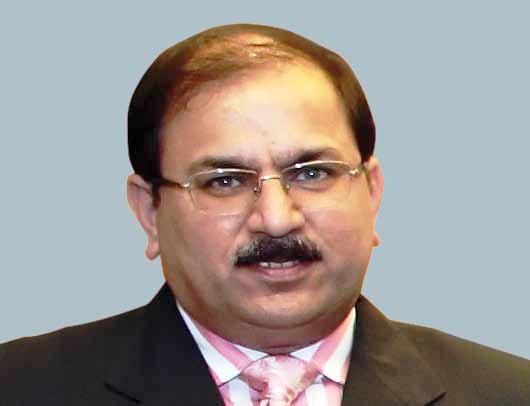 Arvind Mehrotra
President, Asia Pacific & Middle East,
NIIT Technologies Ltd
"The process of Change Management has to be approached scientifically and imbibed in an Organisations' DNA, before introducing a new initiative," says Arvind Mehrotra, President, Asia Pacific & Middle East, NIIT Technologies Ltd
About Arvind Mehrotra 
An Advance Management Program alumnus of the Michigan Business School, Arvind holds a Master of Business Economics degree from the Delhi University, where he specialised in Systems & Finance. He graduated from the Hindu College in Delhi as a Bachelor of Mathematical Statistics.
Arvind has an overall experience of 26 years, of which 10 years were spent in the User-Industry and 16 years in IT Services. He joined NIIT Limited in 1995 and then in April 2004 transitioned to NIIT Technologies.
In his current role as Independent Business Unit Head at NIIT Technologies, he presides over an area that includes the Middle East, India, Asia and Australia. He is also responsible for Cloud Services and IP Assets. He manages a team of 1700 plus resources in the region. Arvind's core competencies are in Engagement Management, Technical Delivery, Process Management and Technology Management.
Education : MBE, BA Maths Stats and Management Program from Michigan
Recognition : Global Leadership Award, Chairman Quality Club and Presidents Club for speed and innovation
Passion : Music, Books (historical, humours) and Movies
Key Strengths : Team work, Ideation, Techno Commercial
Favourite Pastime : Watching Movies and Relaxing
Favourite Gadget : iPad & BlackBerry
Management Tip : Do it right the first time and have passion & heart for ideas
Fitness Mantra : Do it your way
The e-Governance vertical in the country has seen large amount of developments in the last few years. Tell us about your view of the way in which e-Governance is developing.
e-Governance has already moved from mere breadand- butter IT Infrastructure deployment to projects focussing on Capacity Building, Civic Engagement and People's Participation, Data Digitisation and Migration. Now we have started moving from e-Governance to m-Governance, in which we can use mobiles for delivering government services. Although the emphasis has been primarily on automation and computerisation, state governments have also endeavoured to use ICT tools for connectivity, networking, setting up systems for processing information and delivering services. The thrust has varied across initiatives, with some focusing on enabling the citizen-state interface for various government services, and others focusing on bettering livelihoods.
What are the landmark initiatives in e-Governance that NIIT Technologies has been a part of? What kind of initiatives would you like to be associated with in future?
We have been part of BSF & CRPF modernisations through the implementation of our projects Intranet Prahari & SELO, respectively. In BSF we've created an Enterprise-wide IT system encompassing HRMS, Financial Accounting, Payroll, Document Management & Inventory Management system for all BSF battalions across 237 locations. We have also developed the IT infrastructure, including the establishment of DC & DR and 10 mini-DC's at BSF's frontier HQ. In CRPF too we've created a similar IT system.
We are now associated as the SI partner in Union Home Ministry's CCTNS project in four states. In this project, we will also be providing training to police personnel, ranging from capacity building, change management workshops, rolebased and application-based training. We will be customising the CAS application as per each state's requirements & also creating IT infrastructure that will manage operations from the Police HQ to Police Station. Going ahead, we will be focussing on Mission-Mode Programmes of NeGP like e-District, ULB's etc.
NIIT Technologies has developed many solutions for banking. Tell us about your solutions that are especially meant for promotion of financial inclusion.
There are both supply side and demand side challenges restricting inclusive growth. From the demand side, the main barriers are the lack of awareness about financial services and products, limited financial literacy, and social exclusion. Many of the generic financial products are unsuitable for the poor. Banks and other financial services players are largely expected to mitigate the demand side processes that prevent poor and disadvantaged social groups from gaining access to the financial system.
Our suite of products in BFSI domain has been specifically designed for banks and MFI to meet the challenges in banking the unbanked in a cost effective manner. For example, BankingEasy, one of our BFSI products, captures customer enrolment details, facilitates unique identification and can offer multiple financial products. These features are enabled through the hand-held devices carried by the business agents on the field. The application on the hand-held devices can perform a biometric authentication even without a smart card. It has the functionalities such as – Client enrolment as per KYC, Creation of Savings, Loans accounts, Issuance of identity cards, Online and Offline transactions, Cash Management and Agent Management and Reconciliation.
What kind of role is NIIT Technologies playing in the rural areas of the country? Do you see the smaller towns and the rural areas as viable market?
BankingEasy is targeted towards the complete spectrum of co-operative banking. The co-operative banking sector in India comprises of District Central Co-operative Banks, Primary Agricultural Credit Societies, Regional Rural Banks, and Urban Co-operative Banks. The service areas of these banks are mostly in rural and semi-urban regions, exception being UCBs and Head Offices. The agricultural module in Banking Easy provides entire gamut of banking products and schemes for Loans, Deposits, Withdrawals and Subsidy Management, tailored for the rural sector. Our CBS empowers banks to define products through its flexible product definition capability. The trade finance module is integrated seamlessly with the core banking solution to give an end-to-end perspective to the trade finance needs of the rural sector. The module supports multi-currency processing of trade products such as bank guarantees, inland bills and remittances. Agricultural loans for Primary Agricultural Credit Societies (PACS), and Kisan Credit Cards are some of the key features. Elaborate workflows for loan creation, sanction/rejection and disbursement are provided. Extensive master information can be captured at multiple levels: PACS, Taluka, Village, Land, Crop and Farmer. In addition, there are schemes to meet the credit needs of dairy, handlooms, sugar and such other affiliated cooperatives.
"e-Governance has already moved from mere bread-and-butter IT Infrast ruct ure deployment to projects focuss ing on Capac ity Building"
In your opinion, what are the main challenges being faced by Government/ organisations in eService delivery while working in the e-Governance area? Share with us the experience of NIIT Technologies?
Change Management is very important. As organisations, both Private as well as Government, transition towards sleeker business processes, the change is met with resistance. A large number of projects fail, only because this transition is not handled correctly. The stakeholders are not taught and graduated into the new process, rather it is thrust on them as an additional load. The process of Change Management has to be approached scientifically and imbibed in an Organisations' DNA, before introducing a new initiative. This basic step goes a long way in successful implementations. To ensure smooth Change Management, we conduct extensive training programs spread across multiple locations PAN India, enabling organizations to understand and changeover to the new system without bias. We have trained more than 75,000 personnel in the CCTNS projects, 40,000 personnel on the BSF Intranet Prahari Application,till date.
Follow and connect with us on Facebook, Twitter, LinkedIn, Elets video