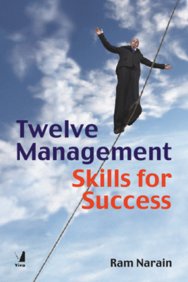 Title: Twelve Management Skills for Success
Author: Ram Narain
Publisher: Viva Books Pvt Ltd
Pages: 432
Price: 395
Quick Tips for Management
While providing his tips on management, the author has also done first-hand assessment of management that is currently being practised. Ram Narain does not believe in wasting the reader's time. In the preface, he states that his book can enable readers to acquire management skills in just 18 days. "Therefore the reader gains not just in terms of saving money, he saves in terms of time also."
As the title reveals, in all, twelve different types of skills are discussed in the book. Each chapter is followed by a detailed annexure in which detailed information for further study and training is presented in an easy to use format. Some of the case studies that follow the different chapters give examples of the practical implementation of the management tips that have been discussed. The biggest enemy of any business, according to the author, is lack of time management.
Written in a lucid style, Ram Narain's book lays bare the thin 'science' of management theory. There are vital performance and career lessons here for managers at every level, and, best of all, the book shows you how to apply them to your own situation. However, the greater cause of the book is to introduce more humanity and apply less bad science in the way we go about conducting our business.
The author is Deputy Director General (Security), Department of Telecommunications, Government of India
---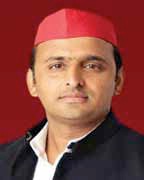 UP Plans to Roll Out 60 e-Gov Services in 2013
The Uttar Pradesh government has decided to expand the ambit of its e-governance services from current 26 to 60 by the end of 2013. Currently the state government is running 26 services in eight departments through Internet-enabled common service centres set up at the village level in all the districts of the state. The new services to be launched this month include filing of commercial tax (VAT returns) and women literacy programmes. A pilot project of this scheme is already being carried out in Maharajganj, Mirzapur and Sonbhadra districts of the state and is targeting to make 10,000 women literate by March 2013
---

Mamata's Big Boss Act
CCTVs will soon be monitoring the attendance of government employees in West Bengal, recording in and out times of employees to ensure that they reach by 10:30 am and complete their shifts. The Mamata Banerjee government will launch the pilot project at the West Bengal Essential Supplies Corporation on February 1, 2013, hidden cameras for which have already been installed. These shall be monitored by Food Minister, Jyotipriya Mullick.
In yet another move, the state government is to roll out e-district project this year, whereby every district shall have an IT hub with incubation centres by 2014. Once implemented, all government services in the state will be made available online, informed Partha Chatterjee, Minister for Commerce and Industry, Government of West Bengal. Riding high on the success of recently introduced online file tracking systems in all government departments, Chatterjee claimed that West Bengal was one of the best states in e-governance.
---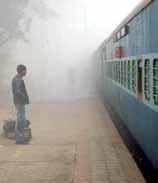 Get Fog Updates on Web
The Centre for Railway Information Systems (CRIS) in alliance with railyatri.in has launched its mini-site (http://events.trainenquiry.com/fog) for providing latest information on fog and trains delayed by it. The mini-site shall be updated every 2 to 10 minutes to give passengers status updates related to fog reports on routes over the last 24 hours, current-time list of trains affected by fog, cancellations and diversions due to fog and trains rescheduled from origin.
---
Centre Grants 13 Crore to Chandigarh
The Centre has cleared a 13 crore proposal of the Chandigarh administration's e-Governance plan that will enable the government to offer public utility services like payment of water and electricity bills through online mode. The UT administration will set up the hardware infrastructure in various departments of the government and will also launch a portal for the people to subscribe to the government services. The online delivery of the services will be broad based with involvement of a number of government departments and for this they will also digitise the records.
Follow and connect with us on Facebook, Twitter, LinkedIn, Elets video