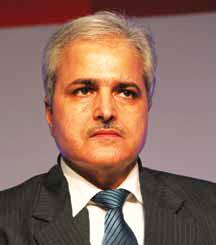 Vimal Wakhlu, Chairman and Managing Director,Telecommunications Consultants India Limited

Vimal Wakhlu, Chairman & Managing Director of Telecommunications Consultants India Limited (TCIL) has gained a large following for not only the role played in the Public Sector but also in e-Networking for tele-education, tele-medicine – a subject of no small concern today to locals and foreigners alike. We often refer to the good ICT and network progress here on these pages, so we thought it was about time we get to hear from Vimal Wakhlu about PAN Africa e-Network project and even more
Telecommunications Consultants India Limited (TCIL) was formed 35 years back with the objective to operate in international markets, taking technology and expertise in the field of telecom and IT to other developing nations. Till about six to seven years back our main focus was on telecom sector and the wireline communication, in particular. But with the advent of wireless communication, the wireline communication business went down, and that was the time we ventured into wireless communication by entering into new collaborations.
We were one of the first operators to get license in Rajasthan. We are operating Cellular Telephone Services in Rajasthan through Bharati Hexacom Ltd, a joint venture promoted
by TCIL and Bharti Televentures Ltd , New Delhi.
At the same time, we also started focusing on e-Networks and were awarded this major Rs 542 crore PAN Africa e-Networks project from the Ministry of External Affairs for Teleeducation , Tele-medicine services and VVIP connectivity. The PAN Africa e-Network was conceived by Dr A P J Abdul Kalam, who had offered this network to all the 53 nations of
the African Union. The project is completely funded by the Government of India.
Connecting countries through e-Networking
At present, 48 countries are a part of this project. While it is fully implemented in 47 countries, the project in South Sudan, a recent entrant is on the anvil. TCIL has established the
Network with a Data Centre in TCIL Bhawan, New Delhi which acts as a gateway to the Hub Station in Dakar for connectivity of Indian institutions with the African side.
The five Indian Universities from where tele-education services are being privided from India to Africa are: Amity University, Noida; IGNOU, New Delhi; BITS, Pilani; University of Delhi; and University of Madras.
Tele-Medicine Service and Continued Medical Education (CME) is being provided from 12 Super Specialty Hospitals in India.
For Tele-education, five Regional leading University Centers in Africa, and for Tele-medicine five Regional Super Specialty Hospitals in Africa are playing the same role as their Indian counterparts. After completion of five years in July 2014, these five hospitals and five universities of Africa are going to play a major role in the same way as 12 Super Specialty Hospitals and five Universities of India.
Tele-medicine & Tele-education
The need based tele-medicine consultations are regularly being conducted from Super Specialty hospitals in India to the African countries. Moreover, regular Continued Medical Education (CME) sessions are being held from the 12 Indian Super Specialty Hospitals. We organise interactions between Indian doctors and the doctors from different African countries. On an average, 50-60 doctors attend the sessions and there are 72 such session in a month.
I would like to mention about the case of a 14-year-old child in Senegal, who had brain tumor and had been suggested surgery abroad However, the case was taken up through telemedicine consultation with Fortis Hospital in India. A surgery was conducted with the doctors from Fortis Hospital on line. The surgery was successful and the child survived. I am sure in future there will be many more such stories to share on the achievements of the project.
As part of the tele-education services from India, more than 9,960 students from Africa have been enrolled in five different top-ranking universities in India in various disciplines.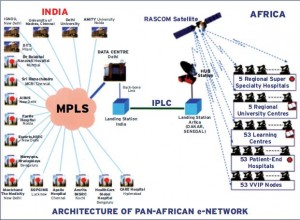 With the objective of sharing experiences of eminent personalities, we invited Dr A P J Abdul Kalam for a special lecture from the Pan African Studios of TCIL Bhawan on Empowering 3 Billion , and received an overwhelming response from Africa. As many as 1,800 people attended the session and some 83 questions were answered. Questions usually are taken directly, during the online lecture.
Moving Ahead
Apart from Africa, we have also done some work in SAARC nations. All the SAARC Nations are supposed to be a part of the SAARC e-Network Project, which has not yet been made possible due to some challenges. However, we have implemented this in Afghanistan, Nepal and Bhutan. These are linked to IGNOU for education and to Sanjay Gandhi PGI Lucknow and PGI ,Chandigarh for Continued Medical Education and Tele-medicine facility. ASEAN and Eurasia e- Networks are also on the anvil.
As we understand that the future lies with rural India, TCIL is associated with the Government of India's plans of extending optical fiber to about 2,50,000 villages with panchayats as a
first step,called National Optical Fibre Network (NOFN) Project of the Department of Telecom, Government of India. TCIL is establishing the PMO (Program Management Office) on the lines of modern Project Management principles . This connectivity, wherein each village gets about 100Mbps of BW, would ensure all the applications including e-Education, e-Health, e-Governance, m-banking, e-Commerce extend to the rural India.
Numbers pose a big challenge as we cannot provide the type of health services to 1.2 billion people like the ones available in the UK and other developed nations. The Tele-medicine program, as we understand is a workable alternative for the areas where infrastructure poses a challenge. It has got full potential to meet the healthcare needs in about 6,37,000 villages in India. Having a doctor in each village may be a mandate, and need of the hour, but looking at it from the doctor's perspective, it becomes difficult to expect their presence in the villages for a long time, where they are deprived of quality needs for their family. In the absence of electricity, good schools and colleges for their children, etc, it becomes all the more difficult to create the desired motivation for the doctors.
I would like to share the instance of Odisha where one such which is at the pilot stage, is likely to contribute significantly towards success of the healthcare sector. Odisha is  experimenting with an arrangement under PPP (Public Private Partnership) model whereby a 10+2 qualified person from the same village is trained as a paramedic on the use of medical equipments, and is provided with a compact medical kit which includes ECG machine, BP Monitor, Gluco-meter etc; a laptop and mobile phone.
 Number of African Union member states
that have associated with TCIL on e-Network
Programme
Western Africa: Benin, Burkina Faso, Cape
Verde, Cote d'Ivoire, The Gambia, Ghana,
Guinea,Guinea-Bissau, Liberia, Mali, Niger,
Nigeria, Senegal, Sierra Leone and Togo
Eastern Africa: Comoros, Djibouti, Eritrea,
Ethiopia, Kenya, Madagascar, Mauritius,
Rwanda, Seychelles, Somalia, Sudan,
Tanzania and Uganda
Southern Africa: Botswana, Lesotho,
Malawi, Mozambique, Namibia, Swaziland,
Zambia and Zimbabwe
Central Africa: Burundi, Cameroon, Central
African Republic, Chad, Congo, DRC, Gabon
and Sao Tome and Principe
Northern Africa: Egypt, Mauritania and Libya
The villagers can dial toll-free number in case of medical emergencies. The paramedic person visits the patient in response, opens his laptop and establishes link with the call centre in a major town. Through this a link is established with the doctor. The doctor suggests medical tests that need to be conducted. Once the test are conducted by the paramedic, they get displayed on the screen before the doctor, and based on that the doctor suggests further line of action and medication. In case the doctor needs help, he can take the specialist on the line , and they can jointly decide on the line of treatment. In case they feel that it is an emergency, and the patient can not be treated remotely, knowing the GPS location of the paramedic, ambulance can be arranged from the nearest hospital. This network would ensure reasonable health services, without the need for full conventional infrastructure. With the advantages of technology, I feel, there is a lot of potential in these health services which we can be provide in a developing nation like India. e-Education is another area which I feel has a lot of potential. The government has taken some good initiatives including through the establishment of National Skill Development Corporation We can create a big resource pool of young people, using e-education.
Follow and connect with us on Facebook, Twitter, LinkedIn, Elets video