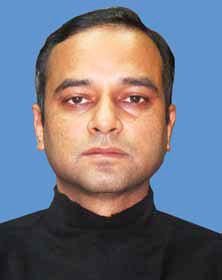 Siddharth Mahajan
Commissioner (Investment & NRIs),
Bureau of Investment Promotion (BIP),
Rajasthan
"Since its inception, BIP has contributed to the economic growth of the state by facilitating investments in many sectors such as Solar & Wind power generation, IT/ITeS services, Engineering & Auto services, etc.," says Siddharth Mahajan in conversation with Nayana Singh
Give us an overview of your plans to bring more investments to Rajasthan. What is your vision for the Bureau of Investment Promotion?
The Bureau of Investment Promotion (BIP) is the agency in charge of investment promotion and single window clearances in Rajasthan. BIP also plays a significant role in developing investment policies for the State. Our mission is to support investors that are exploring investment opportunities in Rajasthan. Services are focused on investments above INR 10 crore. We have a multidisciplinary team with sector-specific expertise, which allows us to provide prospective investors with value added advice and information.
Give us some idea of the kind of investments that BIP has facilitated in Rajasthan.
Since its inception, BIP has facilitated investments in many sectors like solar & wind power generation, IT/ITeS services, engineering & auto services, agro, food processing, mineral based industries, textile, tourism, gems & jewellery, cement industry, steel-plant, hotelsresorts, hospitals, educational & technical institutes, etc. BIP is also involved in establishment of big brands in the state, thus contributing to the industrial and economic growth of the state.
Tell us about the Single Window Mechanism through which BIP can receive permit/license related applications.
The Rajasthan Enterprises Single Window Enabling and Clearance Act became effective in the state from December 27, 2010, to provide accelerated and time-bound grant of various licenses, permissions and approvals and to enable an alternative single window clearance mechanism to be triggered in case of failure of competent authorities to act in time. The objective was to create an investor-friendly environment in the state. This is an online single-point interface between investors and various government departments/agencies. The  Act is aimed at ensuring smooth, simplified and hassle-free procedure for setting up industries and fructifying investment in the state.
What are the main attractions for investors in Rajasthan? What are the key sectors in which investors are putting their money in the state?
The state's key areas of strength include mineralbased industries, textile, tourism, solar & wind power generation, engineering & auto, agro / food processing and gems & jewellery. Rajasthan enjoys a distinct advantage in these sectors. It is also the leading producer of cement and metals such as copper, zinc and lead, and is the largest producer of marble and stones in the country. Besides this, responsive administrative support, rapid industrialisation and employment generation, and easy access to major ports
on the west coast, northern, central and western markets in the country are the main attractions for investors in Rajasthan.
Is BIP taking any special step to ensure that large projects don't get held up?
Introduction of the Single Window Mechanism, RIIPP, RIPS-2010 are some of the key steps taken by the state government to improve the investment climate in the state and to provide investors a hassle-free investing experience. BIP has always been actively involved in coordinating between investor and other government departments for facilitating speedy clearances. At the same time, BIP has also taken up rationalisation and simplification of government regulation and procedures partnership with the International Finance Corporation (IFC) – the Knowledge Partners for the state.
Follow and connect with us on Facebook, Twitter, LinkedIn, Elets video