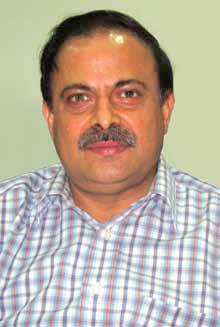 Rajeeva Swarup
Principal Secretary, Higher Education,
government of Rajsthan
"We place great emphasis on computer education. However, the penetration of technology in government-owned institutions will take time, hence we are encouraging private sector to take up more such projects," says Rajeeva Swarup in conversation with Nayana Singh
Give us an overview of the schemes that the Government of Rajasthan has  launched to bring about improvements in the education sector.
Our Government is one of the most proactive ones in the field of higher education. Premier institutes of higher education have been opened in the state in the last four years, which include IIM at Udaipur, IIT at Jodhpur and AIIMS at Jodhpur. IIIT has been sanctioned at Kota. This year the state government has come up with seven new state-funded universities. Three new regional universities—at Bharatpur, Alwar and Sikar respectively—have been carved out within the jurisdictional area of what was formerly under the Rajasthan University. In addition to this, we have set up four specialised universities, one of which will be dedicated to teaching Law at Jaipur, one for Police and Security related at Jodhpur, one for Tribal Affairs at Udaipur, and one for Journalism and Mass Communications at Jaipur. Another one on Sports is in process. The number of universities within Rajasthan will go up to 23.
We also encourage the private sector to set up private universities in the state and are hoping to make the state an educational hub. They have set up a total of 33 private universities in Rajasthan, which is quite an impressive number; more are in the pipeline.
Apart from setting up of new universities what other steps have been taken up by the state government to improve the education scenario?
To encourage the private sector for opening colleges in remote areas, a scheme has been announced for providing finacial assistance for opening colleges in tehsil headquarters where either no college exists or only one college exists. For the students, the Chief Minister has announced distribution of laptops to the toppers of various courses in the state-funded universities. The CM has also
announced financial assistance of `500 to `100,000 to poor students. The amount will be granted to them for five years. We are planning to set up English speaking labs in all colleges over a period of three years. We place great emphasis on computer education. However, the penetration of technology in government-owned institutions will take time; hence we are encouraging private sector to take up more such projects.
Students often complain of not being adequately trained for jobs right after graduating from colleges. So how are you addressing this issue?
We are providing the additional support of career counselling to college students. We understand the importance of having fluent communicative ability in English language in the present times. Therefore, to help students develop this skill, we have introduced English labs. The Rajasthan Mission on Skill and Livelihood has adopted ambitious projects for the purpose of skill development among students.
What initiatives have come from the state government to eliminate gender discrimination, especially in higher education?
We have exempted fees for girls who are keen on pursuing their studies. This benefit is being given to female students' right from school level and is extended up to higher education level. Girls' colleges have also been opened.
How do you envision the educational progress of the state some years from now?
Today in Rajasthan we are having a below par performance in gross enrolment ratio. We are making many new endeavours to ensure that we catch up very shortly with the rest of the nation. It will be a great achievement, considering the fact that Rajasthan is an educationally backward state. Thereafter, given the amount of investment we are doing in the Higher Education space, we hope to reach progressive heights in the country.