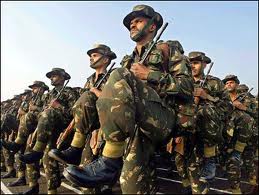 New Delhi: All three pillars of Indian military are facing manpower shortages, said Defence Minister A.K. Antony in the parliament on Monday.
The Indian Army is facing a shortage of 10,100 officers and 32,431 men below officer ranks. Indian navy also has a shortfall of 1,996 officers and 14,310 sailors while the air force is short of 7,962 personnel including 962 officers and 7,000 airmen.
Mr. Antony said the naval shortages were counted on September 30 and the air force shortfall on December 1.
Major reasons for the shortage, as the minister said, were difficult service conditions, perceived high risks, stringent selection criteria and lucrative alternative career avenues.
He said the number of military personnel who took premature retirement slipped from 8,563 in 2009 to 8,492 in 2010 and again rose to 11,760 in 2011. The number for 2012 was 10,822.
The government had taken a number of steps to encourage youth to join the armed forces, Mr. Antony informed. These included conducting recruitment rallies and media campaigns to attract the young to join the army, navy and air force. He said the government had also taken steps to make military jobs more attractive.
Follow and connect with us on Facebook, Twitter, LinkedIn, Elets video