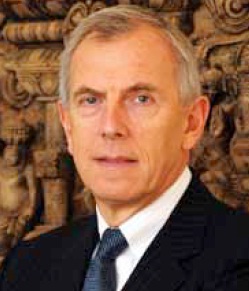 Marten Pieters
Managing Director and CEO
Company Name
Vodafone India Limited
Head Office
Indiabulls Finance Centre Tower 2 & 3, 7th Floor, Senapati Bapat Marg Elphinstone Road, Mumbai 400013
Tel: 022 – 7171 2000
Website: www.vodafone.in/business
Email: connect.vbs@vodafone.com
Sector
Telecommunication
About Us
Vodafone India, a member of the Vodafone Group, commenced operations in 1994 when its predecessor Hutchison Telecom acquired the cellular license for Mumbai. The company with revenues of over INR 32,000 crores has operations across the country with around 153 million customers. Vodafone India has firmly established a strong position within the Vodafone Group too, making it the largest subscriber base globally. This journey is a strong testimony of Vodafone's success in a highly competitive and price sensitive market. At the Global ET Telecom Awards 2012, Vodafone India received the award for 'Value Services –Rural Innovation Category'. Vodafone India has been awarded the 'Best Marketing Company for 2011' in a survey conducted by a leading financial daily. The company received the 'Most Admired Telecom Operator' and 'Best 3G Operator' awards at the recent Telecom Operator Awards 2012. Vodafone Business Services received the "Best Enterprise Service Provider" at the Frost & Sullivan Awards 2012. The company has also received the globally recognized prestigious 'Product of the Year 2012' consumer award for Vodafone Apps Store in the Mobile Services Category.
In another survey conducted by Nielsen, Vodafone India was the only telecom player in the Top 10 'Most Exciting Youth Brands' in India. At Vodafone, sustainability is an integral part of the company's mission and strategy, shaping the conduct of business every day. Vodafone India, in line with its group philosophy has released the Corporate Sustainability Report for India – Footprints 2010-11. To view the online version of the report, please visit www.vodafone.in. Vodafone India has been awarded the prestigious "Golden Peacock Award" for corporate social responsibility for 2012. Vodafone Group is one of the world's largest mobile communications companies with over 406 million customers as on June 30, 2012. Vodafone currently has equity interests in over 30 countries across five continents and more than 40 partner networks worldwide. For more information, please visit www.vodafone.com.
Categories of Product 
Enterprise Mobility, 3G/2G Data Cards, Smart Phones, Mobile Internet 3G/2G, Vodafone Location Tracker, Collaboration and Conferencing, Toll Free Service, Machine to Machine Solutions, Internet Leased Line, National Private Leased Circuits, International Private Leased Circuits, MPLS VPN, Office Wireline Voice E1-DID, Enterprise Value Added Services and many more.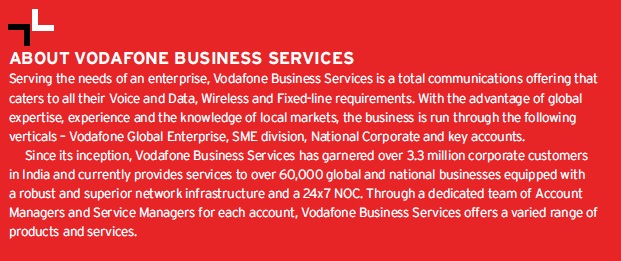 Follow and connect with us on Facebook, Twitter, LinkedIn, Elets video