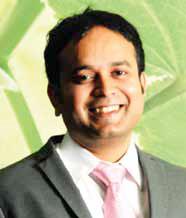 Piyush Somani
Managing Director /CEO
CONTACT
Company Name
ESDS Software Solution Pvt Ltd
Head Office
Nasik, Maharashtra
Address: Plot No. B-24 & 25, NICE Industrial Area,
Satpur MIDC, Nasik 422 007.
Website: www.esds.co.in
Tel: +91-253-6636500
Fax: +91-022-6645 9726
Regional Offices
Delhi, Mumbai, Pune, Patna, Jamshedpur
Contact Person for Clarification
Gitesh Mahajan

Sectors
Cloud Computing, Storage, Cyber Security, Infrastructure


About Us
ESDS is a fast growing web hosting and IT enabled service provider based in Nasik, Maharashtra. The company was started in 2005 by Piyush Somani, and under his able leadership, the company has made rapid strides to establish itself as a major IT solutions company in India. ESDS fully owns and operates a fully managed Tier III data centre in Nasik, Maharashtra. The company specialises in the provision of high quality managed hosting, managed servers, server racks & cages, co-location and system security.
Product & Services
The ESDS team has developed eNLight Cloud – world's first intelligent, auto scalable cloud. It offer cost effective and customized solutions with best in class hardware and fully managed web hosting. R&D team has developed innovative ERP solutions and Core Banking Solutions for cooperative banks and Credit Societies.
ESDS is known for offering the most innovative product and best support by fully trained andexperienced engineers and professionals. Some of its other custom solutions include Backup and Disaster Recovery services, Global Load Balancing.
ESDS offers end to end core banking services along with micro-finance and Financial Inclusion Services ensuring the availability of banking services at an affordable cost to disadvantaged and low-income groups. ESDS' Hosted Core Banking Solution provides banks, credit societies and micro-finance institutions access, via internet, to core banking software hosted and fully managed by a highly skilled team of technology specialists.
Product Categories
Servers, Data Centre, Cloud computing, Disaster Recovery, Core Banking, network management, CRM, SCM, Web Portal Solutions, DMS Solutions, Enterprise Management System, Infrastructure Management, Storage, IT Consulting.
Achievements/Unique Selling Proposition (USP)
• ESDS has won several prestigious awards including Best Government to Citizen Initiative of the Year Award 2012, Best IT Enabled Services by Government of Maharashtra in 2011, IT Enterprises Special Award by Maharashtra Government 2009 among others. Our Prestigious clients include MahaUrja, MahaVitaran, NHRSC, MPSC and Maharashtra State Election Commission.
• One stop solution for all IT needs, Premium Technical support, Green Infrastructure, Innovation
Follow and connect with us on Facebook, Twitter, LinkedIn, Elets video