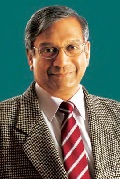 V P Raja, Chairman, Maharashtra Electricity Regulatory Authority, walks us through the pivotal areas of electricity generation and electricity distribution. In conversation with Rachita Jha, he sheds light on the challenges that India needs to overcome for attaining energy security.
---
Power has a direct co-relation with GDP. Please share with us your views on the impact that power sector reforms have had on the country?
Reforms have been attempted in power sector for more than 20 years. But it has always been two steps forward and one step backward situation. The recent population census of India shows that the country is home to more than 1.21 billion people, and more than 50 percent of this population is below the age of 25 years. This makes us one of the youngest countries in the world. We can enjoy a huge demographic dividend if we can provide this young population with good education, healthcare and employment opportunities. However, if we fail in any of them then it can lead to stress and strife. The kind of employment that needs to be generated for this growing population is also important as majority will be absorbed in the secondary and tertiary sectors-such as the manufacturing and services industry. Since we are talking of inclusive growth, the real employment should come up more in manufacturing, as the sector requires skills. Now these sectors are highly dependent on commercial energy for their growth and sustenance. Hence the availability of electricity and GDP has a direct co-relation between them. If the country has to grow at 8 percent every year, electricity growth should be 10 percent per year. We have to consume our electricity more efficiently, and some beginnings have been made at the national level with introduction of bureau of energy in India.
According to you what are the main challenges to rural electrification?
The green revolution brought back the agriculture sector into the economy, however, with the new varieties of grains came the huge dependence on continuous water supply. As the water had to be pumped for a longtime, rural India witnessed the large scale use of motor pumps that ran on electricity. Thus rural electrification became an essential component of the power sector and free electricity became a part of the political economy and food security. The tradition of free and subsidised electricity is continuing till now and we are caught in the subsidy conundrum as farmers have got used to free electricity and attempts to change have had adverse political ramifications. The new irrigation systems based on free continuous supply of water is pumping excess of water resulting in leaching of pesticides and water pollution. There is a need to re-look on the rural electrification paradigm and how it can be changed to make it viable for generation and distribution.
---
The functions of the Maharashtra Electricity Regulatory Commission as stated under the Section 86 of the Electricity Act (EA), 2003 are as following: 
To determine the tariff for generation, supply, transmission and wheeling of electricity, wholesale, bulk or retail, as the case may be within the State.
To regulate electricity purchase and procurement process of distribution licensees including the price at which electricity shall be procured from the generating companies or licensees or from other sources through agreements for purchase of power for distribution of supply within the State.
Facilitate intra-State transmission and wheeling of electricity.
Issue Licences to persons seeking to act as transmission licensees, distribution licensees, and electricity traders.
Promote cogeneration and generation of electricity from renewable sources of energy.
Adjudicate upon the disputes between the licensees and generation companies and to refer any dispute for arbitration.
Levy fee for the purposes of this Act.
Specify State Grid Code.
Specify or enforce standards with respect to quality, continuity and reliability of service by Licensees.
Fix the trading margin in the intra-State trading of electricity, if considered, necessary.
Discharge such other functions as may be assigned to it under this Act.
Advise the State Government as mandated under Section 86(2) of the EA, 2003.
---
Please share your views on the power generation and distribution conundrum.
Investments are critical for the energy sector and there should be a good mix of government and additional private investment that is profit-based. In the last 10 years, 18-20 percent of investments have been made by the private sector and this has increased in the 12th five year plan. However, at the moment there is crisis, this is because of the sudden mismatch in primary fuel supply and demand – as shortage of coal and gas has hurt the industry. So reforms and increased productivity in the coal sector has become very important. In June 2012, all the thermal power plants put together were working on 58 percent of plant load factor and there is a 42 percent idle capacity due to limited availability of coal. Now the irony is that even if coal was made available, the states lack the purchasing power to buy electricity. As electricity cannot be stored, the moment it is generated it has to be purchased and sold. The major customers of electricity are state discoms and they don't have the money to buy electricity as they are reeling under   losses due to mismanagement of metering of electricity and subsidies, so reforms in the state discoms is a matter of great concern and need urgent attention of the policymakers. In the distribution channels we need to have more of unbundling of political involvement to have 100 percent metering of all the electricity sold.
---
"Coal has lots of ash content and we have to import gas, so nuclear is the way forward"
---
What are your views on the role of renewable energy in India?
We have made lot of headway in the wind energy domain, after Tamil Nadu, it is Maharashtra that is the leading state in wind energy. Solar is a sector in which there has been more focus from the government recently. Gujarat and Rajasthan are doing very well amongst all the states. It has always been an additional component, as these sources are not available in full power all the time. For example, a wind energy power station of 100W will have only 16 percent available power at any given point of time. India has set its target that at least 15 percent should come from renewable by 2020. It will be a big achievement, but it means the rest of 85 percent has to come from traditional sources. Coal sector is the second biggest employer in India, and is currently in dire need of reforms to bring-in better management and productivity in its use. There is also significant focus needed to introduce structural reforms in the electricity generation sectors to have more energy efficiency.
Share with your views on nuclear energy and energy security.
Nuclear energy can power the future of our country. However, currently there is lack of knowledge and scientific know how, moreover fear of the unknown is working against it in India. We need to build a strong scientific base of knowledge and awareness to add more nuclear component in our energy supply. In terms of tariff, it does not make sense to put up nuclear power plants in areas where there is availability of coal mines. Most coal mines are located in the Eastern regions of India. If we consider an 800 km distance from a coal pit, the nuclear tariff and the thermal tariff will be almost the same. Therefore the real benefits of nuclear will be for those states that do not lie in the coal belts. In nuclear energy, the capital cost is very high and the running cost relatively lower. So the initial investments are high, however, the variable costs will be low. Nuclear is an important energy resource for India because of vast resources of Thorium available – currently we have almost  one-third of the world's Thorium resources in the country. And, these are available on beach sands along the coastlines.
As a nation, we can achieve energy security using nuclear energy through a three stage nuclear power programme. We are currently at the beginning of the second stage. In the first stage, we use natural Uranium and the spent fuel of Plutonium generated from the first stage is used as fuel in the second stage. India is building its first fast breeder reactor at Kalpakkam that will be commissioned in 2013. Following, several similar plants will be set up and the third stage will use Uranium-233 will be used. The vast resources of Thorium we can easily move forward towards this three stage nuclear energy generation process and attain energy security. Coal has lots of ash content and we have to import gas so nuclear is the way forward.
Follow and connect with us on Facebook, Twitter, LinkedIn, Elets video