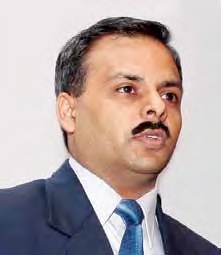 "We at Accenture have implemented large smart grid solutions for multiple distribution utilities globally." Shalabh Srivastava, Principal, Accenture Utilities, India
---
Tell us about the solutions that Accenture is providing to power companies in India for improving their efficiency.
Accenture Smart Grid Services (ASGS) is an integral part of our utilities offerings. Accenture has been involved in various Smart Grid initiatives globally, and can play a crucial role in strategy formulation, IT enablement and programme management of these complex initiatives. We provide comprehensive solutions to handle the "data tsunami" caused by the Smart Metering/Smart Grid interventions. Our strength lies in managing the information explosion into a coherent business benefit plan using our capability for analysing and integrating this data along with required IT enablement.
In India, Accenture works extensively with generation as well as T&D companies. In the field of generation, we have helped multiple companies with IT enablement initiatives on the one hand, such as ERP implementation, and organisational interventions on the other hand, such as L&D (learning & development) strategy. We propose to bring some of our global offerings such as Remote Monitoring & Diagnostics to Indian gencos.
In the field of T&D, we have helped multiple discoms in a variety of ways. We have helped high loss making discoms to completely turn around their business through direct assistance in strategy reformulation, annual business planning, commercial loss reduction, business process re-engineering, organization restructuring, performance management and leadership development. We help utilities sustain their business performance through IT enablement for functions such as billing, customer care, energy audit and ERP. Besides consulting and IT implementation, we undertake outsourcing services also.
Are developing countries like India better prepared to adopt and install such technologies? 
The evolution towards a smart grid-enabled network infrastructure can have a number of drivers, some of which may apply to varying degrees. However, the priority of these drivers will vary from country to country, region to region and even circuit to circuit, based on the legacy network that exists and the underlying objectives of the policymakers and regulators. Implementation of a smart grid needs to be a step-wise process and tailored to fit the specific needs of the region/country, rather than a onesize- fits all solution. In some cases, reliability may dominate the list of outcomes due to challenges faced by an ageing infrastructure and/or expensive manpower, while for some emerging countries it could be driven by the need to improve efficiency and reduce AT&C losses. In these various instances, different physical architectures might evolve that are optimised to the local need. Over time, needs may change and therefore the design philosophy will need to embrace the concepts of flexibility, modularity, scalability and forward compatibility.
Managing electricity grids is an area of concern for a geographically large country like India. Provide us a brief overview of the ICT solutions that go into smart grids.
Smart grid delivers reliable, sustainable, economical and high quality power with optimised asset planning, monitoring, health determination and utilization. We at Accenture have implemented large smart grid solutions for multiple distribution utilities globally, with a substantial part of Accenture's skilled manpower being based within its Indian offices. Accenture has the capability of implementing IT solutions focused on Smart Metering (Meter Data Management), Network Management, Outage Management, Energy Management, Demand Forecasting, integration of distributed (renewable) generation, etc – these software applications form the key ICT solutions that go into Smart Grid. We also have the capability to make integrate these sophisticated applications with the ERP backbone pre-existing at the Utility.
Have you developed solutions for providing e-Governance in the power space?
Accenture has worked extensively with distribution utilities for deployment of ICT tools for the service of the consumers, that too within welldefined SLAs that tend to get stricter by the day. There was a time when it was a matter of innovation for Discoms to set up 24/7 Call Centres, which was the first mode of remote customer touch-point (beyond walk-in at Discom offices). Today, it is quite normal for most Discoms (including Accenture's clients) to present online bills and accept online payments, accept online new connection applications and other complaints and service requests from consumers, set up email ids for received tips on theft / corruption or escalating complaints, etc.  
Follow and connect with us on Facebook, Twitter, LinkedIn, Elets video