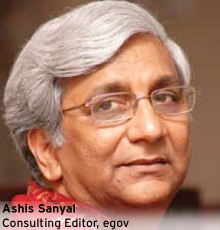 Ashis Sanyal, Consulting Editor, egov
My second son insisted to open his account in a private bank arguing that the  website of the bank is very user-friendly, easy to navigate and the bank collects the chaques from home. Niece of my friend always uses Facebook to interact with her friends in Bengali language using English scripts. One of my young friends jokingly boasted other day that he is trying for a Guinness Record by doing all financial transactions consistently for last one year without using any currency note! Any sensitive news item put in social media, whether on sports, politics, social issue or Bollywood, evokes hundreds of comment within hours.
All these trivial examples indicate the emergence of a new social fabric among the younger generation of our society which Mr Nandan Nilekani  termed as the new demographic order looming large over the country and insisted that India is going to reap very high dividends in coming decades from this scenario. What is this young India like? Two unprecedented revolutions, Internet and mobile, are shaping a generation which may be termed as AM (After Mobile) whereas the previous generation is BM (Before Mobile).  embers of this AM generation have no or minimum time for the second screen (Television, the first screen being Cinema), enjoy films in the third screen (computer screen) and communicate with each other in video mode through the fourth screen (mobile screen). They are very comfortable with various gadgets but seldom go through the operating manuals of those gadgets. They want to utilize their time by blogging, sending e-mails, surfing net for information, easily chatting with hundreds of international friends whom they may not meet in their life time.
The films in their computer hard disk are  downloaded illegally through torrent, mobile ring tones are latest hit numbers getting changed every fortnight, their purchases are mostly effected by through PayPal, eBay, Amazon, Flipkart, Bagittoday, HomeShop18, their personal photos are shared in Flickr and Picasa, travel and personal videos are uploaded in YouTube, they chat only through the Chatbox, they talk to close friends through Skype, they exchange mobile instant messages to avoid high mobile bill and they sell their perceived (!) unnecessary items through OLX, Quikr and so on. We are currently observing such paradigm shift in the social behavior of the younger generation in the country.
Most of these impatient citizens have taken Internet and mobile as granted, for they belong to that time when service providers are awfully busy to create newer value added services riding on 2G and 3G technology for this segment of society, while 4G technology knocking at the door, mobile Internet usage is increasing slowly but in a definitive way and communication bandwidth cost is also coming down steadily. The users of Facebook, created by Zuckerberg, when he was also 20+, had grown, since inception year of 2004 to 2008 at 100 Mn and exploded to 900 Mn+ in May 2012, with 50% of them using it on mobile devices. Since 2003, when Tim O'Reilly firmed up Web 2.0, Flickr, Picasa, YouTube, Orkut, Wikipedia, Blogs, Wikis, Napster etc. followed without which it now appears that the younger generation would not survive a single day! Relation between the members of Netizen 2.0 group and government is rather interesting. They prefer to interact with government only online, for paying taxes, utility bills, submitting returns, booking tickets, grievance redressal, everything.
They believe Government can do  everything better by introducing 'government online' but they seriously doubt government's intention to do so. For any little or no provocation they create soft and hard pressure on government by effectively using new media, through social networking, online campaign, online voting, sms campaign and what not. Some forward-looking departments also responded by opening Facebook account to accommodate vox populi, Delhi Police, MEA, DeitY, NHAI, PSUs and so on, Delhi Police being the super hit one ! Power of the Voice and Web Communication Network was perhaps first demonstrated in this country more than a decade back when Lord Ganesh started sipping milk in some temple here and within few hours the act was repeated in thousands of places around the globe! Lots of water has since flown through Ganga, Yamuna, and Brahmaputra. Now we are  multiplying an aggressive, low attention span but high reflex, boredom-prone but wide interest span AM generation, who perhaps do not know what they want but, for sure, they want it today, if not Yesterday!
Follow and connect with us on Facebook, Twitter, LinkedIn, Elets video