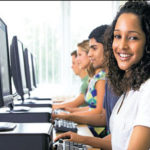 In India, education has always been a top priority and a research conducted by Google upholds this. Today the country ranks second in terms of the number of education-related searches on Google, just after US, a study released by Google India said.

However, though according to the study 60 per cent of the students use the Internet to decide their educational moves, it looks like the providers are not on the same page.
According to Rajan Anandan, Vice-President and Managing Director of Google India, Students are making a large part of their decision based on information available on the Internet when it comes to the type of education they are going to pursue and where they'll pursue it.
However, he added that the digital medium sees only 5 per cent of the total advertising spends from the private education sector, which was at Rs 1,500 crore last year.If 60 per cent of the students are online and their decision-making is being influenced by the Internet, we think the providers have a long way to catch up with the user, he said.
According to the Web-giant, more than half the 120 million Internet users in the country are in the 18-35-years age bracket. And, the number of educational queries is seeing a year-on-year growth of 46 per cent.
The 'Students on the Web' report, compiled by combining Google search query patterns and offline research conducted among 2,229 respondents in the age-group of 18-35 years in seven metro cities by TNS Australia, found that online sources effect the final educational decisions taken by five out six students.
Further, according to the report, fees is the least important criteria for students while selecting an institute of higher education. Instead, placements are the top priority followed by faculty and course content.
Almost 70 per cent students also trust results shown by search engines as they find it more credible thanks to the availability of a large number of user reviews online, Anandan said.
Follow and connect with us on Facebook, Twitter, LinkedIn, Elets video