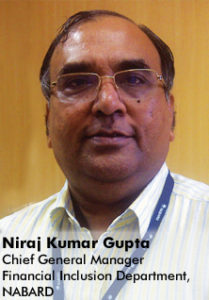 In your opinion what are the broad challenges to financial inclusion?

Firstly, there is the issue of demand-supply mismatch. RBI and NABARD have been trying to strengthen the supply side, by creating a favourable policy environment like relaxation of KYC norms, nofrills accounts, BC points in each village, CBS for weak RRBs, Ultra Small Branches, EBT for government  payments etc, while the demand side has been lagging behind. This can be addressed through financial literacy which is so critical since we are talking about that vast chunk of poor population with diverse socio-cultural backgrounds which is yet to see the usefulness of banking services. Secondly, in spite of the policy push, or maybe because of it, the entire financial inclusion programme is seen as just another government programme with set targets to be achieved. Bankers need to go beyond the targets and look at the whole programme as a business opportunity and not just a CSR. Thirdly, technology which perhaps was at the core of the programme, is far from being the vehicle it was supposed to be and has, on the contrary, become a hindrance. There're far too many players with too many technological issues, like lack of integration of servers, change of TSPs by banks, poor quality machines, lack of support maintenance services etc which all add up at the field level.
Does NABARD see a business potential in financial inclusion?
At NABARD, we believe there is a huge business potential in financial inclusion. There is demand for easy and transparent financial services in rural India. The supply of money to and from farm level has been on a rise as has been the interest of rural Indians in financial products which are provided through the formal banking system. It may be invisible, it may be untapped, it may take a shape with financial literacy, but it exists. A new generation technologies and systems have been developed to provide these services at competitive prices. The rural banking system is slowly but definitely moving towards a CBS enabled eco-system which will relay information on a real time basis. The combination of these three developments can only lead to a vibrant business atmosphere.
What is the future of Kisan Credit Card Scheme?
Consider the variants and facilities linked to credit cards in urban areas to understand the future of KCC in India. Imagine a scenario in which each bank is able to provide a host of facilities in a tech-enabled agri-rural economy through a simple card. Our studies show that farmers, in large parts, are both ready and willing to pay for services. So we essentially need to spend on capacity building, connectivity and technology. These are the three background pillars that will make KCC a truly meaningful financial product for the farmers. As far as profitability is concerned, we are talking about a product which has a ready market for 70 percent of the population. Volumes are guaranteed if we are able to go and micro plan the product still further.
What kind of initiatives is NABARD taking to provide boost to the microfinance segment?
Microfinance has been an integral agenda of NABARD. Apart from pioneering the Self Help Group (SHG) movement in the country, we have also been promoting Joint Liability Groups (JLGs) which are groups of people coming together explicitly for the purpose of availing credit on a joint basis. These two platforms, in our view, have a huge potential of addressing the financial inclusion agenda. The SHG bank linkage project was started by NABARD as a pilot in Rajasthan. The success of a Pilot lies in its adoption by other policy framers and we are proud to say that the NABARD's association with SHG Bank has led to the creation of the largest micro finance project in the world. As a new initiative, NABARD is now focusing very pointedly on LWE and BC  istricts. We have also modified the funding scheme in that the NGO is engaged with the SHGs on a permanent basis on a percentage basis, almost like a BF. The loans to SHGs can today come in the form of both term loans or cash credit limit.  ABARD also has been extending Revolving Fund Assistance to MFIs for lending to SHGs or their individual members.
To what extent has the Kisan Credit Card (KCC) Scheme been useful in extending financial inclusion to rural areas?
NABARD began the KCC scheme in 1998- 99. It was an effort, based upon our field level studies, to provide a farm-based analysis of credit requirements factoring in both, on-field and off-field expenses of a farmer. And we note with a huge amount of satisfaction both the acceptance of the product and the area specific innovations which individual banks have tried
"We believe there is a HUGE business potentiaL in financial inclusion"
on the KCC platform. Today, these efforts have made it one of the most  dynamic financial products for the farming community. In the year 2000 the total KCCs issued by the banking sector were just 7,84,165 whereas the same system issued 100,73,157 cards during 2011-12. The cumulative credit under the KCC Scheme which was just Rs. 2310 Crore in the year of launch has today gone up to Rs. 72,246 Crore.
Tell us about the technological solutions that NABARD is using to promote financial inclusion?
The growth of financial inclusion is intrinsically linked with the growth of technology in this sphere and its acceptance by the various stake holders. At NABARD, as a policy framer, our job is to encourage RRBs and CCBs to adopt technology and provide them hand holding support for doing the same. We have accordingly used funds available to us under FITF (Financial Inclusion Technology Fund) to provide support grant based to RRBs in establishing CBS networks, purchase POS devices and install ATMs. We have also invested in training the line staff of these banks in understanding technology. The latest initiative of NABARD in financial technology has been the establishment of a CERFI (Centre of Excellence for Rural Financial Institutions). The main idea behind this move is to develop a technology platform among these institutions which will enable them to provide Aadhaar based financial services. CERFI, through a nation level Pilot will test check mobile linked cashless transactions, new KCC guidelines about card based credit services as well as other Aadhar enabled financial services. NABARD has been playing a key player in the promotion of selfhelp groups. Please tell us about the main achievements in
this space.
NABARD has been continuously at the forefront in this movement and providing active support to all our partners in the banking and development sectors.
Till date, NABARD has had an active collaboration with nearly 4000 NGO partners in this sector while almost every bank has developed its own micro finance sections and departments. The outreach of this project is phenomenal from the financial inclusion perspective. If we were multiply each SHG by a factor of say 12 we are looking at 97 Million women representing 97 Million households! This is a big achievement within itself and for these reasons has been accepted as an effective tool for inclusive growth.
Follow and connect with us on Facebook, Twitter, LinkedIn, Elets video