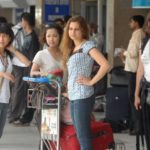 Getting details of foreigners visiting India on valid travel documents is made easy with the government inaugurating the central processing office of the Immigration, Visa and Foreigners Registration & Tracking (IVFRT) system. The system has, so far connected as many as 60 Indian Missions and many immigration offices.
Besides helping foreigners in getting visa quickly and sharing information across the concerned Indian agencies about foreign travelers, the IVFRT will also help in software aided passenger profiling for identifying risky travelers at Missions, Integrated Check Posts (ICPs) and FRROs, and generation of automated alerts about over-stay of foreigners beyond their Visa period.
The system envisages facilitation services to the travelers including on-line application forms, 24X7 on-line channel, phone support for grievance redressal and e-mail/SMS support for dissemination of information, application status and feedback.
Online registration of foreigners at the time of grant of visa and automated updation of the particulars of the foreigners at entry and exit points; availability of a centralized system for sharing of information across the concerned agencies about foreign travelers and improved tracking of foreigners by integrating and sharing information captured during visa issuance at missions, during immigration check at ICPs, and during registration at FRRO/ FROs are some of the main features of the system.
Convergence and integration with other initiatives such as e-passports, e-migration and crime and criminal tracking network for expeditious and informed decision-making is also part of the IVFRT.
Follow and connect with us on Facebook, Twitter, LinkedIn, Elets video