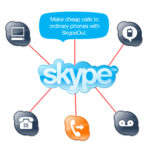 Skype has gained a lot since Microsoft paid $8.5 billion for the Internet calling service. Within seven months, the number of people using the service each month has jumped 26 per cent to nearly a quarter of a billion, affirming Skype's status as one of the crown jewels of consumer Internet services.
But the deal which is the biggest acquisition in Microsoft's history, will ultimately be judged by whether Microsoft can weave the product deeply into its vast product portfolio, providing a superior Skype experience on products as various as Windows PCs and Xboxes.
One important milestone will come this year, when Skype is expected to release a preliminary version of its calling software that runs on Windows 8, a coming overhaul of Microsoft's flagship operating system intended to work well with touch-screen computers. The idea that Skype can give Windows and other Microsoft products an edge is the only way the company can justify the high price it paid, according to analysts' opinion.
Distance has helped Skype stay true to its mission of allowing people to make calls from practically any device connected to the Internet, not just the ones powered by Microsoft software.
Follow and connect with us on Facebook, Twitter, LinkedIn, Elets video