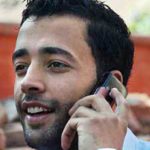 The government is ready to make roaming free and thus usher in a country-wide number portability scheme along with faster broadband speed proposed in the New Telecom Policy.
The Union will be taking up the issue on New Telecom Policy, which will replace a 13-year-old statement, along with a unified licence regime for all telecom services. The unified and class licences proposed by the telecom regulator along with migration of existing ones is different from what the government had planned to do in 2003.
With the Communications Convergence Bill having lapsed, the government has now decided to keep broadcast services out of the ambit of the proposed unified licence regime. It may, however, come into conflict with the New Telecom Policy's proposal for a one nation-one licence plan.
But the industry, which is seeking a lower spectrum fee, is watching the New Telecom Policy keenly as it has suggested a simpler licensing regime along with new tools such as spectrum polling and sharing and even permitting trading at a later stage.
For customers, the new policy will mean that they do not have to shell out a higher amount on roaming charges, although tariffs have come down significantly over the last few years. In addition, it would soon be possible for subscribers to retain their mobile numbers even if they relocate to another city.
The biggest change will be a sharp increase in broadband connectivity as the government plans to set the minimum speed at 2 mbps compared to the existing 256 kbps. The plan is to move into higher gear from 2015.
There may be some bad news in store for foreign telecom equipment manufacturers as the government intends to provide preference to domestically manufactured goods. While the prescription may help develop local manufacturing facilities, the move comes at a time when India is under pressure from the US on local content requirements in renewable energy projects.
Follow and connect with us on Facebook, Twitter, LinkedIn, Elets video