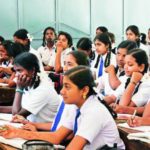 As the Supreme Court has brought all recognised schools under the Right to Education (RTE) Act, the government will have to boost spending by an estimated Rs 2.3 lakh crore needed to RTE fund the initiative over 2010-2014.

In the last two years, RTE has been plagued with fund shortfalls. The HRD ministry received Rs 21,000 crore in 2011-12 instead of Rs 43,903 crore. The allocation has gone up only marginally to Rs 25,000 crore in the current 2012-13 budget.
The final amount spent on the initiative might be higher than the estimated Rs 2.3 lakh crore, as this sum does not include subsidy the government is to pay private schools to implement a 25 percent quota for economically disadvantaged students. The total expenditure will be shared between Centre and states in a 65:35 ratio.
The RTE incorporates the successful Sarva Shiksha Abhiyan (SSA) and the ministry had estimated it would need an allocation of Rs 48,000 crore in the current fiscal. Initially, the government had calculated that it would need Rs 40,500 crore in the first year of implementation.
If the RTE targets have to be met, the government needs 12 lakh teachers. HRD minister Kapil Sibal has said six lakh posts have been sanctioned that need to be filled. RTE sets an ideal 30:1 student-teacher ratio for primary schools.
Follow and connect with us on Facebook, Twitter, LinkedIn, Elets video