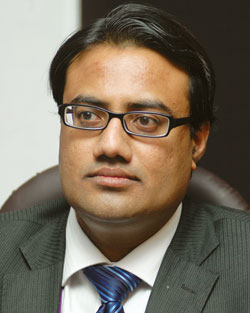 NSN Murty, General Manager, Smarter Planet Solutions – India/ South Asia, IBM

Criminal activities and terrorism have become increasingly organised. These are no longer unplanned actions and are often planned several months or even years in advance. These events might be sudden, but they are predictable. There are methods which are very repetitive. We live in a society which faces multiple threats on a daily basis. We need to evolve mechanisms to deal with these on a systematic basis.
In recent times, some high profile fugitives have been apprehended using analytics capabilities that tracked financial transactions, movements of key people and couriers etc. IBM tools were extensively deployed in tracking down one of the world's most wanted – Osama bin Laden. In India, 19 Police Departments are using our tools and systems for investigations and analysis.
Using analytics, investigators can develop a holistic view of various relationships, correlate call data and movement of key people, identify key addresses out of a heap, analyse financial data to mine intelligence, link UID data to ballistics reports and so on. These tools bring in massive intelligence mining capabilities to investigators. As of now, not only police departments, but also banks and financial institutions are adopting such tools in a big way. For example, the Financial Intelligence Unit in the Union Ministry of Finance has installed an analytics solution which can identify correlations, patterns etc., in data and can then also predict behaviour of people who withdraw an Rs 50,000 or more from their bank account.
As departments move online, there will be disparate sources of information. There will be problems of interoperability, but the analytics that run on top of all these systems will be able to compile all this information, mine intelligence out of it using historical patterns and real time analysis and help in a big way in investigations.
Follow and connect with us on Facebook, Twitter, LinkedIn, Elets video