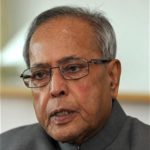 The Economic Survey has been tabled in Parliament by Finance Minister Pranab Mukherjee. The survey states that Rate of growth would be 6.9 per cent. Outlook for growth and stability is promising with real GDP growth expected to pick up to 7.6 per cent in 2012-13 and 8.6 per cent in 2013-14.
According to the Survey, the National Telecom Policy (NTP) 2012, under which government has proposed free roaming throughout the country, is likely to be in place by June.
"Draft of the policy was circulated in 2011 for consultation with various stakeholders. Views/comments from these stakeholders have been received and the same are under consideration. NTP is likely to be in place by June 2012," the Survey said.
The draft of the policy was recently approved by the apex decision-making body of the Department of Telecom (DoT), the Telecom Commission.
Currently DoT is in the process of seeking Cabinet approval. R Chandrashekhar, DoT Secretary, has stated that the draft policy will be sent to the Cabinet by end of March. Cabinet nod is expected by April-end.
Once NTP 2012 is in place, consumers will be able to use the same number anywhere in the country without paying roaming charges. NTP 2012 will also allow subscribers to change operators using mobile number portability (MNP) while moving to any other state or telecom circle.
On the education front, the Survey states that the National Mission in Education through ICT, content generation and connectivity along with provision for access devices for institutions and learners are the most important initiatives.
A major development during the year has been the launch of Aakash, the low cost access-cum-computing device that was launched on 5 October, 2011. Besides so far nearly 400 universities have been provided 1 Gbps connectivity or have been configured under the scheme and more than 14,000 colleges have also been provided VPN connectivity. Creation of e-content for 996 courses in Phase II in engineering, sciences, technology, humanities, and management has been undertaken by IIT Madras. The Consortium for Educational Communication (CEC) has been tasked with creation of e-content for 87 undergraduate subjects. More than 2000 e-journals and 55,000ebooks from 297 publishers have been made available online under this programme.
The Survey points out some institutions like the IITs have, in order to promote innovation, created technology business incubation facilities in their campuses. These are providing to be focal points amongst students and faculty for working towards taking some of their applied research to the market through the creation of business models for the same.
These efforts need to be expanded greatly (a) by scaling up the previously successful centres of such innovations, and (b) by creating many such centres across the higher technical institutions in the country.
Follow and connect with us on Facebook, Twitter, LinkedIn, Elets video