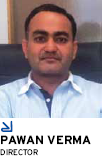 Company name:
Pawas Techno Aliiance Pvt. Ltd.
Head office:
O-3, 3rd floor, Amber Tower, S.C Road, Jaipur-302001
Major Regional Offices:
Uttar Pradesh, Chandigarh, Himachal Pradesh
Contact Person:
Pawan Verma, Director, 09829019212
Website:
www.pawas.in
Customer support helpline number: +91-141-4005400
Company Profile
Pawas Techno Alliance Pvt. Ltd. an ISO 9001/14001 certified company, a power solution provider in Rajasthan with experience of 20 years delivering complete  power solution products like online and offline UPS systems, generators, servo, SVR, inverters, SMF batteries, solar power solutions under one roof spreading all over India. Pawas provides customised power solution to various sectors (Government, Private, Industries, Institutional and PSUs).
Products and Services
Customised power solution provider with products ranging from UPS(On Line, Off Line), servo stabilizer, generators, batteries and inverters and more.
Target Verticals
Government, Industries and Institutions
Achievements and USP
• SWAN Project – UP, Rajasthan, Haryana
• APDRP Project:- Rajasthan, Himachal, Jharkhand, Bihar
• School Education Tenders:- ICT, CALP & DPEP in Rajasthan, Gujrat, UP, Tamilnadu & Himachal Pradesh
• CSC's Project:- 3i Infotech
• e- gram Project – Gujarat
• Various Rajasthan Government Projects: SEC-LAN Project/GRACE Project/ e-mitra Project/RFC/Regn.& stamping/e–District Project/ Police Dept./ SMS Hospital/ICAR/Dept. of Atomic Energy and many more
• BSNL Project:- Rajasthan & Punjab
• e-Court Project – Haryana
• HARTRON Project:- Haryana