Orissa moves up On e-taxes curve
With e-registration and filing of commercial taxes going live in Orissa, 1.3 lakh dealers and vendors stand to benefit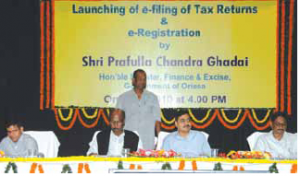 The Department of Commercial Tax of Orissa has launched the electronic filing  of commercial tax returns and electronic application of registration for Tax  Identification Number (TIN) and Small Registered Dealers Identification Number (SRIN) through its Website www.orissatax.gov. in. This service,  coupled with the earlier launched electronic payment of taxes, empowers the  manufacturers, dealers and merchants to regularly interact and transact with  the Orissa Commercial Taxes Department from the comfort of their premises. The system was launched by Prafulla Chandra Ghadai, Finance and Excise  Minister, Government of Orissa.
Orissa Commercial Taxes Department and its  IT partner Mastek Ltd, a leading IT solutions player providing IP-led enterprise  technology solutions to government, insurance and financial services organisations worldwide, have worked together to make this vision a reality.  This launch is the culmination of creating a centralised solution, with centralised data and application connecting all Orissa Commercial Taxes  Offices, to enable the provisioning of this electronic and real-time solution.  Mastek has been supporting the Orissa Commercial Taxes Department to  provide these innovative solutions since 2003. This has resulted in Orissa  Commercial Taxes Department emerging as one of the most IT-enabled  government departments in Orissa, and also an IT-mature department among  peer departments in other states.
The solution brings about manifold benefits to  the department as well as to dealers and merchants. It helps do away with  the long queues and time spent at the department office, thereby increasing the convenience of dealers and merchants in their interaction with the department.
Speaking about the e-services initiative and electronic registration and returns- filing solution, Vilas Kanyal, Head, India & APAC, Mastek, said, "We are  honoured to work with the Orissa Commercial Tax department. This front-office  solution, combined with the back-office solution developed by us earlier, helps the department to reduce total turnaround time to deliver the  registration certificate, collect tax returns and identify the defaulters. This  solution also reduces manual record keeping and chances of error."
Nikunja  Bihari Dhal, Commissioner of Commercial Taxes, Government of Orissa said,  "With the launch of the electronic filing of tax returns and registration, we have fulfilled the expectation of trades and individuals. The e-services initiative also  takes us a step closer in preparation of the upcoming GST regime. Mastek team  has designed, developed and implemented this solution. They continue to work  with us since 2003 to transform the tax administration system in the state,  right from sales tax regime to value added tax regime."
Kanyal added, "The  Mastek team has worked closely with the department for this milestone  achievement which will result in complete transparency of interactions and transactions and will enable the dealers, manufacturers and merchants to focus  more on their respective businesses and contribute to the growth of Orissa's  economy."
With its principal offshore delivery facility based in Mumbai, Mastek  operates across North America, Europe, and Asia Pacific regions.
With  over 20 years of in-depth government and public sector domain experience, Mastek collaboratively works with the central, state and public sector units,  offering innovative IT solutions in niche segments in the government vertical.  These include tax administration, public distribution, social justice, prison management, education and social enterprise management.