Going by the general perception, open source software (OSS) or GNU/Linux are considered 'not-being-mainstream'. Contrary to this belief, there is excellent evidence that OSS has a  significant market share, particularly for web servers. Since the time such data have been collected, the most popular web server has always been an OSS.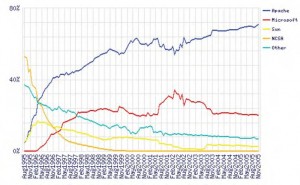 According to the latest web server survey of Netcraft (www.netcraft.com – an Internet  research enterprise), Apachean OSS, has remained the most widely used public Internet web  server, since April 1996. It has over three times the market share of its next-ranked (proprietary) competitor – Microsoft. Before 1996, the NCSA web server (Apache's ancestor)  dominated the web from August 1995 through March 1996. The survey report published in November 2005 (covering results through October 2005) polled as many as 74,572,794 sites  and found that Apache had a staggering 70.98% of the market share, followed by Microsoft  with 20.24%, Sun with 2.52% and Zeus with 0.78%. The illustration in Figure 1 shows acomparative analysis of market share held by Apache, Microsoft, Sun, NCSA and others  (grouped together) between August 1995 and November 2005. It is evident from the  illustration that over the years, Apache's market share is increasing, while for others it is showing a decreasing trend.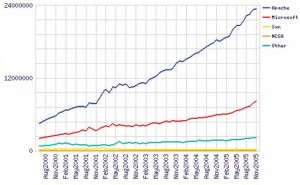 While counting only on 'active sites', Apache does extremely well. In the Netcraft's study on  active sites, Apache was found to control 69.36% of the web server market, Microsoft had 24.31%, Zeus had 0.66%, and Sun had 0.60%. The illustration in Figure 2 shows the market  distribution of web servers for active web sites between August 2000 to November 2005.
Follow and connect with us on Facebook, Twitter, LinkedIn, Elets video