Asha Kirana Mahithi
Implementing Agency: Municipal Reforms Cell, Directorate of Municipal Administration
www.mrc.gov.in
Under the project the mapping of all the slums notified and non-notified in  urban area along with GIS map & household data of the state of Karnataka was 

carried out by the Directorate of Municipal Corporation, Karnataka. Municipal  Reforms Cell has developed the application which consists of General information of city town (ULB); Slum profile along with sketch map; Particulars  of survey operations; Detailed slum survey; Detailed household survey;  Detailed livelihood survey.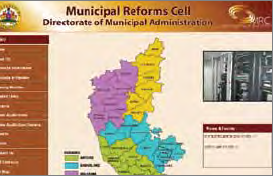 The information about 7,29,870 households is  available online. The application has been able to map household,  infrastructure & livelihood information for preparing concepts for a slum free  city planning. The Health Facility Details of 3571 slums has also been made  available online. The Employment & Expenditure Details have been duly  captured.
The project is a GIS Based Web Application which allows the data to  be available for everyone on a click. It synchronizes data onto Geographical  Map with Key Indicators and quickly identifies the details. As per user needs  Data can be searched & retrieved in Multiple Columns.
The key challenges in  this project were the geographical distribution of 213 ULBs as well as the  different sizes of the municipal bodies (Corporations, City Municipal Councils and Town Municipal Councils & Town Panchayats).
The solution architecture  for the project was designed in such a way that each municipal body is treated  as an independent entity complete with its data and most of the municipal body  specific rules are data-driven, thereby allowing only one application for  multiple databases.
Poorest of Poor (PoP) strategy
Implementing Agency: Society for Elimination of Rural Poverty, Andhra Pradesh
     www.serp.ap.gov.in
PoP strategy – a last mile approach is being implemented by SERP for  addressing the specific needs of the poorest of the poor families and ensuring 

that they come out of poverty via continuous handhold support. It also ensures  that the poor gets access to all the entitlements through internal  activists and external support mechanisms. The new strategy needs to be  household focused, bringing about convergence of all existing activities required by a poor family, internal motivator for handholding support and an  external support system with provision continuous tracking of progress made.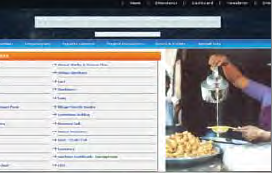 ICT in terms of web-based software and mobiles platforms is being used in local  lingo and in a user friendly manner. The usage of web-based platforms for data  capturing and analysing and usage of mobile technologies in local language for  tracking the progress made by each household under a CA along with the usage  of web-based technologies such as Decision Support Systems for the CBOs and  linking them with the different existing databases for a single window access are  some of the ICT based interventions of this project.
The project has been able to  obtain the baseline information of all the selected households in web and has  thereby provided a way to reach the unreached and meet their unmet  needs. The software has been developed in Telugu which has helped the working  staff make use of it in a convenient manner. The progress made by  each of the selected household in the livelihood front is being tracked using the  software. Convergence of key components and continuous focus is helping out  in getting people out of poverty.
Follow and connect with us on Facebook, Twitter, LinkedIn, Elets video