GSI Enterprise Portal
Implementing Agency: Geological Survey of India
www.portal.gsi.gov.in
GSI Enterprise Portal Project has made possible the building of a central 

geoinformation repository thus achieving the prime objective of managing the  vast knowledge gathered by Geological Survey of India (GSI) over more than  160 years. The portal now acts as a single gateway providing reliable and  authentic geoscientific information to the government, industry and general public as well as broad geoscientific community thus contributing to the  sustainable development of the nation.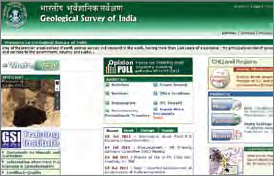 Before implementation of this project all data/maps pertaining to 4,905 topographic sheets were strewn every wherein GSI in different corners in heterogeneous formats. After implementation of this  initiative, geological layers for 4756 toposheets are part of the central  repository. GSI Portal has interactive map services with mineral /metal wise  deposit search. Sections on Indian geology, earthquake and seismotectonic events, SOPs on geological investigations, interesting case studies, GSI reports,  journals, photo galleries. Metadata pertaining to around 840 published maps,  800 publications 34000 progress reports and 7,400 actual reports are  available for free download through the portal.
The back-office transactional  and scientific applications have brought a considerable improvement in  internal processes and services through faster and transparent decision making  aided by readily available relevant information. It has also fulfilled GSI's  responsibility towards the changes in business environment, the demands of  public and private sectors involving the mineral, infrastructure, power, steel,  fertilizer, cement and other industries.
Integrated Workflow & Document Management System (IWDMS)
Implementing Agency: Department of Science & Technology, Gujarat
www.gujaratinformatics.com/gov/projects/dept/7-iwdms.htm
IWDMS is an e-Governance project to automate the day-today work and  improve the accountability, transparency and effectiveness in government 

administration. It consists of three major application sub-systems viz. Core  Applications, Common Applications and Departmental Specific Applications. At present there are 14 core applications, 49 common applications including 12  budget applications and over 300 department specific applications. The  applications, and the functionalities covered by them, can be increased based  on the needs of the users.
The project was necessitated to overcome the person  dependency and difficulty in tracking and tracing of files and correspondence; lack of timely availability of relevant reference documents like acts,  government orders, resolutions and reports in required format; high  proportion of establishment work and problem of inter-divisional consultations  in some cases; review and approval cycles consuming a lot of  time and repetitive performance of manual tasks causing delay and tiredness;  multiplication of file population and problem of prioritisation of files; time  consuming process for manual preparation of reports.
The project has reduced  the touch points from 46 to 12. The cycle time of one file has reduced from 1412  mins to 285 mins. The system handles over 2600 transactions on a daily  basis and covers over 27 departments, 150 head of departments and 18000 users. The database of the application has swollen to 500 GB hosting a  knowledge base of over 10000 items including GO, GR, circular, acts. The  system has seen over 27,80,000 letters inwarded and over 4,10,000 files  created.