Introduction
Information and Communication Technologies (ICTs) can help governments and the public sector to deal with the challenges of economic, social and environmental development and contribute to boosting economic growth and innovation. However, driving good governance with appropriate change management strategies, state-of-art technology and robust public private partnership models are the key to success or failures of e-Government initiatives.

About Conflux 2005

Conflux 2005: The e-Government Conference, is a joint effort by Center for Science,    Development and Media Studies (CSDMS), Government of NCT of Delhi along with  Department of Information Technology, Government of India, UNDP, Danish Technological Institute and key academic and civil society organisations and various multilateral agencies. The aim of this conference is to provide a knowledge sharing platform and a forum for   policymakers, practitioners, industry leaders and academicians for converting e-Government vision to actionable program.
Important Dates
Last date for abstract submission: 30th August 2005
Last date for full paper submission: 15th September 2005
Abstracts and papers should be sent at:
papers@conflux.csdms.in
www.conflux.csdms.in
International participation
Conflux 2005 will bring participants from all across the globe to showcase some of the good  practices in e-Government from several countries of Europe, South Asia, South East Asia, Middle East and North America. The conference promises to be one of the few knowledge  sharing events in the field of e-Government, which will have judicious mix of national and international perspectives on a single platform.
Digital Learning 2005
A one day seminar on Digital Learning will be held on 18 October 2005 along side Conflux 2005, on the theme 'ICT and Education: Challenges and Practices'. The objective of the  seminar will be to create a platform for interchange of views among experts, professionals,  researchers and academicians regarding theoretical and practical aspects of ICT  implementation in education. Special focus will be made on open source applications and related policy issues.
This one-day seminar will be of interest to policy implementers, persons associated with advocacy, decision makers, managers, administrators, e-Learning content developers, ICT experts and the learning community. Mr. Sudip Kr. Banerjee, Dept. of Secondary Education and Higher Education, Government of India, Mr. K. Desiraju, Joint Secretary, Secondary  Education and Prof. Deepak B. Pathak of IIT Mumbai will be some of the main speakers in the conference.
The themes to be covered in four sessions of the seminar including a keynote address will be as follows:
Keynote address: Learning ICT and Learning through ICT:

Prospects and Challenges
Session I: Tools for Learning through ICT: Availability and Scope
• For Formal Education
• For Non-formal Education
Session II: e-Learning: Best Practices and Challenges
• e-Learning in Developing Countries: Digital Divides
• Content Development in e-Learning: Issues and Challenges
• Case Studies/Projects in e-Learning
Session III: Open Source in Education
• Issues in Focus
• Case Studies
Session IV: Policy and Advocacy: Critical Issues
• Policy Issues in ICT and Education
• Public-Private Partnership for Development of ICT for Education
We welcome ICT and Education practitioners from private sector, civil society (NGOs and  networks) and Government departments to write to sejuti@csdms.in to present a paper. Last date for receipt of abstracts September 15, 2005.
Special Sessions
NeGP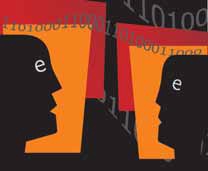 The Government of India has recently launched the National e-Governance Plan (NeGP),  which is perhaps the biggest initiative launched in the country towards usage of ICT in  governance. Conflux 2005 will discuss in detail about the roadmap of NeGP, the  implementation plan, possible impact and ways to take the message of NeGP agenda to a  much wider and deeper level within the Government system.The conference would encourage State governments to discuss their NeGP action plans, time-lines and potential areas of  collaboration with industry, civil society and within the Government.
Common Service Centres (CSCs)
Governments can make best use of Information and Communication Technologies (ICTs) to  serve citizens, especially in rural areas, by creating access points called common service  centres – as one-stop shop for a host of Government services for citizens. CSCs can deliver a  range of G2C and G2B services including governmental, educational, entertainment,  commercial and other services to its citizens. A number of initiatives, both government and  nongovernment are being taken to rollout CSCs throughout the country. However, in order to  make them successful, there is a need to discuss and debate on strategies, case studies,  success stories and challenges in making them an effective tool of e-Government. The session on CSCs during Conflux 2005 will focus on its critical success factors, implementation challenges, sustainability models and best practices.

Rural Computing
Information Communication and Technology (ICT) can greatly improve the quality of life of  rural population. However, technology and computing solutions for rural masses need to take in consideration the challenges of low spending capacity of people, inadequate power supply  and lack of general IT skills in such regions. Introduction of cheap and robust computer  devices and deployment of rural IT infrastructure are the key requirements to give  computing a fillip in those regions. The session on Rural Computing during Conflux 2005 will look into understanding the needs of people in rural areas and bring out the innovations of  governments, corporates and civil society organisations in addressing these issues.
e-Panchayat
The success of National e-Government Plan of India largely depends on IT capacity building  and enhancement of absorptive ability of personnel working at the Panchayat level. A  strategic framework to bridge this access divide at grass root level has been prepared by the  Ministry of Panchayati Raj, Government of India. A right implementation will help Panchayati Raj Institutions (PRIs) leapfrog traditional problems of developments like poverty,  illiteracy, corruption, disease, unemployment and social inequalities. In order to discuss the  strategies and know about the current developments in this sector, Conflux 2005 will have a  dedicated  session on the subject in association with the Ministry of Panchayati Raj, Government of India.

ICT in Agriculture
Most developing nations of the world, including India, thrive on an agrarian economy. Thus,  agriculture forms the mainstay of a large section of people living in these countries. Very  often, farmers lose out on getting good yields due to lack of on-time information and proper  scientific knowledge that is critical to agricultural output. ICT has a tremendous potential of  delivering such crucial information to farmers and help them learn new agricultural  practices coming out of labs. This can revolutionise the way farming has traditionally been  done and spearhead the economies that depend on it. Conflux 2005 will have a session on ICT  in Agriculture that will bring together government officials, scientists, IT experts and grass  root practioners to share ideas, expertise and knowledge in applying ICT for agriculture.
e-Health
Effective health systems needs two basic requirements to be fulfilled. One is appropriate  services and information for people and the other being service and information accessibility.  Information has a crucial role in health domain as it generates awareness and leads to better decision-making, better service provision and greater outreach of services. ICT has increasingly become more specialised in information management and dissemination and it is  this, which makes it indispensable for all development efforts, including public health. The session on e-Health in Conflux 2005 will be organised in collaboration with leading  government and non-government organisations in this sector.
Key sectors to be addressed
• Citizen services
• Income tax/Commercial tax
• Land records
• Municipal e-Government
• Passport department
• Police departments
• Postal department
• Registration services
• Transport
• Treasuries automation