SuGAm Single Window System
Implementing Agency: NIC Jodhpur
www.jodhpur.nic.in
NIC Jodhpur has developed (SUGAM) – Windows based software using Visual    Basic and Microsoft Access Database to generate acknowledgment slips, 

domicile, SC-ST and OBC certificates (State & Central Level). Launched as early as 2002, this software generates various administrative reports and other registers. All the reports and certificates are printed in Hindi. The pre-printed stationery is being used to print acknowledgment slips and certificates. Modifications are made every year and at present 40 services are being delivered through this software. The project has been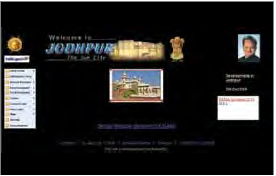 rolled all over the state of  Rajasthan in over 278 locations. The role of middlemen has been duly eliminated from the public service delivery system. The common man also   become aware of its uses and applications. Effective monitoring system for  administration has fall in place. Manipulation in Govt. Documents has been minimized. Resistance of clerical staff, Proper Training and Confidence build-up and role of middlemen were some initial challenges for the project which were duly overcome. SUGAM has been designed to deliver services according to the  administrative procedures whereby all formats are legally vetted. There is a provision for confidentiality and authorized user interface. The delivery of  service is time bound with a robust in-built monitoring system. Nearly all core    applications have been automated and in use. Trust has been given to make the product scalable in terms of changes in the processes or changes in boundary of the regional offices.
eDistrict, Uttar Pradesh
Implementing Agency: Department of IT & Electronics, Government of Uttar Pradesh
edistrict.up.nic.in
Uttar Pradesh is the first state in the country to rollout eDistrict in six pilot  districts. More than 23 Government to Citizen (G2C) services pertaining to 

certificates, pension, public distribution system, revenue court, employment,  grievances from eight line departments have been covered for complete automation and delivery. So far more than 21 lakh digitally signed  certificates/services have been delivered from eDistrict Centres, Tehsil Centres,  Lokvani Centres and Common Services Centres being opened at the village level.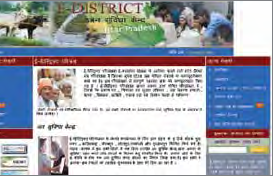 The eDistrict project in Uttar Pradesh has brought out certain innovative  features like 100 per cent electronic workflow for all 23 services; digital signing  of certificates/services stamped and signed by the CSC/eDistrict Centre;  verification of citizen details based on electronic data available improving  service levels and reducing delivery time typically to one-third; anyone can  verify the authenticity of the certificates by providing the unique identification numbers printed on the issued certificates; SMS alerts are triggered automatically by the system at important points to keep the applicant informed  about the status of their application; status tracking by the citizen  and the government through the portal and the escalation metrics ensure the  adherence to the service levels defined for each service.
Service output like  certificates are printed online embedded with photograph wherever necessary  to eliminate bogus certifi- cates. The web based system has allowed both the  citizen and the government officials to interact 24×7. The complete automated process has made it almost paperless and reduced the infrastructural requirements for physical movement of documents.