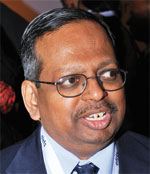 By N Ravi Shankar,
Additional Secretary, Department of Information Technology, Ministry of Communication and Information Technology, Government of India
In the ad-world, there is a saying: "When you think of colour, you think of Jenson and Nicholson". Paraphrasing that, today when you think of IT, you think of India. While it is very heartening to see India as an IT power in the software arena, it is also disheartening to an extent. This is so because almost all of IT has been for the benefit of our clients outside of the country. What about IT penetration within? I think that's something which is a wake-up call, not just for the govt but also for industry, academia and citizens as well. One very important initiative currently underway is the creation of the National Knowledge Network (NKN) that will connect institutes of higher learning and research across the country. It is a high-speed gigabit bandwidth network that will connect more than 1500 institutes of defence, space, atomic energy etc.
Under the National Mission for Education through ICT, 20,000 colleges across the country would be given access to educational content by creating an overlay of educational content over the infrastructure provided by the NKN. Through this Mission, students of smaller institutes and those in far-flung areas would be able to access the world class faculty of premier institutes. This will cure the significant handicap of shortage of quality as well as number of faculty that these institutions typically face.
If we take a look at India's demographics, 50 percent of Indians are under 25 years of age. This is both a challenge and an opportunity. The challenge is to see that the creative forces of this youth are unleashed in productive activities and the opportunity is to build a world-class skilled force in IT so that we can continue to build on our leadership position. With over 800 million mobile connections as per the latest TRAI report, it would not be an exaggeration to say that India has been witness to a mobile revolution. The mobile phone is going to be the most popular access point in rural areas, as laptops and desktops face problems of access and availability. The penetration of mobile services and localised content would be a huge factor in Indian growth. This is also going to help promote financial inclusion in the country. Internet for all is the cornerstone of the Indian polity and we have to see that broadband goes to villages to enable us to reap the fruits of the IT revolution.
Unlocking Value with Open Source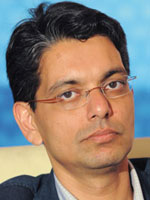 By Anuj Kumar,
Managing Director, redhat
There are four major future trends that are coming up in a big way as far as technology is concerned- Cloud Computing, Open Data, Social media and Citizen-Driven Governance. Red Hat deals with Open Data or Open Source out of these four. Open Source enables user-driven innovations and cuts down the cost too. All the innovation that a traditional setup does in matter of few months sometimes open source enables it in a much lesser period of time. Today all the major software giants use open source. Open source offers 39 percent reduction in customer Application time, 5percent more application per year. IT decreases management cost by 89 percent and 49 percent increase in productivity. Red Hat has defined the open source industry and set standards in open source industry.
Red Hat offers all the flexibility without compromising the quality of the software to the customers for today's environment. Red Hat being a premier player in the Open Source domain, it is a proud factor that 80 percent of our products come from outside Red Hat. It offers the best possible solutions in lowest possible prices without ever compromising on the quality of the product. What gives Red Hat the confidence is that at the end it is all user-based innovations and is coming from user base or the consumer base. We have around 100,000 projects currently with us and are looking at going beyond the targets set. Red Hat has also teamed up with the Georgia Institute of Technology to look into the causes and the worldwide growth of open source
Why Open Source?
Open source simply creates better software. Everyone collaborates, the best technology wins. Not just within one company, but among an Internet-connected, worldwide community. New ideas and code travel the world in an instant. As a result, the open source model often builds higher quality, more secure, more easily integrated software.
Follow and connect with us on Facebook, Twitter, LinkedIn, Elets video