By Purushottam Sharma,
IG of Police, Madhya PradeshPolicing in our country has become increasingly complex over the years. Social tensions, religious disputes, growing economic disparities and regional, linguistic and ethnic differences, terrorism and Naxalism have long been major challenges to effective policing in India today.Crime is present in various forms in India. Organised crime includes drug trafficking, gunrunning, money laundering, and extortion, murder for hire, fraud, human trafficking and poaching. Many criminal operations engage in black marketing, political violence, religiously motivated violence, terrorism, and abduction.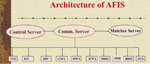 CCTNS

It aims at creating a comprehensive and integrated system for enhancing the efficiency and effectiveness of policing at all levels and especially at the Police Station level through adoption of principles of e-Governance, and creation of a nationwide networked infrastructure for evolution of IT-enabled state-of-the-art tracking system around "investigation of crime and detection of criminals" in the real time. It is a critical requirement in the context of the present day internal security scenario.
The CCTNS project includes vertical connectivity of police units (linking police units at various levels within the States – police stations,district police offices, state headquarters and other police formations) as well as horizontal connectivity. Automated Fingerprint Identification System (AFIS) is fully  automatic computerised system for Fingerprint Identification which reduces  expert intervention. It is very useful system for quick & accurate search in ten  digits as well as in chance print.
GIS/GPS based AVLS Project
MP Police has implemented an Automated Vehicle Tracking System for Bhopal and Indore for providing an integrated disciplined system for traffic control and maintaining law and order in the district, where in 100 vehicles of the MP Police would be tracked and monitored each city.It enhances public safety by making more timely, accurate and complete Information. It utilises information technology to improve public safetyservice to the community. This project reduces waiting time for citizens on roads while during surprise checks to verify the possible involvement of person and property.
Firewall Policy at Data Center
Firewalls are used to prevent unauthorised Internet users from accessing private networks connected to the Internet, especially intranets.Firewalls can be hardware, software or a combination of both. In either case, it must have at least two network interfaces, one for the network. It is intended to protect and one for the network it is exposed to. All messages entering or leaving the intranet pass through the fire all walls, which examines each message and blocks those that do not meet the specified security criteria.