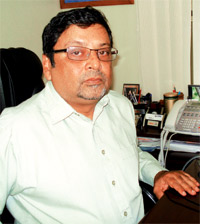 Ajay Singh,CEO,Forbes Technosys
Forbes Technosys  has long been an innovation lab for simple, smart, sturdy and economical technology-based solutions designed for government and financial services sector. Ajay Singh, CEO, Forbes Technosys shares his journey and future predictions on the technologies that will drive the e-Governance growth engine in the coming years with Rachita Jha of eGov Bureau
Tell us about the major changes that you have witnessed in last few years in e-Governance in India?
The last six years in e-Governance has seen the transformation of a lot of intent and objectives into action. And these were then, translated into projects grounded in technology. This could be said a version 1.0 of projects in e-governance in India. These were the first few projects on e-Governance that made impact on the citizens and users. This version brought-in a lot of learning for the corporate, government and citizens at large.  This was followed by the second wave of projects under version 2.0 that was realised through more of pubic private partnerships – and the learning from 1.0 were put to use for more significant impact on the end users. Currently, we are the doorstep of e-Governance 3.0 wherein we are witnessing latest forms of technology or I would call them 'new building blocks' that are taking centre-stage in the citizen-centric service delivery systems of the government. Today, even the difficult states in the North-East are techno- hungry and very techno-willing to have technology-based service delivery models for their denizens. We ourselves have made some significant success in our low-cost ATMs in these states and have been extremely successful in catering to the diverse terrain conditions that are geographically dispersed areas.
Where do you see e-Governance initiatives moving in the coming years?
These citizen identification-based technology and systems are bound to have colossal effect and will see arrival of numerous citizen-centric services built around them in the coming years with long and sustainable impact on ground. There are exciting times ahead as the impact on the end user and end consumers would be far more significant in the coming years of e-governance ecosystems than in the earlier versions. Therefore if we assess the impact of e-Governance in the past projects it has shown consistent increase in its reach, efficiency and technology advancement.  Another key transformation that has taken pace is in that of changes in business processes in e-Governance.
The importance of innovation with the view of product design has been very integral to Forbes Technosys. Please comment.
In the past, most of the technologies come from west to east, even in basic banking– the requirements are common across and hence there have been technology solutions from the developed countries that have worked very well in India. However, now we are reaching a situation particularly in India where technologies are very specific to the Indian context and offer a very large market.  UID project for example, is the first-of-its-kind project across the world and no other country has done a similar project of this magnitude until now. The context of innovation for UID project has to be very Indian- to design technologies that are suited for Indian conditions. e-governance today, has most of its requirements coming out of India –  the innovations and technology development too is now being done for India and many of the products are made in India by Indian companies. So there is a wave of democracy in technology innovation. This has come about because, the Indian companies today are closer to the target audience and have complete understanding of the ground conditions, and are able to respond to changes in the ecosystem much faster. And for us, we feel that with new building blocks of e-governance gaining ground, there is a huge opportunity for an Indian company to launch innovative products for the e-governance market. Taking cue, we have also  over the years strengthened our expertise in multi-functional, energy efficient, low cost, low maintenance, easy to use products – that are ideal for the Indian conditions.
Tell us your views on the viability of financial inclusion schemes in the current BFSI landscape and readiness of banks to execute these schemes successfully?
Financial inclusion is driven by both – the government and the banks. The government has a strong mandate for financial inclusion as there are agencies within the government which want the flow of money from the government to the citizen – and this transfer of money they want to be done via the banking channel. These would include the NREGA payments and similar schemes. The other side is the aspiration of the rural population, to become part of the banking system. This is increasing more so, with technology and mobile phones reaching to hinterland. in addition, the aspiration to have a bank account is very high. Thus, we see that there is a demand and supply readiness in the banks and technology providers alike.
---
"now we are reaching a situation particularly in India where technologies are very specific to the Indian context and offer a very large market"
---
However, the bottleneck is viability of the financial inclusion schemes for the stakeholders. And this viability will come through a combination of two factors; firstly technology- that will play a crucial is cutting down the price of the delivery model. Secondly, the willingness of the bank and the consumer to pay. Also, subsidies from the government for financial inclusion can add to the feasibility quotient of these schemes. It is a combination of these that will ensure the success of financial inclusion programmes in the rural areas.
If one were to analyse the financial inclusion schemes as of today, then they basically run into two problems –  one is the high cost of delivery of services and secondly there is a very low return per customer this a highly challenging environment for the banks to make such schemes sustainable in the long run.  Therefore, to rely on banks alone for success of these schemes is not feasible and banks today are slightly reluctant to take these forward on war-footing. We need to find innovative solutions to fill this feasibility gap and the entire ecosystem will have to leverage on financial services to achieve the last mile reach and benefits of banking services.
Tell us more about BFSI as fast moving sector in IT?
There are many changes in the financial ecosystem that are making technology-based services and solutions an imperative for BFSI in India. One of them is the aspect of – the influence of government and government transactions on the banking system. In this vertical, we would have technology influence of UID and financial inclusion where the government is primarily pushing the banking industry to enhance their reach of these projects across the country. This has been one of the factors ushering the growth of technology and automation integration in the BFSI matrix of operations. The second growth driver is, the end consumers themselves, as he is today far more knowledgeable to get quality services thus pushing banks to increase their level of automation. The need is also felt from the internal banking operations to cater to the problems of attrition, skills, time and reach as these have become very important management areas within the bank itself. And lastly, the availability of connectivity and technologies today that can be married with the present context of requirements of BFSI segment has led  the arrival of technologies in the banking sector today that can make many of these services automated. Therefore, the impact of technology on the banking industry has been profound in the recent past.
What are your views on the UID project? How has the landscape change in the way services are delivered with UID?
The landscape for technology-based services has not yet changed, but it will change post-UID. The project in its current avatar has already brought-in certain technology requirements which are offered to various enrollment agencies.
But the real impact of UID will come once implemented after each citizen gets the smart card. Every transaction will then be done by biometric and will spin-off to all the systems done by government agencies that will need to biometric-enabled. Thus sparking a huge demand for such devices to be installed across government functionaries geographically and for every discipline. In this context, I foresee innovations to come in these front-end and back-end devices so that the overall ecosystem works as a system seamlessly across departments. So, when we talk of impact of UID – much of it will come probably in next 3-5 years from a rapid growth of UID-based solutions in India.
---
"As we arrive at the threshold of 3G technologies and as data gets more complex in nature the enhancement of bandwidth will be much required"
---
What is your critical analysis of the UID project?
Skeptical view of UID has been the lack of consensus on the political front that UID is the way to go. The projects of this size and scale demands political harmony – and I feel that this area has not yet been taken care of and there are conflicting schools of thought on the project. UID is such a project that you have to have unanimity and there is no room for skeptics and dissent to promise its nationwide success. There is a strong need to get everyone aligned on the project – to ensure that such huge government investment to do away with any discord or confusion.
Implementation of the project in its current stage has also been slow-paced as to its targets. I am also skeptical on the larger benefits of the UID project being realized by the stakeholders' today-going beyond being merely identification solution.
The development of the post-UID d ecosystem should begin now, to create a UID-ready service delivery models then the benefits will come to the citizens much quicker. Also, multiple systems such as smart cards etc might end-up duplication of technology-based services across states and there is a need for departments to build readiness for UID-based delivery of services to ensure uniformity.
How do you view the mobile technology viability for use in financial inclusion?
India will ride on e-governance using a hybrid mode of service delivery and no single technology will prove viable for service delivery. Every device has its advantages and disadvantage and hence trade-offs will have to made from a variety of options available today. Currently,  we have a large range of spectrum of devices that effectively deliver the same set of solutions. There will no single device that will prevail and what we would see a mix of all the front-end devices will be at play.
The mobile phone is definitely a front-runner on this. With back-end computerization a reality in many government, departments and connectivity/bandwidth available – all the action is all at the front-end devices. Hence, there is a need for flexibility the hardware prescriptions by the government to ensure the users avail the benefits of new and latest technologies. So going forward, front-end devices are going to be contextual devices for example our ATM-like devices are today designed to deliver more than 25 services from a single machine.
Please tell some upcoming technologies, must haves for the government to adopt today.
The first must-have techno-capability in the government departments (in the view of the UID roadmap) would be the ability to carry out financial transactions either in cash/money transfer or mobile phones. Second, there is a need to build the ability to forecast and deliver financial transaction electronically-and this is possible today as there are many technologies available designed for data storage and delivery – this will be a key requirement for all departments to join the e-governance space. The third area, revolves around the connectivity technologies.
As we arrive at the threshold of 3G technologies and as data gets more complex in nature the enhancement of bandwidth will be much required.
Please share your future plans for Forbes Technosys?

Other than banking and financial services which is our biggest vertical, we are into power and telecom. Government is one of the most promising areas for us; we believe that all that is happening today will get into implementation mode in the next few years.
Therefore, all the pre and post-UID solutions, solutions related to financial inclusion will be our focus area. We are investing substantially and our growth expectation is for more than 100 percent year-on-year. And with government solutions being an important vertical for us we are looking forward to a busy year ahead as all state governments now have a commitment to have a certain portion of their revenues that will be spent on e-governance.