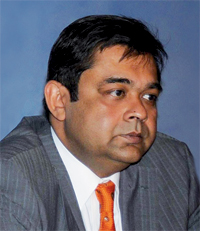 Durgadutt Nedungadi
Director – Sales
HP Enterprise Business
The awareness and demand for better services from people has led to many developments in e-Governance
The government at all levels is embracing e-Governance and adopting proven best practices and technologies for improving customer service and business performance. Internet and technology are drastically changing the way the government operates and delivers services to the residents and businesses. Moreover, implementation of e-Governance has seen a paradigm shift from the department centric structure of the government to citizen centric structure where the citizen deals with one government.
The past years have witnessed the emergence of e-Governance as a potent tool for the government in improving their productivity and enhancing customer satisfaction levels. India has made significant strides in the application of e-Governance in improving the interface between the government and its constituents.
Although India has seen great development, we still face challenges to smoothly execute e-governance plans. However, the awareness and demand for better services from people has led to many developments in e-Governance. Lack of IT literacy and awareness regarding benefits of e-governance is one of the biggest challenges for successful government initiatives.
Technically, what needs to be looked at is re-engineering of government departments and procedures. Effective usage of communication and IT is the biggest opportunity in the government's efforts towards achieving the goals of financial and social inclusion. The availability of broadband in the heart of rural India will result in a quantum leap in the effectiveness of healthcare, education as well as efficient disbursement meant for the rural citizens. Once we also cross the regional language hurdle, we will see substantial positive impacts in agricultural productivity as well as rural wealth creation. With initiatives like UID Aadhar we can clearly see that effective use of e-Governance could galvanize the rural development of India. All these projections indicate that the next 5 to 10 years in the e-Governance domain will be even more interesting and challenging than the past.


"The State Data Centre (SDC) would provide common secure infrastructure enabling seamless delivery of Government to Government (G2G), Government to Citizen (G2C) and Government to Business (G2B) services."
Follow and connect with us on Facebook, Twitter, LinkedIn, Elets video