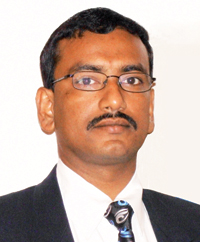 Debraj Dam
Vice President – Strategic Business and Partner Alliance
Digisol
Bringing all NeGP projects under a single monitoring authority would accelerate the pace of implementation
In India, e-Governance initiative was started by late Rajiv Gandhi and after that a lot of transformation has happened specifically in the past six to eight years. In the last few years, the Government has been putting lot of efforts to reduce the gap between citizen, industry and government. Department of Information Technology (DIT) is also putting lot of efforts to boost up IT infrastructures for the state governments including districts, blocks, municipality levels. The thrust has varied across initiatives, with some focusing on enabling citizen-state interface for various government services, and others focusing on bettering livelihoods. e-Governance is now an integral part of India's multifaceted development strategy to take advantage of demographic dividend and is moving beyond technological aspects.
We have seen very slow implementation progress in different projects under National e-Governance Plan (NeGP). It is mainly because of lack of inter departmental or ministry coordination, transparency between agencies and multiple nodal authorities. If we can bring all NeGP plans under a single monitoring authority agency to grass root levels for all projects then only we can see or expect better results. It can be further enhanced by getting inputs from citizens about unresponsive and unreliable providers.  Government should also imbibe better mechanisms to carry out proper survey to understand the ground level ICT requirement for urban and rural areas by involving different agencies in consultation with state, village and other councils in coordination with business people and citizen.
Capacity building is the prime factor where the local ICT manufacturing sector can play a key role in many e-Governance initiatives and Government should invite and involve them for larger participation in e-Governance initiatives and thus improve the life cycle of Indian ICT industry. This facility has already been implemented by most of the countries including China, US, and Taiwan. Green governance is an important part of e-Governance and to reduce OpEx costs of all projects under NeGP, the manufacturing sector needs to be involved on a larger basis. Proper power saving, RoSH-compliant (RoHS Directive stands for "the restriction of the use of certain hazardous substances in electrical and electronic equipment") green products will help reduce energy costs and thus make e-Governance even healthier.

"One of the important components of a complete e-Governance solution is the Geographic Information System (GIS)." –  Lokesh Sharma, Business Development Manager, Government, Education and Healthcare, Oracle India
eGov August 2008