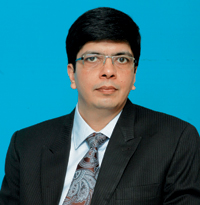 Sameer Batra
Director,  Public Sector
IBM – India/South Asia
There is no dearth of technology but infrastructure in rural areas is  not so good and hence one has to look at solutions which are more pragmatic
In  India,  we  have  seen  a rapid deployment and progress of the National e-Governance   Plan   (NeGP)  and  large  IT  modernisation  projects.  The government is now looking to leverage IT to improve citizen services, efficiency and lower the total cost of operations. They are re-orienting their structures and policies around the citizens they serve. The progress in the recent past is enviable by any global benchmarks. This journey has just started and we have a long way to go before the impact of IT is felt across all sections of the society. IBM has a powerful technology stack of Software & Hardware which offers proven frameworks and solutions to the Government. IBM strategy is to leverage the technology stack and experience with various Government organisations across the world, to build customized solutions for Government organisations.
Some of the major solution areas which have great potential for the future are- postal services, defense, homeland security, GST, municipal bodies and other databases related to Government functions.  In future, we need to look at the  unique challenges that the country has. No country in the world can be  compared with India—no other country has a challenge of dealing with so many  languages that a solution provider needs to handle for a pan India  deployment or while doing projects across various states. Besides, while  deploying technology in rural areas one needs to be practical and prudent in  their approach in terms of understanding the infrastructure in these areas. They  should first go for a pilot and then opt for a full scale deployment. There is  no dearth of technology as it can be delivered but infrastructure in India's  rural areas is not so good, non-existent in certain areas and hence one has to  look at solutions which are more pragmatic and relevant and can meet the  needs of these local markets.
PPP is certainly a step in the right direction. In the  last few years there has been immense learning on implementing PPP  projects for both Government and the Industry. Both the sides should work together to apply the learning for implementing future projects.


"The biggest challenge in developing e-Procurement systems is the lack of widely adopted data exchange standards, which leads to the incompatibility of various procurement systems. As a result, government procurements are heavily fragmented." – Mark Fleeton, CEO, Development Gateway."
Follow and connect with us on Facebook, Twitter, LinkedIn, Elets video