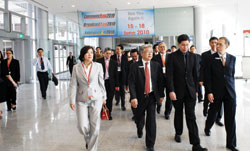 While 3D technologies dominated the exhibitions, handset makers and telcos too showcased new devices and platforms
By Team eGov
The CommunicAsia2010 and BroadcastAsia2010 event at Singapore was an encouraging success this year, with double-digit growths in visitors from key Asia-Pacific markets like China, India, Japan and Korea over the previous year.
As many as 55,150 local and international industry visitors, conference speakers and delegates, exhibiting staff and members of the media participated in a full week of activities at CommunicAsia2010 and BroadcastAsia2010.
Products and technologies premiered
NTT DOCOMO showcased latest smartphones for the Japan market, including their new separable phone. Yahoo! showcased the new Alcatel One Touch Net mobile, its first handset fully integrated with Yahoo! applications and designed to provide an integrated approach to communicating using a Yahoo! platform. Skype, a first-time exhibitor at CommunicAsia2010, showcased several applications at their booth and announced the availability of Skype on three Sony Ericsson smartphones based on the Symbian platform. Inmarsat's IsatPhone Pro service, its first global handheld satellite phone, premiered worldwide at the show this week. ZTE unveiled the ZXY10 T700, the first integrated HD videoconferencing terminal.
In addition, mobile application stores were also unveiled by Infindo, Telekom Malaysia, M1, NTT DOCOMO and Research in Motion.
Spotlight on 3D
3D technologies dominated the exhibition at BroadcastAsia2010. International and local exhibitors such as AV8 Media, Cine Equipment, Harris Corporation, Panasonic and Sony Electronics announced their latest professional equipment, solutions and technologies for broadcasters and production companies.
The 'live' 3D showcase by exhibitors Broadcast Pro, Dayang, Evertz, Panasonic, Maestro, Ross Video and SeaChange brought 3D to life through the specially created content and gave visitors a feel of the upcoming technology that Singapore consumers would soon enjoy as the commencement of 3D trials were announced on the first day.
Panasonic, a regular exhibitor at BroadcastAsia, presented an action-packed display of live Muay Thai and entertainment demonstrations that were recorded in 3D and instantaneously beamed on projectors above the booth. Panasonic showcased their latest range of professional equipment and camcorders, including the world's first professional, fully-integrated Full HD 3D camcorder that records to SD card media. Sony Electronics returned to the show with cutting-edge 3D and high-definition (HD) broadcast and production solutions. The company also unveiled Singapore's first HD OB trailer built for broadcaster MediaCorp.
There were close to 2,000 exhibiting companies from 57 countries and regions at CommunicAsia2010 and BroadcastAsia2010.
Future of communications discussed
The CommunicAsia2010 Summit and BroadcastAsia2010 International Conference featured over 150 conference sessions and workshops and an impressive line-up of over 200 veteran industry speakers from leading companies and organisations. The conferences addressed various pertinent issues and challenges affecting the ICT, broadcasting and media industries and provided trade visitors with valuable insights on industry trends and growth opportunities. Over 1,400 speakers and delegates participated in the CommunicAsia2010 Summit, BroadcastAsia2010 International Conference and the Creative Content Production Conference.
"The increase in overseas attendees, particular those from the Asia Pacific region, reflects the anticipated rebound in IT and media spending and how companies are ready to invest for further growth in Asia," said Mr Stephen Tan, Chief Executive of show organiser, Singapore Exhibition Services.
"Looking ahead to 2011, we expect companies from across the globe to continue leveraging our events to reach their intended audiences in Asia and showcase their latest products and solutions," Tan said.