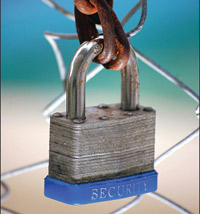 The greater the sense of security the more it will result into consumption or adoption of a particular service
Last few years have truly brought about change for the betterment of life in India. Widespread usage of ATMs have obviated the need to spending hours in queue and that too during particular hours of the day to get the money you need. Arrival of plastic money has obviated the need to carry cash all the time. Online banking means you could keep track of your account irrespective of where you are and what time zone are you in. Online bill payments meant you could transfer money online again without requiring you to be in the queue for hours.
Does anyone even recall how it used to be to stand in the queue for a train reservation and observe the touts exploiting people desperate for getting a reservation?
And still, there I was in discussion with an acquaintance who was sharing all his reasons for not using these little joys of life because he didn't trust his money was safe, and that how the plastic cards could be cloned and money transferred out of one's bank account without one knowing where it really went.
It was obvious that the guy was part of a depleting breed that is paranoid of using newer technologies and processes but it also occurred to me how much security is a psychological satisfaction (or in most of the cases assumption) rather than a reflection of an actual implementation.
The greater the sense of security the more it will result into consumption or adoption of a particular service. Fortunately, being part of information security industry for long, I can be reasonably confident of the security implemented by various banking projects (especially the initiative undertaken by RBI). However, it is obvious that public education about security aspects and mandating the implementation of certain security related certifications can go a long way in bringing further benefits to society at large. Just like we look for BIS or ISO marks, it will be worth looking for a PCI-DSS approved marking before transacting with a retailer or a HIPPA approved marking before transacting with a hospital or a medical insurance agency online.
Let me elaborate the point of psychological confidence by taking an example. Most of us tend to buy bottled water instead of using the normal filtered tap water. Why? Because we tend to believe that the bottled water is safe to drink.
What if you were to ever run into a situation where you were to fall ill after having meals outside and the diagnosis pointed out that it was due to that very bottled water? It probably will shake one's faith but one will shrug it off as a one-off instance. However, if such instances become frequent or are corroborated by friends and colleagues, the confidence will plunge. Think of the controversy that surrounded the cola companies a few years ago. Do you recall what had caused the plunge in confidence in cola as a safe drink and what restored it? Whatever the underlying details, one significant detail I do recall is the role of public relations exercise in the whole incident.
Anyways, having digressed way too much let me get back to the point: "The life that we lead is full of confidences that we place in various aspects