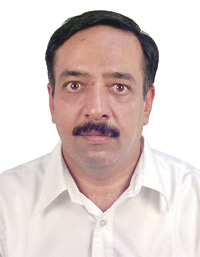 Vivek MalhotraTerritory Executive – General Business, North & East, IBM India/South Asia

What are your views on e-Government implementation in Urban Local Body (ULB)?

e-Governance,   irrespective  of  where  it  is  implemented,   is  a  strategic  enabling  force  ensuring consistent and scalable business  value.  It helps government measure growth and success, including its financial  health.  e-Governance  is  the way in which the leadership accomplishes  the  delivery  of  mission-critical business capability using  Information  Technology  strategy,  goals,  and objectives. It  allows  Urban Local Bodies (ULBs)  to ensure alignment between the goals and objectives of the   business  and  the  utilisation  of  various  IT  resources  to effectively achieve the desired results.
What are your company's offerings in the ULB segment?

IBM's  e-Governance framework  offers  a strong software foundation, government    industry-specific    extensions, pre-built solution accelerators  and  implementation  patterns  for faster deployment at lower  risk;  provides a roadmap that enables customers to build capabilities over time on their existing environment; leverages an ecosystem of  industry  Independent Software Vendor (ISVs) and IBM  solutions that are built on industry standards and pre-integrated into the framework and finally, also  increases the transparency across government entities for more efficient  information  sharing, service coordination and record keeping.
What are your views on the recent move of MoUD for state level software across ULBs in a state?
The  move  augurs  well  for the future as we are increasingly seeing powerful changes related to   demographics, globalisation, environmental concerns, societal relationships, social stability and technology affect  virtually every government, demanding  individualised  responses  suited to each nation, region or locality. These nearly universal drivers will require "perpetual collaboration" that  starts  with intensified, multi-directional communications, an shared  operational  and  technical standards. At a broader level, as governments evolve  into  forms that foster perpetual collaboration, public officials can also engage their citizens and collaborators in the  implementation of bigger goals  for society, such as the elimination of an entire disease and educating all children with a targeted number of years of schooling.
What challenges did you face while implementing e-Governance in ULB?
The mandate to "do more with less" continues. With frenetic change as their predominant driver, leaders and managers in governments of all sizes are charged with balancing growing needs and shrinking resources with the burgeoning demands on—and complexity of—the systems that keep their worlds operating. Having said that, in its 100- year history of serving governments, IBM has formed long-term relationships with national, regional and local governments in all regions of the world, resulting in a long list of references.
IBM has a proven track record, with a dedicated focus on clients' most critical needs, delivering lasting transformative solutions involving the integration of processes, people and systems. IBM has the stability and longevity to help government succeed in moving into the age of a globally integrated and intelligent economy  and society.