The mayhem in Mumbai during 26/11 is but an exclamation mark within the larger public safety challenges faced by India today. The insidious, planned nature of terrorist attacks in some of our cities must be taken as a clarion call for a more systematic approach to the protection of our public infrastructure and our people. It is here that technology can make a significant difference to ensure quality of life and the quality of incident detection, response, and, more importantly, the outcome.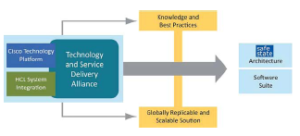 A safety and security technology solution built on the bedrock of a robust, secure network can be a true force multiplier. By weaving together different elements of a public security system – including video surveillance platforms, screening devices and other security devices, wireless/wireline/radio communication systems, even public announcement boards – a networked platform can enhance the value and role played by each of these elements in restoring peace and order.
MAKING A 'SAFE STATE'
HCL and Cisco are jointly working on a city level security architecture named 'Safe State'.Safe State is an integrated physical security framework that seeks to  enhance security in the nation through technology. Safe State, utilizing the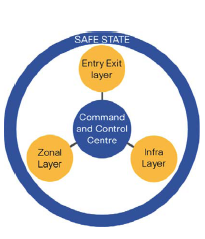 capabilities of Cisco's Smart + Connected Communities (S+CC) framework and the  system integration expertise of HCL, offers a unique network based physical security solution  that combines best of breed integrated security technologies.
Safe State will act as a platform to enable the government, agencies such as law enforcement and citizens communicate and collaborate over an integrated network to prevent, detect and co-ordinate response to threats and incidents.
In effect, the Cisco-HCL alliance brings together technology leadership and service delivery to create a bestin- class solution. The knowledge and best practices of HCL and Cisco have transformed the integrated security approach to offer the best of detection, protection, prevention and response approaches.
BUILDING BLOCKS FOR A SAFE STATE
The Safe State solution operates at two levels:
As a technology-based deterrent that can function as pre-emptive, early warning system during an incident
1. As an integrated communications platform that enables law enforcement offi cials speedily respond to and monitor situations
2. As a network that delivers secure connectivity end-to-end
ENHANCING SECURITY, LAYER BY LAYER
The Safe State solution can be deployed in three layers
Entry / Exit Security Layer: Securing entry exit points of a city
Entry/exit points of a city secured to monitor and track the movement of vehicles.
Screening every movement across entry/exit points
Generation of intelligence reports on vehicles humans in transit

I. ZONAL SECURITY LAYER: SECURING ZONES/BUSINESS
DISTRICTS
City zones/business districts secured to ensure detection and prevention of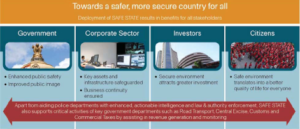 distress situations.
1. Real time monitoring and aerial surveillance systems provide response teams with intelligence reports to enable rapid action
2. Intelligent traffi c management systems
3. In-built GIS/GPS modules allow effective communication between ground units and Command & Control Centre, enabling effective tactical management of situations

II. INFRASTRUCTURE SECURITY LAYER: SECURING CRITICAL INFRASTRUCTURES & INSTALLATIONS
Critical installations & city infrastructure secured with advanced solutions that use sophisticated surveillance, access control and screening systems to detect &  prevent intrusions.
1. Advanced screening tools that can detect concealed weapons
2. Vehicle screening and logging at entry points
III. COMMAND AND CONTROL CENTRE
Command and Control Centre is the heart of the Safe State project since it is the hub, which integrates every component and layer to provide actionable intelligence. The Command and Control Centre will monitor activities captured by the various surveillance devices.
It will also enable deep integration with advanced communication modules, access controllers, baggage scanners, detectors/sensors and surveillance solutions to provide continuous intelligence inputs to work stations. This module will also incorporate a high-end digital display solution that can showcase the Application Panel in full view to the monitoring authorities.
Follow and connect with us on Facebook, Twitter, LinkedIn, Elets video