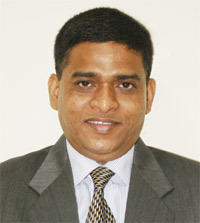 P K Mohapatra
Commissioner-cum-Secretary, Departments of Information Technology, Sports and Youth Services and Information & Public Relations, Government of Orissa
"We have done extremely well on the e-Procurement front. Now, any procurement of the government above INR 100,000 is done through e-Procurement. Leading state PSUs have also deployed e-Procurement. All Urban Local Bodies of the State have also switched over to e-Procurement mode."
Please tell us about your State's IT vision and plan.
Our vision is to position Orissa in the league of top 3 States in the country, in terms of successful implementation of e-Governance projects and delivery of government services at the doorsteps of the citizens. A major concern is how the underprivileged people, who do not have the means and knowledge to access the current government delivery system could reap the benefits of these initiatives.
Awareness and capacity building programmes, both at the Department and user levels will be given priority, because we believe that the success of the e-Governance projects hinges not only on accessibility to services but also on effective branding and communication strategy. We have therefore, launched awareness campaigns on a large scale for sensitising people on the new and innovative modes of service delivery.
What have been some of the major e-Governance (G2C, G2B, G2G) initiatives of your State?
We are moving aggressively on the NeGP core projects. The Orissa State Wide Area Network (OSWAN) is in advanced stage of completion. Equipment installation and connectivity are ready at the State headquarters (Hqr), 30 District Hqrs, 255 Block Hqrs and 25 horizontal offices. Telecommunications Consultants India Ltd. (TCIL) has prepared the DPR for connectivity of 2714 horizontal offices across all government departments up to Block level at a total investment of nearly INR 6000 million  The requisite state contribution of INR 2200 million has been included in the IT Department plan for 2010-11. All horizontal PoPs will be operational by June 2010.
The implementation schedule for Common Service Centres (CSCs) is on track. 4381 CSCs are operational against a target of 8,558 by June 2010. Provision of a host of G2C and B2C services like government forms and information, water, electricity and telephone bill payments are on the anvil. The vendor for implementation of the State Data Centre (SDC) has been finalised. The agreement between the government and the vendor was executed recently against a project outlay of nearly INR 3000 million. The SDC will also be operational by June 2010.
We have engaged Ernst and Young as the consultant for preparation of Detailed Project Report (DPR) on Service Delivery Gateway, State Portal and gap infrastructure. The Government of Orissa has approved one service delivery gateway as Orissaonline. We have done extremely well on the e-Procurement front. Now, any procurement of the government above INR 100,000 is done through e-Procurement. Leading state PSUs have also deployed e-Procurement. All Urban Local Bodies of the State have also switched over to e-Procurement mode. We have been doing pretty well in deploying e-Governance applications in the Treasury, Land record, Transport, Panchayati Raj, Rural Development, Police, Jails, Courts, Higher Education and Health sectors.  Currently, more than 40 e-Governance projects of large and medium sizes are being facilitated by the IT Department.
What are the expected IT initiatives in the next three years? What is your USP to project your State as an investment destination for IT?
All core NeGP Projects will be fully commissioned in 2010-11. We are in advanced stage of implementation of Orissa Secretariat Workflow Automation System (OSWAS), e-Registration, Punarbas, Nandini, e-College, Smart Panchayat and SAMS. On the investment promotion front, Orissa is in the midst of an industrial revolution in sectors such as metals, petrochemicals and power. Big infrastructure projects involving roads, railways. Ports and telecom are under implementation. The industrial upswing supplemented by large number of e-Governance projects positions Orissa a very attractive investment destination for IT.
What is your plan to bridge the digital divide in your state? What are some of the challenges in achieving this and how would they be overcome?
The digital divide can be bridged by awareness building, literacy and reaching out through pervasive as well as demonstrative programmes. In the second phase of e-Governance projects, we will be taking up departments and thrust areas like Scheduled Castes and Scheduled Tribes, Food and Civil supplies, Higher Education, School and Mass Education, Fisheries and Animal Resources, Engineering Department, among others. IT applications improve transparency and delivery of services. The e-Procurement project is the most visible example. The very people who once opposed are now immensely enthused. All stakeholders, except those who had vested interest in the older methods of procurement, appreciate the efficiency and transparency that has become an integral part of e-Procurement. The contractors are a satisfied lot as the new method has drastically reduced cost overheads for quoting against a tender.
The most difficult challenge is change management. Mostly, people are skeptical to new ideas. I would again cite the implementation of our e-Procurement project. Initially, we encountered opposition. But, we conducted number of sensitisation workshops and programmes for the engineers and contractors. We took pilot projects and demonstrated the benefits. Wherever required, we slowed down the pace a bit to help assimilation of facts and figures in the right perspective.
To create IT literacy among youths of Orissa, IT Department imparted training to 66,000 youth all over the state on basic computer and soft skills.
What kind of support do you expect from the Centre for these activities?
The Centre has been very supportive in providing funds, guidance, resource persons for evaluation and monitoring, best practices, besides being very receptive to innovative e-Governance project ideas. We expect this support to continue.
Where do you see your State in 10 years from now?

Orissa would be a model state in e-Governance implementation. I foresee major overhauling and refinement in government processes as the people get more used to delivery of services through electronic and online mode.  Mobile e-Governance services could emerge as the key players and game changers in few critical areas of governance. There will be greater concern amongst people on environmental issues and there would be emphasis on adopting Green IT concepts.
Prachi Shirur
prachi@egovonline.net