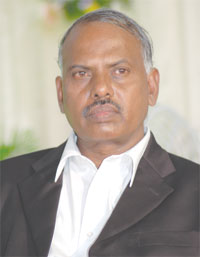 P Manickavelu
General Manager
What are the various Data Centres services and solutions you offer? How these offerings have an edge over other existing market offerings?
ITI Data Centrer is a joint attempt of ITI and Trimax to provide a reliable infrastructure for IT operations. It emphasises on maintaining business continuity, rapid information availability, storage, backup and thereby minimising the chances of disruption.
ITI Data Center offers a comprehensive service portfolio covering the entire value chain right from Infrastructure to applications. The service offerings include:
High Density Hosting Services – Managed co-location, Managed Dedicated Hosting, Internet access, Managed Utility Hosting.
On-Demand Services – Utility Backup and Vaulting, Utility Storage, Load Balancer, Utility Messaging.
Managed Security Services – Firewall Intrusion and Detection, OS Hardening and Patch Management, Vulnerability Assessment, Anti-Virus and Anti-Spam.
System Support Services – OS Management, DB Management, Application (web, mail) Management, Network Management.
Professional Services – Data Center building, Data Center Consolidation/ Migration, DR/BCP Design and Implementation.
The key differentiators of ITI Data Centre is that it is India's fi rst and only Datacentre provider offering High Density Hosting Services by supporting power requirements ranging from 4 KVA to 14 KVA per rack, thereby dramatically reducing the Total Cost of Ownership (TCO). At the same time, It is India's fi rst and only Data Center backed by a public sector company  leveraging on the stability of a PSU and the effi ciency of private sector through  a Public Private Partnership Model. ITI Data Centre have an edge over other  Data Centres not only through its complete range of data center services but  also in terms of its infrastructure, effective and eco-friendly fi re suppression  facilities, high level of security, carrier neutrality, availability of power,  precision controlled environment and 24×7 support services.

Who are the government clients whom ITI Data Centre caters to?
ITI Datacenter has commissioned its Datacenter on June 30th 2009 and are in advanced stages of discussion with government organisations in verticals such as Banking, Financial Services and Businesses (BFSI), Telecom and Oil/ Gas Industry organisation's wanting to leverage on ITI Data Center's capability.

What is your strategy to ensure maximum uptime and a secured environment to your clients?

ITI Data Centre has deployed a redundant architecture of 2N + 1 for DG Set, UPS, PAC and power from two different grids for ensuring maximum uptime for its customers.
ITI Data Centre's are providing a secured environment through the following process and policies:
ISO 27001 certifi ed Datacenter operations
Perimeter Security with CCTV and Guards
Three Levels of Security – Access Card, Numeric Code and Biometric Scanning
CCTV Monitoring of Entire Facility with 30 Day Archival of records
Firewall from two different vendors running in High Availability Mode
Customised Security Policy for Customers on request
Different VLAN for different Customers/ Processes

What is your share in the overall Indian market for data centre services and solutions?
ITI Data Centre has commissioned its Datacenter on June 30th 2009 and hence it's share in the datacenter services market should increase in the next 3- 4 quarters. We see ourselves evolving into a Preferred IT Infrastructure Platform Service Provider, providing Scalability, Availability, Security and Innovativeness (SASI) to government and private sector  enterprises.
What are the challenges you face while providing these services and solutions in government sector?
The challenges are around sales cycle for these services rather than the actual delivery of these services. We have received very positive response to the gamut of services including our Datacenter Infrastructure from all customers across verticals.
Are you planning to increase your gamut of offerings in Data Centres? Elaborate.
ITI Datacenter intends to setup multiple datacenters networked to offer a platform for offering cloud based services for communications, security, storage and compute which has a direct bearing on the non-discretionary IT spends of organisations, thereby ensuring revenue predictability and sustainability.
Follow and connect with us on Facebook, Twitter, LinkedIn, Elets video