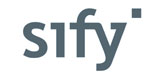 Company Profile

Sify's array of corporate services spans Connectivity, VoIP solutions, Data Center Services, Enterprise Application Services, and System Integration making it truly an end-to-end services provider. Sify delivers these services over its world class network infrastructure spread across over 500 cities and towns in India.
Network Services: Enabling organisations to stay connected in a secure environment, and enjoy the benefits of flexibility and scalability.
VoIP Services: Reducing voice communication costs for enterprises and enabling companies to set up and manage call centers without high capital expenditure through Hosted Contact Center solution.
Data Center Services: Leveraging world class Data Centers that adhere to the global standards to offer Data Center services including Hosting, Data Center Build, Migration services, and Disaster Recovery.
Enterprise Applications: Providing flexible and  cost-effective delivery models, its applications span Messaging, Document Management, Learning Management, and Supply Chain Management.
System Integration: Streamline technologies, data management, applications and processes for economy and efficiency through Infrastructure products, Consulting, Total outsourcing etc.
Connectivity and Data Centers

Growing business dynamics are consistently indicating the need for a robust and scalable IT infrastructure that can immaculately deliver and support, keeping customers in the forefront of success. With the enterprises today demanding value added offerings on top of pure bandwidth play, the enterprise broadband market has shifted from pure bandwidth play to services and solutions. Today, Sify is offering applications such as MPLS, Managed Voice, Security, Managed services, Bandwidth on demand, Co-location, Hosting services, etc. Its ability to ensure network uptime requires management solutions designed for today's complex network infrastructures, including the automated monitoring, diagnosis, and configuration of network assets, to increase efficiency in problem isolation and resolution.
Building and managing data centers is an arduous task involving multiple components and highly complex environments. Meticulous planning at every stage is necessary to put together all vital systems both IT and non-IT, so that the end result is a state of the art facility. Sify's operational and technical expertise of more than 250 man years in successful Data Center management has helped in extending the Data Center build services for customers. The service methodically assists in addressing end-to-end Data Center build services right from concept– creation – managing and delivering SLA adherence.
USP
Sify's unique proposition lies in building various system components of the build activity in  line with the best industry standards like the TIA 942 for building design, cabling etc, ASHRAE guidelines for precision air- conditioning and others. Sify has optimal and right mix  of services involved in Datacenter services including Network services, IT and security  management, SOC.
First Tier 1IP network in India
First E1 network in India
First Level 3 IDC in India
First ATM backbone in India
First Private National ISP in India
First frame relay services in India
First to implement Multi-Protocol Label Switching (MPLS)
First to deploy Cisco Gigabit Switch Routers (GSRs) in the national backbone
First TCP/IP based network in India
MPLS IP-VPN network with infrastructure reaching 900+ cities and towns in India.
Data centers adhere to industry standards like ISO 27001, ISO 9001, TIA 942 and ITIL-based service delivery
P.M.I.-based project management expertise with single point of contact for all aspects of the project
CONTACT DETAILS

Sify Technologies Ltd.
Sudhir Aggarwal, Senior Vice President and Head – Government initiatives
258, Okhla Industrial Estate
Phase-III, New Delhi-110020
Tel: 011-41091130
Corporate Offi ce:
2nd fl oor, Tidel Park, No 4 Canal Bank Road, Taramani, Chennai – 113
TamilNadu
Tel: 044-22540770 /77
email: esbmarketing@sifycorp.com
Website:www.sifycorp.com