e-Procurement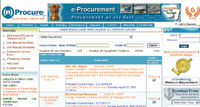 e-Procurement is the process wherein the physical tendering activity is carried out online using the Internet and associated technologies. For this purpose Code has developed a portal known as www.nprocure.com. Government of Gujarat has made it mandatory for its departments and cooperation to make all it purchases about a certain value through this portal. Through this portal, any organization can avail of e-procurement services. The portal is enabled with a end to end e-procurement software. The portal can handle all the activities from the notice inviting tender to the publishing of the complete tender in the electronic form to corrigendum to filing, encryption for security, and digital signing of online tenders, to multistage evaluation and final conclusions.
Average time in decision making like from the day when first tender stage opening (i.e. Document fee stage) till price bid stage opening was approximately 30 days in physical procurement process. This cycle time is reduced to 6.6 days with implementation of online procurement.
Achievements
Indicative savings of quantitative nature in this project are 23.5 days savings on man days and in terms of financial savings approximately savings of INR 486 million achieved against ECV of average 300 tenders.

Participation of Government Departments increased from 19 departments in January 2007 to 150 departments by the end of June 2009.

Participation of government offices under various departments increased from 49 in January 2007 to 550 by the end of June 2009.

Department users directly involved in e-Procurement were 190 in January 2007 which reached to 1450 by the end of June 2009.
Implementor: Industries & Mines Department, Gujarat
Website: www.nprocure.com
"Government Process Re-engineering (GPR) was very much required as we experienced the reality while handling an e-Procurement project at start."
---
Electronic Voting System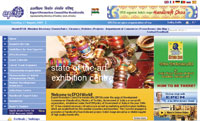 Export Promotion Council for Handicrafts (EPCH) under the aegis of Development Commissioner (Handicrafts), Ministry of Textiles, Government of India is a non-profit organization, established under the EXIM policy of Government of India in the year 1986-87. The affairs of the Council vested to elected committee of administration duly by its 6186 registered members. This year, for the first time, the elections to council were conducted through Electronic Voting System (EVS) along with ballot paper and in person voting. A total of 6168 members opted for voting by EVS. National Internet Exchange of India (NIXI) funded application development and hosting for this EVS. The application for EVS was developed in dot net platform with SQL Server backend.  The registered e-mail id of members was used for communication and sending electronic ballot. The electronic ballots contained an encrypted link to electronic ballot on the server.
Achievements
The process of election was automated fully and the process of counting was semi automated.

Electronic ballots and e-mails were used in the EVS. This resulted in faster communications, and cost saving on stationery, postage, and manpower.

Earlier the members needed to fill the ballot, and sent it through courier / post to Secretary Council. It used to take 3 days to reach, there were complaints of lost ballots, late receipt of ballots etc. EVS eliminated these problems by making the filling and submission of ballots automated.

The handling of paper ballots required upto four persons throughout the election process, with EVS, the ballot handling was done automatically.

The counting of ballots used to be a mammoth task involving about 40 persons for counting and upto 15 people for backend support to them. It used to be a time consuming process of about 15 hours. With EVS, the counting could be done. itself instantaneously.
Implementor: Export Promotion Council for Handicrafts, Ministry of Textiles, GoI
Website:  www.epch.com
"EVS was used by 2089 members out of 6168 members opting for electronic voting."
---
e-Bidding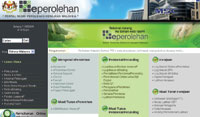 The Ministry of Finance, Malaysia recently  introduced Government electronic procurement mode named eBidding. eBidding was introduced in selected Government agencies on a pilot basis in November 2006 as part of the ePerolehan, solution under the eGovernment initiative. ePerolehan provides a virtual marketplace to cater for Government buyers (2,500 offices with approximately 12,000 users) and suppliers of products and services totalled 140,000 suppliers. There are 5 procurement modes in ePerolehan which are direct purchase, central contract, quotation, tender and eBidding. All of these procurement modes are web-based and can be accessed by users online.
eBidding is a procurement mode that is based on a reverse auction concept where sellers offer their items and compete for the price which the buyer will accept. In this scenario, the Government agency, as the buyer will set up an auction event to receive bids from suppliers.
Achievements
During the pilot implementation, more than 100 transactions have been carried out involving 8 Ministries.

eBidding drastically reduces end-to-end procurement process in comparison with other modes of procurement. In average, the procurement cycle is only within 3 weeks compared to tender which takes an average of 20 weeks in order to issue the letter of award to the respective supplier.

The bidding result is straightforward and is based on the lowest bid price offered. This results in faster and less complex decision making. Commonly, suppliers enjoy faster bidding results.

Government agencies avoid tedious process of examining different suppliers with different specifications.

It fosters broader business participation as all qualified suppliers will, be competing with each other on a level playing field.
Implementor: ePerolehan,  Malaysia
Website: www.home.eperolehan.gov.my
"eBidding utilises web-based platform where it can be easily replicated to other State Governments, statutory bodies and Government linked companies."
---
e-Procurement in Orissa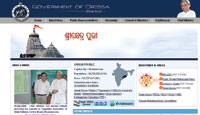 With the objective of bringing reforms related to public procurement under the administrative reforms, Government of Orissa with World Bank, formulated an agenda out of which e-Procurement was a priority area. Accordingly, NIC was entrusted by Govt. of Orissa to undertake the automation of procurement practice. With the principle that what is good for citizen is good for the government, Government of Orissa and NIC committed to adopt e-Procurement as a major e-Governance initiative during late 2006 to bring transparency and accountability in public procurement process. With introduction of GePNIC (Government e-Procurement Application of National Informatics Centre) by NIC during 2007, achieving the goal became a reality. GePNIC, being a Mission Mode e-Governance Project, caters to works related to tendering activities, which covers almost 85% of Orissa Government's procurement budget.
Achievements
Department officers have been enabled to create and publish the tender online along with corrigendum.

Department bid openers, open technical and financial bids online in stages. The bids can only be opened after the designated time and only by the pre-selected bid openers.

The financial evaluation is done automatically and comparison chart is generated indicating the L1 and other bidders. The award of the project is automatically intimated to the bidder by mail and through the portal and  public can see the results of the tendering.

The application facilitates free online portal registration by any bidder from any place and is a self-registration process.

The bidder also has to register his Digital Signature Certificates to get access the bidding process.

The bidder could search, prepare and upload his bid documents that are stored in encrypted format thus not revealing the bidders price and identity.
Implementor: National Informatics Centre, Orissa State Unit
Website:  www.orissagov.nic.in
"Drawing inspiration from Orissa experience, 12 other states have initiated action for adoption of GePNIC for Pradhan Mantri Gram Sadak Yojana  tenders."
---
National Do Not Call Registry Portal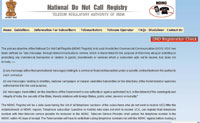 Sharp increase in telemarketing calls related to marketing, advertising activities and direct sales promotions has been witnessed leading to inconveniences to the subscribers. Thus, it has become imperative for the Government of India to step in to curb this malaise. Hence Telecom Regulatory Authority of India (TRAI) decided to set up a "National Do Not Call (NDNC) Registry" which enables telecom subscribers to opt out of receiving unwanted telemarketing calls. NDNC Registry means a database or register, containing list of the telephone numbers of telecom subscribers who have registered for not receiving Unsolicited Commercial Communication (UCC).
Achievements
Registration in the NDNC Registry by the citizen is a very simple process which can be achieved by sending SMS (free of cost) with message "START DND" to pan India number 1909.
Subscribers can also register their numbers through call centers or web portals.

NDNC Registry has been setup and implemented for the entire country for the citizens of India

RBI has issued a guideline to all the banks to employ only those Direct Selling Agents/ Direct Marketing Agents who have registered with the NDNC Registry.

The NDNC Registry Portal is developed in an open source environment on Java platform as front end and Oracle as backend environment
Implementor: National Informatics Centre, Delhi
Website: www.ndncregistry.gov.in
"The calls by Telemarketers, which started with 5-10 million numbers per day two years back, has reached 90-100 million numbers per day."
---
Automation of Octroi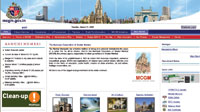 Municipal Corporation of Greater Mumbai (MCGM) has  automated  octroi nakas (checkpost) across Mumbai by introducing contactless cards called octroi silver cards to truckers to pay octroi. The first part of challenge for MCGM was intrinsic to their system, it was to change mindsets of the employees, teaching the employees to adapt to the new system took a lot of elaborating how the system functions and how the employees would benefit. There was hands on training which was given to each and every employee with even the smallest details of how the system would work explained, and thus confidence was gained from all the employees. The second part of the challenge faced was educating the truck drivers. These truck drivers who were often uneducated were shown various aspects of how easy it is to use the card, purchase the card, top up the card, simple safety measures were also shown for how to report a lost or stolen card.
Achievements
The process of collection at the nakas has come down to 10-12 seconds per transaction from close to twelve minute per transaction on an average.

The automation of cash collection process of octroi has enabled MCGM to effectively eradicate revenue leakage, thereby increase profits and also reduce traffic congestion at octroi nakas.

The automation process is a very effective method to ensure a speedy and quick payment and collection.

Municipalities across India, can replicate the model for other specific services where there is a huge volume in terms of collections and payers.

The success for the wide adoption of the card is because it delivers Simplicity, Speed and Transparency.

Functionality and the usage of the card has been very user friendly and has made the life of the truckers passing through the nakas a lot easier.
Implementor: Municipal Corporation of Greater Mumbai,Maharashtra
Website:  www.mcgm.gov.in
"Post introduction of the Octroi Silver Card, MCGM has not only managed to make the collection process quick but has also managed to arrest revenue leakage and increase revenue by 300%."
---
"Exciting news! Elets eGov is now on WhatsApp Channels 🚀 Subscribe today by clicking the link and stay updated with the latest insights!"
Click here!