Introduction
Department of Information and Technology (IT), Government of India launched the National eGovernance Plan (NeGP) in 2006, with the prime objective to deliver "government services to citizens at their doorsteps".
More than one lakh CSCs (nearly 1,13,000) will be covering 6 lakh villages of the country. Out of the total cost of Rs. 5,742 Crore, the Centre would be contributing nearly Rs. 856 crores and the state governments about Rs.793 crore and the rest will be from the private players.
Within one year of signing the deal between the state government and the bidder or the state implementing agency, all the stipulated number of CSCs have to be put in place and made operational. Unfortunately, in many of the states where CSC deal has been finalized, even after couple of years of it, the case has not been so. Moreover, as is the case in many other states, CSCs in Andhra Pradesh too are struggling with the issues like financial viability and long-term sustenance.
Status of CSC in state
Pan India, till date, nearly 36000 CSCs are operational. Two states, namely, Haryana and Jharkhand have implemented the required number of centres. But the actual issue is not the delay but the reason behind the delay.  Even in many of the 36000 centres, the availability of services is an issue, neither government to citizen (G2C) nor business to citizen (B2C). And Andhra Pradesh is no exception. Till this date, in Andhra Pradesh, out of the total 4,687 CSCs covering 28000 villages, nearly 319 CSCs are operational, according to the data made available by the IT & Communication Department.
In early 2008, two bidders were finalized out of the bidding process as state implementing agencies for CSC implementation, namely, CMS, which has 3 zones, and 3i Infotech, having one zone. Apart from these two, TIMES and BEL were given a zone each because of their involvement in establishing RAJiv Centres in rural Andhra Pradesh, which are being subsumed into CSCs. BEL did not take up the given zone and that zone has been given to TIMES, since no other private player appeared during the bidding process even after scheduling time for it at least two times.  Out of the total operational 319 CSCs, 309 has been done by TIMES and 9 by CMS, reportedly. 3i Infotech has planned to quit, failing to erect these centres in the existing situations.
Highly placed sources in Department of IT and Communication commented on the appropriateness of the provision of setting up of all number of CSCs after 12 months of deal finalisation. "It's a false assumption to have all CSCs operational within an year, while most of the departments are still far from digitization and BPR. To have the desired result, policies should be realistic and consider field reality, he added.
Bank guarantee and penalization
To set up CSCs in each zone, the state implementing agency has to deposit Rs.1.8 crore as bank guarantee with the IT and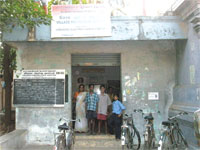 Communications Department. This amount is kept as security money, which in case can be deducted if the service level agreements related with CSCs are not kept as per the deal. One of the provisions in the SLA also discusses the case of delay in implementing CSCs in the stipulated timeframe that is within one year. CMS has three zones, so it has kept Rs.5.4Crore as bank guarantee. However, TIMES has been relieved of this security amount because of reason that it is a non-profit organization, which has worked, in rural Andhra Pradesh in crop insurance and training of youth in IT and Communications. So, now the implementing agencies are at the mercy of the government, and they have already put their requests to the government table to not to penalize.
e-Service availability, ownership and BPR issues
According to government agencies, it's the business to citizen (B2C) services that would bring income to these centres and make them sustainable. However, they admit to the need to ensure a minimum number of transactions, with the availability of G2C services.
Echoing same concerns more firmly, the implementing agencies tell that the rural masses are rarely affected by the availability of B2C services. It's the government services like land records, birth and death certificates, caste certificates, utility bills, filing grievances, driving license and many others which attracts masses to these centres for which they have to shell money and time for visiting the respective offices in town and cities.
Moreover, the agencies are more concerned on the lack of willingness to e-Enable services in many of the government departments. Most of the departments are yet to be digitized, data centres are still to be put in place and with the given situation the assumption of the extension of services to rural areas is nothing else but false.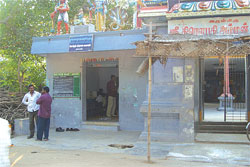 As in the case of RAJiv Centres, where the opening of service outlets had not gone hand in hand with the availability of electronic government services, the situation has rarely improved. In the given condition, it can be easily gauged that Business Process Re-engineering in government departments is still a distant dream, at least in AP, if not in other states, which again will be a too optimistic assumption.
A senior official related with ICT implementation in government departments in Andhra Pradesh described the issue, which has been grossly undervalued in the NeGP and said, "The key issue of process re-engineering has been clearly ignored, without which the technological deployments may not give their desired results." He stressed on the need to transform the way government departments work, in dark shade, hiding information, and opined that the issues can only be addressed with process re-engineering and not just bringing in technology.
Viability Gap Funding and 3i-Infotech's negative bidding
DIT, Government of India has smartly included the provision of subsidy of Rs.3,000 to operators, as a viability gap funding, because of the unavailability of government services in the initial days. But this has not translated into a smart move for most of the states, including AP, since the private bidders, mesmerized by the lucrative Request For Proposal (RFP), and with assumptions of making money immediately after setting up these centres, rejected the subsidy amount at the time of bidding and had even gone to the extent of making their bids in negative. Now, the private players have a strong feeling that it may not be a viable business, with the existing situations. Resultantly, the enthusiasm with which they entered into CSCs have faded and this has made the implementation rate of CSCs considerably slow.
A live example of this can be found in AP. Out of three bidders for CSC, CMS made its bid at zero. 3i Infotech went many steps ahead and made its bid in negative, precisely, – which means that the company would be paying to the government Rs.351 per centre. Now the situation is that reportedly 3i Infotech is planning to quit the CSC project in the state. CMS is struggling in setting up centres, and till date it has to its credit just 10 centres (by June 2009) out of the total 2344 in a year, by which it was supposed to complete all of them. On its part, TIMES has been able to set up 309 centres (by June 2009), more than any of the other implementing agencies. However, a fresh commitment and interest has been shown by CMS and TIMES to continue with CSCs and in the coming months they are planning to come up with many more centres.
Decentralised and need specific bouquet of services
A year after signing of deal, the stakeholders are increasingly realizing that a solution can be a bouquet of services (especially B2C, given the fact that even in coming years there are doubts if the government services will be made available to these centres), improvised according to the local needs and necessities of the people, if the centres have to be made viable. CMS and TIMES are working, on coming up with such services, which can be bundled with these centres to make it viable at least in non-IT services area.
There is no dearth of examples of bundling of non-IT services to CSCs in many parts of the country. Like in Palamau district of Jharkhand, the Deputy Commissioner has utilized the centres in the election times, for making videos and appointing the operators as civil monitors of the elections campaigns. Besides, DC also provided the work of digitization of some departments to these centres, which resulted in new lease of life to the centres, which were struggling with same reasons of unavailability of G2C and lack of interest for B2C in rural areas.
Gujarat is another place where e-Kiosks set up by dairy authorities, popular as Dairy Information Service Kiosk (DISK) have been used to sell milks and have an up to date account of the sales, reducing time of the each farmer in selling to these centres and people purchasing milks at reasonable rates to these centres. Earlier the queue of people coming for purchasing purpose was longer, but after the setting up of thousands of kiosk, the queue of farmers selling milk to these centres increased and queue for purchasing decreased with speedy and fair business. Similar things can be done anywhere, viewing the local needs of the people.
Fnancial Inclusion (FI) and CSC
Financial Inclusion is a fascinating concept for many of the academicians but linking of it to CSCs has not been given much importance. Also, reportedly, the banks are not very interested in opening up zero balance savings accounts for the rural masses, besides opting an indifferent attitude in providing micro credits and loans to the masses. Though, through CSCs the banks can opt for branch less banking, and can have these centres as business centres, but its all easier said than done.
Conclusion 
The potential of an ICT enabled kiosk in providing employment, business, education, services, information on health and agriculture are quite apparent and huge. But this can not be realized until issues surrounding CSCs like – lack of basic infrastructure; slow pace of BPR and lack of digital data, lack of will in e-Enabling the processes in government departments; viability gap funding, unavailability of need specific B2C services, and lack of awareness about the ICT4D concept – are resolved.e.