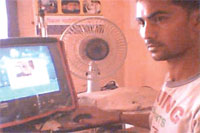 In Palamau Zone, the life of young people living in rural areas is always turbulent. On the one end, they are drifted by centrifugal forces working against the interests of the government. On the other hand, government is far away from them, with limited support forthcoming, which drove them to lead a hopeless and helpless life. Many young people were caught unaware in the vortex of these two forces.
Imamudin Khan, a post-graduate of Okhargra Panchayat, Meral, Garwah District, Jharkhand is one such young man, whose unemployment, vulnerability, frustration and discontent was fueled and exploited by the rebel forces working against the government. With each passing day, he felt frustrated with his life. His aspiration for an employment to lead a life of his own did not materialize for long, though he had a post graduate degree in hand. His craving for a life at his own terms  ended in disappointment.  Being hurt and hit by unemployment, he wasted his youthful days. He felt angry and annoyed with the system for having no option for employment.
His discontent and depression due to unemployment ran deep which was capitalized by the rebel forces. Slowly, he felt that he reached a dead end and was turning to the forces working against the government.  At that time, a ray of hope came in the name of Pragya Kendra (PK), the rural Information and Technology (IT) kiosk programme (which is also called Common Service Centres (CSC)) of Government implemented through Alternative for India Development (AID)/Vikalp Multimedia (VMM). He had many concerns and fears about the success of it, as his village was 20 kilometers far away from the block head quarter, Meral. He was also afraid of taking it up, because his village had irregular supply of electricity and nobody knew about computer and its uses.  He was quite hesitant in taking it up. However, his yearning for an independent life, pushed him forward. Further, the confidence and support infused by AID/VMM personnel made him to take up the task of running PK.
With great difficulty, he mobilized some working capital  and with further support from AID/VMM, he set up a PK. He was formally trained for 15 days and after that he started his engagement with PK. In the first few months, no business came in, which did disappointed him . But, since nothing is permanent, slowly table turned  and business started flowing in. First photography brought some revenues, then, videography, computer coaching, railway ticket reservation and opening bank accounts increased his return of investment.
The success of making a remote CSC successful drew the attention of other Village Level Entrepreneurs (VLE) who, were running similar enterprises. He became a role model and a mentor for other CSCs. He  is  now full of  confidence  and has optimism  in life. Looking back he repents for his oscillation towards the rebel side. Now he not only gained recognition within the village, but also his participation in various meetings with the District Administration and VMM reassured him.
Knowing his commitment, drive and enterprising attributes, his panchayat Okhargra Panchayat was chosen by the Deputy Commissioner of Garwah for piloting one of the e-governance services, the issue of various certificates. The panchayat was also chosen for the reason that the villagers have been facing problems in getting the caste, income, residential, birth and death certificates quickly. They have to forgo daily wages and spend at least Rs.80-100 to shuttle between Meral and their panchayat to get these certificates.
Okhargra Panchayat is fortunate for the reason that this is the first pilot on e-governance certification services in Palamau Commissionerate in Jharkhand State. This new experiment and trial run in Okhargra Panchayat will be forerunning for scaling it up in other panchayats in Palamau Zone.
The moral of the  story and learning from the above case is that public-private partnership's (PPP) entrepreneurial initiative such as CSC/PG not only reformed the rebels, but also brought in new lease of life to the young people. This is not the lone story of  Imamundin Khan in the region.  There are so many youngsters like him who are part of the PG and many are interested to mainstream themselves. It is the opportune time for the government to render support to such young people under Backward Region Fund so as to bring as many young people like Imamudin Khan to the centre of grassroots governance.
Follow and connect with us on Facebook, Twitter, LinkedIn, Elets video