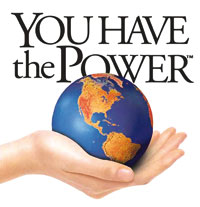 The You Have the Power (YHTP) campaign helps the U.S. Department of Energy reach their energy-saving goals by raising awareness about energy efficiency at Federal facilities. The Federal government can play a unique role in facilitating and encouraging wise energy use, while simultaneously protecting the environment and conserving natural resources. This web site spotlights the work of agency personnel and provides materials and ideas for energy awareness activities, campaigns, and partnerships.

FEMP's You Have the Power awareness campaign was created in 1997 to implement the provisions of The National Energy Policy Conservation Policy Act as amended by the Energy Policy Act and and energy provisions of Executive Order 13423. These statutory and executive branch requirements encourage Federal agencies to develop employee awareness and outreach programs.
Twenty of the largest Federal agencies participate in FEMP's YHTP campaign, and each has a special coordinator who directs the national campaign for his or her agency. The campaign disseminates timely and topical information through handouts, posters, special publications, and other targeted outreach materials.
Follow and connect with us on Facebook, Twitter, LinkedIn, Elets video