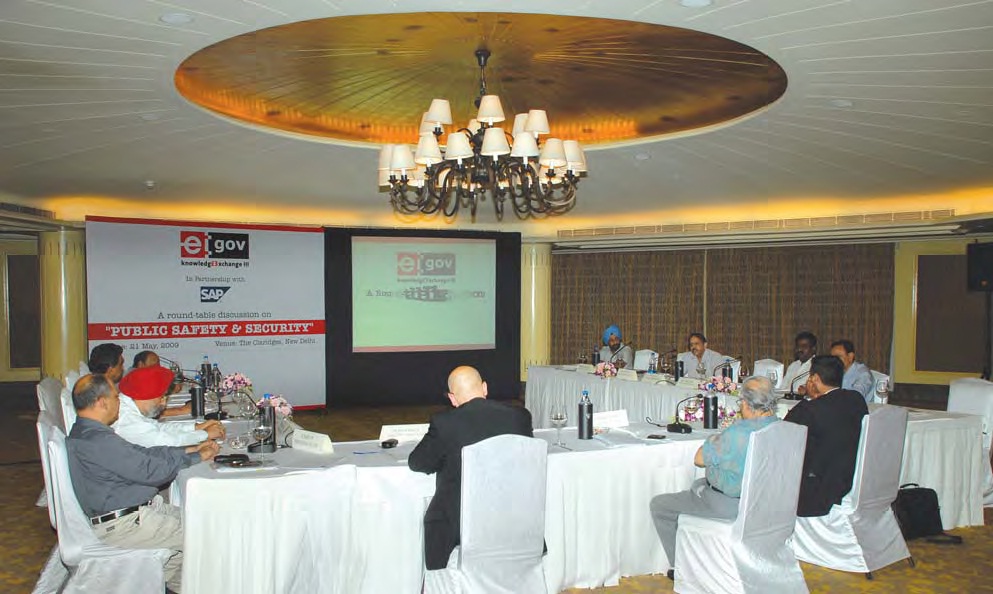 As a part of  knowledge exchange series egov recently held a round table conference on Public Safety and Security in New Delhi. Previously also egov has had knowledge exchange seminar/ discussions on  the role of IT in managing a municipality and  digital inclusion: pathway for economic development. The round table was chaired by M.P. Narayanan, President, CSDMS.
The recent 26/11 terrorists' attack in Mumbai, India, has forced the Indian government and the private agencies to seriously consider improving the country's homeland security apparatus. It is in this scenario that we, at egov (www.egovonline.net),  hosted a round table conference on "Public Sefety and Security" under the Knowledge Exchange Series III. The main objective of this Knowledge Exchange Series III, was to bring to the audience critical perspectives and understanding of successful initiatives and innovations in the area of public security and safety.

This round-table saw the participation of policy makers, experts and implementers from security sector from the public and private sector security domain. Some of the key speakers included names like Barun Kumar Sahu, IAS, Director, Personnel, MHA; Shyamal Ghosh, IAS, Former Secy IT, Currently Chairman, Data Security Council of India, NASSCOM Initiative; KP Singh, IPS, Former Director, IB; NC Padhi, IAS,  Former Secretary (Security) to PM; Bhupendra Sial, IPS, Former DGP, Karnataka; BM Shaigal, IPS, Former DG, MP; Abhishek Singh, IAS, Director,  MCIT; Pavan  Duggal, Expert, Cyber Security; Col. Singh, Joint Commissioner, Police; Mosin Khan,  Dy. Director, IB; Sean O' Brian, VP, Public Sector, SAP.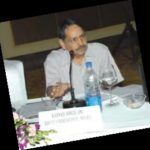 The key focus of the round-table focussed on  the use of ICT in security domain which is still a new and thus a growing phenomenon, though the strategic use of ICT is time tested when it comes to areas like commerce, business, and eGovernance areas like municipality. But on account of the fact that there are so many dynamic factors controlling security issues like lack of effective coordination among security agencies make things much more complex in reality than in theory. And as a perspective it was suggested that there can be no ready-made solution to all these serious and severe issues, but this cannot be a reason enough to wait for things to evolve on their own at their own pace.
Speaking on the issue Sean O'Brien with his vast experience of working with intelligence agencies in different countries highlighted that  in the next five years the 60% of the world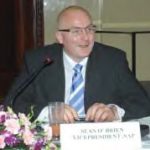 population will be urbanized and hence there will be a high level stress on our limited resources.  And the direct impact of this increasing urbanization will be in the form of increased rate of crime. Infact there has already been a 30% increase in the crime rates in the last couple of years and that too particularly in the area of urban violence. And to further add to this threat is the is ever escalating danger of terror attacks which has made the world a far lesser secure place to live than what it used to be in the past. So he stressed the need to work collectively and through collaboration for use of sophisticated technology and new approaches, in order to effectively reduce the security threat that is looming large over every country.
Besides the direct use of technology for dealing with national security it was also strongly proposed that IT can play a big role in strengthening of the country's intelligence systems.
In terms of increasing the capability and speedy delivery of operations and security drills, technology can play the role of a catalyst. Taking after the example of China it was quoted that  in policing, China, like western nations, has attained higher position with the use of technology, where cops are no more seen on roads and streets. But the moment some incident take place, they are there with all preparations.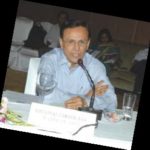 As a crucial reason for our lagging behind in prompt reaction to terror attacks, delay in exchange of data transaction between agencies and ministries was posed as a major contributing factor. Relative lack of technology and tools in our security system can be gauzed by the fact that terrorists of 26/11 used GPS, Sat phones and Internet  to  communicate with their commanders. Thus a need of the hour calls for a highly trained security forces, equipped with sophisticated tools and techniques.
Another area of concern that this discussion brought to the fore was the ill-equipped and ill-managed domain of cyber security. Like for example countries like Estonia and Latvia have greater Internet penetration but sometimes back because of cyber attacks these countries faced severe problems and the countries were paralyzed due to this sort of  attack. Herein, it becomes important to establish web servers in our own country; and  also some  policies-changes may be required to ensure that the agencies do not get stuck while asking for information from the mail websites which usually refuse to provide required information, citing various excuses for denial like following laws of the server hosting countries.
Last but not the least there were sincere voices raised in this round-table conference for integration of agencies for sharing of information. With porous borders from almost all sides, India witnesses illegal migration of people from neighboring countries onto her own land. Thus tracking of population movement can be achieved through such integration of agencies for the purpose of information sharing, leveraging the unlimited and still untapped potentials of  technological solution.
Besides, there was also a strong appeal for the urgent need of streamlining the process of issuing identity cards to the citizens, where a single multi purpose national ID card can serve the purpose of keeping a security check on many levels all at the same time.
Follow and connect with us on Facebook, Twitter, LinkedIn, Elets video