Can you imagine a developing country like India with a billion plus population, where availing and delivering government services are neither a nuisance for people nor the administration, no long queues at windows of public offices, precise and transparent delivery of goods and services to the poor and people residing in the countryside region, apart from the urban masses; each citizen carrying just a single multi-purpose national ID card with a national ID number; sophisticated monitoring of trade and transactions across states leading to minimum tax evasions; electronic passports with biometric features to ensure security and safety? Oh! Yes you can. Take a reading of the 5 egov ambitious upcoming projects deemed to transform system and  bring change in governance.
The National Mission on Education Through ICT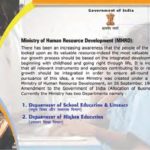 The National Mission on Education through ICT scheme, submitted by the Ministry of Human Resource Development (MHRD), aims to enhance access, equity and quality of higher education in the country by leveraging on ICT and providing e-Content and connectivity to all institutions of higher learning. Computer infrastructure and connectivity will simultaneously be extended to over 18,000 colleges and 400 universities across the country. The scheme will cost a total of US$950,000 and is expected to involve active participation of state governments. Under this scheme, the central government will provide new generation knowledge modules and e-content and bear 75 per cent of internet connectivity cost while the rest will be borne by the state governments. The main objective of the programme is to bridge the digital divide and use computing devices to help learners in the rural areas and in the higher education domain.
National ID Cards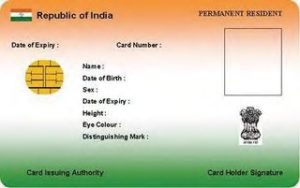 The Government of India is planning to launch a Multi purpose National Identity Cards (MNIC) to every citizen and non citizen living in India by 2011. Each MNIC will have a 16-digit ID number with tamper-proof customized cover, besides being waterproof and able to sustain extreme temperatures. Its a 16Kb chip that contains biometric data of the card holder, and has three specific usages: validation, updating and additional applications, for which space  between 6 KB to 8 KB would be available. All welfare payments including widow and old age pensions, through the wide range of schemes such as mother and child support, kisan credit, student assistance and micro-credit will be channelised through MNIC. The card will make it easier for farmers to get bank credit. MNIC, through a comprehensive database of every resident in India, will enhance the security assessment and measures. Simultaneously, it will also complement and expedite the pace of  e-Governance  mechanism in the country.
ePassport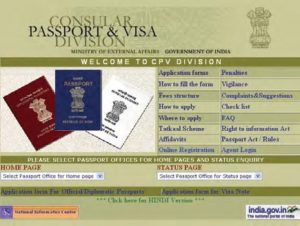 With a microprocessor chip at its back with a 64Kb space, new passports will have biometric recognition features that will make easier for the authorities to check its validity. On June 25, 2008, the first ePassport was launched by the Government of India. Initially its being offered to diplomatic passport holders, and by the last of 2009, GOI is planning to provide it to every passport holder. An e-Passport supports passive and active authentication, basic access control, extended access control and biometric features like facial, IRIS and fingerprint. The authentication features protect against forgery where the access control mechanisms control access to the chip embedded in an e-Passport. The e-passport prevents impersonation and forgery.
eDistrict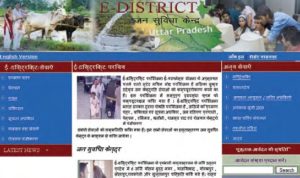 Going with objective of digitization of records, automation of workflow and value addition to services through process redesign to efficiently  deliver government services and disseminate information on government schemes, Government of India is funding an approximate amount of Rs 4 Crores per pilot district to open front ends at district, tehsil, sub division and block level, in the form of citizen facilitation counters. The services include issuance of certificates (income domicile caste birth death), arm licenses, ration cards, facilitation of social welfare schemes, redressal of complaints, utility payments and linking with other e-Governance projects. e-District pilot project is currently being implemented in the 14 States covering 36 Districts.
ESIC
Employees State Insurance Corporation (ESIC)  has 5000 offices across the country. In March 2009, ESIC opted for computerization of its paper based system in to a paper less eGoverned system, benefiting to 4 Crore people enrolled with it. The ESIC scheme is being operated jointly by both state and central governments, sharing the costs on a 1:7 ratio respectively. Also recently ESIC gave aorder to Wipro Infotech,  to implement ESIC's Project Panchdeep, which is aimed at improving healthcare services to its beneficiaries. The five project would include identification of more than one crore subscribers and their family members covered under ESIC, connecting all locations of ESIC, Datacentre, Disaster recovery, Hospital Information Management System, ERP and maintenance services.