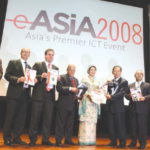 There have been several Asian countries that have made enormous progress in the arena of ICT awareness, knowledge, and skill. Some have completely outpaced others on particular areas and have become global leaders. ICT still has much more in stock to rule the roost. Many new market segments and many new domains will probably see a big growth in times to come. A leading position in these new growth areas is crucial, if Asia wants to play in the first league of productivity and progress, combined with a strong policy system. eASiA2008 is just another attempt and approach of exploring all those opportunities leading towards a Digital Asia.
The organisers
eASIA 2008, the conference and exhibition was held in Kuala Lumpur Convention Centre from November 11-13, 2008 in Malaysia by the Centre for Science, Development and Media Studies (CSDMS), the leading non-governmental organisation engaged in advocacy, research and community building in ICT for Development and knowledge management issues. Hosted by the Ministry of Water, Energy and Communications, Malaysia and in partnership with several other agencies, the conference and exhibition brought together over 700 delegates from 45 countries in three days of intensive discussions, consultations, deliberations, sharing and networking covering five developmental tracks- eGov, mServe, Digital LEARNING, Asian Telecentre Forum, and eHealth.
The Grand Inauguration

Deputy Minister of Energy, Water and Telecommunications, Datuk Joseph Salang while inaugurating eASiA2008 said, the ministry was working to transform its rural Telecentres, known as Pusat Internet Desa to hubs of socio-economic development. The new initiative, known as the Malaysian Telecentre Social Entrepreneurs' Club, will transform Telecentres to foster entrepreneurship and encourage learning in these communities, he said. Salang explained this was in line with the government's national broadband plan. He added that local clinics and libraries would also be included as part of the government's broadband agenda. Commenting on the e-Asia 2008, Joseph said the event was a platform for ICT players to network and establish partnerships for cooperation and collaboration.
While Dr M P Narayanan and Dr Ravi Gupta, the President and Director of CSDMS highlighted the vision and the key objectives behind the conference and exhibition. H.E. Dato' Dr. Halim Man, Secretary General, Ministry of Energy, Water & Communications, Malaysia, Karl Brown, Associate Director – Applied Technology, Rockefeller Foundation, USA, Jyrki Pulkkinen, CEO, Global eSchools and Communities Initiative (GeSCI), Dublin, Ireland, Richard Fuchs, Regional Director, East and South East Asia, International Development Research Centre, Yasmin Mahmood, Managing Director, Microsoft Malaysia SDN. BHD, Abdul Rahman Abu Haniffa, Director – Government Affairs, Malaysia & ASEAN, Intel, Dr. Joseph Amuzu, Adviser, Social Transformation Programs Division – Health Section, Commonwealth Secretariat, UK also reiterated that the way forward for ICT4D in Asia was to collaborate and strengthen the initiatives through renewed partnerships and sharing of expertise.
The Exhibition
The conference also served as a exhibition host of some of the latest e-solutions, services, initiatives and case studies from across Asia and beyond. Exhibitors from professional service providers, IT vendors, telecom venders, satellite providers, consulting firms, government agencies and national/international development organizations participated in the exhibition. KTAK, Microsoft, MSC Malaysia, MAMPU Malaysia, SMART Technologies, University of Malaya, OUM, Universiti Malaysia Sarawak (UNIMAS), UUM, QAI Global Institute, Promethean, OneRoof Inc, Ministry of Communication & Technology, Thailand, Hitachi, EP-TEC Solutions, etc are a few to name in the list of exhibitors.
eGov eASIA 2008
The progress of e-Government in Asian countries has been uneven across the region. Except for a few countries, most countries are in a very early stage of adopting e-Government. Developing countries in the region have a weak infrastructure to support the development of e-Government. They also lack an enabling legal and policy environment, as well as human capacity to design and implement e-Government applications. In this scenario, it becomes imperative for the countries that are slow to adopt e-Government, to learn from the e-Government strategies and models adopted by countries. egov Asia 2008 provides a platform for all stakeholders- policy makers, practitioners, industry leaders, academicians and architects of e-Government projects- across the Asian continent to share the achievements, challenges and lessons learned in implementing e-Governance. egov Asia 2008 was third in the series of the annual eASIA event. This track comprised of six sessions including workshop by Microsoft.
Session: 1 e-Governance : A strategic Vision
The first session in e-Gov track was  e-Governance: A strategic Vision.Speakers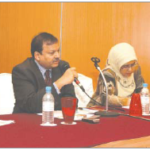 in this session were Dr. Nor Aliah BT. Mohd Zahri , Deputy Director General (ICT), Malaysian Administrative Modernisation & Management Planning Unit, Malaysia; Shankar Agrawal, Ministry of ICT, India; Hiroshi Mizuta, Virtual Enterprise(VE) Center, Japan; and Dr. A. Joseph, Director, Centre for Education and Rural Development, Madurai, Tamilnadu, India.
Dr. Nor Aliah Mohd Zahri, gave a presentation on  "e-Government in Malaysia: Vision and  Strategy." She explained the strategic plan for Government ICT and its project for   The Multimedia Super Corridor.
Second speaker Shankar Agrawal, shared his experience about the Indian Perspective of ICT. He explained how India is moving towards the growth of ICT and shared his experience about  National e-Governance Plan.
Third speaker Hiroshi Mizuta,  explained about the eParticipation through rating the Portal Sites. Finally Dr. A joseph, discussed about e-Govern-ance in Local Administration.
Session 2: Innovative e-Governance initiatives
The secind  session was chaired by  Toru Nakaya, Director, International Cooperation Division, Ministry of Internal Affairs and Communications, Japan. The speakers in this session were C.N. Wickramasinghe, University of Kelaniya, Sri Lanka; Sarina Othman, Lecturer, UiTM, Malaysia; Jitendra Routray, AnaRDe Foundation, India; and Abhay Patodia, CEO, Mobineers Consultancy Services, India.
Jitendra Routray in his presentation discussed about e-Governance is not really about technology. It is about people, processes, and results – using information and communications technologies (ICT) to improve the transparency, efficiency, and effectiveness of public institutions.
C.N. Wickramasinghe and Nobaya  Ahamad in their joint presentation discussed about ICT for Inventions (ICT4I),  Innovations for Development  (I4D) and Grassroots inventions and inventors.
Abhay Patodia  discussed about  issues and challenges in implementing e-Governance in  urban local bodies (ULBS) IN INDIA. He said that There are More than 5000 urban Local Bodies in India but their has been Not Much progress in last 4 months.
Sarina  Otman in her  said  Companies Commission of Malaysia (SSM) facilitate the corporations in Malaysia to use of e-Lodgement services for the electronic filing or lodging of documents to the Registrar.
Session: 3 e-Procurement : The Mantra for transparency and Accountability?

Speakers in this session were  Nor'aini Bt Abdul Razak, ePerolehan Unit, Ministry of Finance, Malaysia; Bruno von Niman,Vice Chairman,ETSI TC Human Factors, Sweden; Maniam Kaliannan, UiTM, Malaysia;and Ridzuan Kushairi Mohd Ramli, Hazman Shah Abdullah, Rozalli Hashim, UiTM, Malaysia.
Nor'aini Bt Abdul Razak gave a presentation on e-Perolehan in Malaysia. She said that it is an Effective and efficient procurement process as everything  is done online.
In their joint presentation Ridzuan Kushairi Mohd Ramli, Hazman Shah Abdullah and Rozalli Hashim presented a paper on Suppliers' Perception of Government Procurement and e-Procurement. Bruno von Niman gave a presentation on the European Tele-communication Standards.
Session 4: Malaysian Experiences in e-government

In the  final session the speakers were Ahmad Naqiyuddin Bakar, Lecturer, UiTM, Malaysia; Jasmine Binti Ahmad, Lecturer, UiTM, Malaysia; Asiyah Kassim, Lecturer, UiTM, Malaysia; and Mohamad Nazri Bin Aman, UiTM, Malaysia.
Ahmad Naqiyuddin Bakar in his presentation talked about unlocking the potentials to refine e-Government in Malaysia. Jasmine Ahmad in his presentation talked about Main attraction to use e-filing,the motivation to use e-Filing among tax payers and the tax payers perception on e-Filing.Mohamad Nazri Aman in his presentation discussed about positive attitudes towards ICT use can exist among non-adopters.
SERVE eASIA 2008
The lack of adequate connectively has been one of the biggest causes of the limited impact of ICT to bridge the digital divide. Mobile phones have spread throughout much of the developing world more quickly and deeply than any previous technology-based as rolling out a mobile phone network is far cheaper than building a fixed-line systems and Internet networks for computers. Mobiles offer a variety of services other than communication and entertainment. These include: News, Stock Prices; Location tracking; Telephone directory; Mobile banking; Ticket reservation; Trading, health services , education, m governance and so forth.mServe Asia 2008  discussed and showcased the different aspects of mobile services, technologies, implementation and implications, developments on the public administration and tie them to the existing and future m-Government, education, agriculture and other applications across different countries . The conference  provided a platform to share local and international developments, experiences and lessons learned for knowledge sharing, and promoted networking and business opportunity development.
Session 1: Broadband & Wimax .. What s Next?

First session in mServe Asia 2008 was on Broadband and Wimax… what's next? Speakers is this session were Zamani Zakariah, GM, MyICMS Technology and Standards Division, MCMC, Malaysia; Abu Saeed Khan, Head- Strategy Analyst, Ericsson. Malaysia; Werner Sutanto, Managing Director, Wimax Program Office, Southeast Asia, Intel   Corporation; Zainab Hussain, Senior Manager PMO, Pakistan Telecommunication Corporation Ltd., Pakistan; and  Vinodan Nair, Assistant General Manager, PMO, HSBB Project, Telekom Malaysia.
Abu Saeed Khan spoke  on Simplifying Universal Access He stressed on Addressing  the special needs of the least developed countries. That  includes tariff and quota free access for their exports, enhanced programs of debt relief, and more generous official development assistance. He further said, "We cannot meet twenty-first century challenges with a twentieth century bureaucracy."
on the Wimax front he said that  despite the increasing availability of LTE and WiMAX, HSPA (and HSPA+) will still account for 54% of wireless broadband customers (1.1billion) by the end of 2015.WiMAX will be a niche technology in the wireless broadband market, with less than 100 million users by the end of 2015.
Werner Sutanto  pondered over the challenges in growth of broadband  in Southeast Asia. He further said that Falling WiMAX Chipset Prices Spell Good News for Adoption of Smaller Mobile Devices. He also, stressed the need for Low cost hi-speed connectivity in educational institutions.
Session 2. Content & Services : An Industry Perspective

This  session was chaired by Ir. Wan Murdani Mohamad, Multimedia Deve-lopment Corporation, Malaysia and Speakers in this session were Michael Bjärhov, Director, Government and Industry Relations, Asia Pacific, Ericsson, Malaysia; Syamsul Bahrin Zaibon, Lecturer, University Utara Malaysia (UUM), Malaysia; Zainab Hussain, Senior Manager PMO, Pakistan Telecommunication Corporation Ltd., Pakistan; and Asish Sanyal, Sr. Director, DIT, Govt. of India
Asish Sanyal focused on Rural Connectivity in India its Challenges & Opportunities. He said that About 72% population lives in rural India and there is a Huge urban-rural divide in terms of  deployment of lines. He futher said that Rural teledensity is approx 2.4% (target 4%  by 2010) against overall teledensity of 14%  (Urban around 28%). He also, said that Rural connectivity in India is becoming a reality and Broadband penetration is also picking up.
Zainab Hussain Siddiqui talked about Mobile Banking in Pakistan. He said that A very large 'under-class' that is totally reliant on cash for all their day-to-day expenses. This under-class makes no use of the banking sector and so is 'invisible' in terms of its cash value.Proliferation of mobile communications offers a unique opportunity for improving access to financial services thus, bringing  the forgotten millions into the banking net. He further laid emphasis on Many barriers to successful roll- out exist, but an 'acceptable' arrangement must be made for  all stakeholders in terms of  regulations.
Syamsul Bahrin Zaibon spoke on MOBILE GAME-BASED LEARNING.He talked about Best Practice for Mobile Game Development, Scrum Methodology, Game Development Methodology, Game Life Cycle and Comparison of the Development  Methods. He also said In order to make the mGBL successful in learning environment, it should embrace both entertainment and education purposes. students preferred learning through mobile phone rather than other devices.
eHEALTH ASIA 2008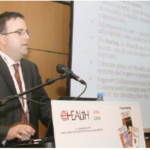 eHealth Asia 2008 inspiring opening keynote speech of Dato' Sri Dr. Hj. Mohd Nasir b. Mohd Ashraf, Secretary General, Ministry of Health, Malaysia (represented by Dr. Maimunah Abdul Hamid, Ministry of Health, Malaysia) set the right tone for the two days of conferencing. In context of the challenges in public healthcare delivery, Dato' Mohd. Nasir's speech underlined the need for eHealth adoption in countries like Malaysia and the commitment shown by the national government in making such initiatives to succeed.
The first  session of the conference titled 'Understanding eHealth – Policy, Technology, Strategy' had Dato' Dr. Jai Mohan, Professor of Health Informatics & Pediatrics, IMU Malaysia & VP, Malaysian Health Informatics Association; Dr. Molly Cheah, President, Open Source HealthCare Alliance, Malaysia; and Datin' Dr. S. Selvaraju, Consultant, Planning & Development Division, Ministry of Health Malaysia as speakers. While Dato' Dr. Jai Mohan presented on the potential of eHealth applications in maximising healthcare access, Dr. Molly Cheah talked about the application of open standards based healthcare solutions and Datin' Dr. Selvaraju contributed on the best practices and challenges in developing national health information network.
The second technical session titled – 'Technology Solutions & Best Practices for ICT driven Healthcare' started off with a captivating presentation by Prof. Dr. Stephen Chu, Vice Chair, Health Level 7 (HL7) New Zealand & Head-Health Informatics, Metamorphous Consulting. Dr. Chu effectively brought out the critical aspects and differences in technical and semantic interoperability issues. The second presentation by Dr. Amiruddin Hisan, Dy. Director (TeleHealth Division), Ministry of Health, Malaysia was another interesting deliberation focusing on telehealth initiatives undertaken by Malaysian government. The final presentation of the session by Ashok Chandavarkar, APAC Healthcare Programs Manager, Intel provided an insight into the cutting-edge technology solutions for mobility in healthcare.
The Commonwealth Medical Association's panel discussion on 'Global Experiences in eHealth Imple-mentation & Practices' put up some interesting presentations in the afternoon session. Chaired by Dr. S. Arulrhaj, President, Commonwealth Medical Association and co-Chaired by Dr. M. Abbas, President, Indian Medical Association, the panel comprised of Dr. Oheneba, Secretary-CMA, Ghana; Dr. N. Arumugam, VP, Malaysian Medical Association and Dr. JP Tabone, VP, Medical Association of Malta.
The day concluded over a special workshop by Microsoft, titled – 'Knowledge Driven Health'. Beginning with the  speech by Azizah Ali, General Manager-Public Sector, Microsoft Malaysia, the technical presentations were delivered by Werner Van Huffel, Technology Strategist – Health and Social Services, Microsoft Asia Pacific Region. The presentation by Huffel focused on two significant aspect of health IT – 'patient relationship using CRM solutions' and 'business intelligence and healthcare analytics'. The final presentation by Alex Chang, Managing Director, Gloco Holdings, Malaysia, showcased how CRM and BI solutions are brining higher efficiency and business benefits for healthcare organisations.
An exciting panel discussion kicked-off the second and final day of the conference. Moderated by Dr. Rosnah Hardis, Director – Health Services, Ministry of Health, Malaysia the panel comprised of Dr. Abdullah Salleh, Sr. Consultant Surgeon & Clinical-IT Coordinator, Hospital Selayang, Malaysia; Tan Hai-Shi, IT Manager, Gleneagles Intan Medical Centre, Malaysia; Jack Tan, IT Head, Pantai Medical Centre, Malaysia; Dr. K Tilak, Chief Medical Officer – Asia, iSoft; and Werner Van Huffel, Technology Strategist – Health and Social Services, Microsoft Asia Pacific Region. Focusing on the theme – 'simplifying technology challenges of healthcare enterprises,' the panel brought forth some the daunting challenges faced by modern healthcare enterprises.
A set of interesting presentations came up in the technical session titled – 'Technology Applications for Efficient Healthcare Management'. Chaired by Dr. Azrin, Ministry of Health, Malaysia, the session had Dr. Hammad Durrani, Department of Community Health Sciences, Aga Khan University, Pakistan; Rajendra Pratap Gupta, President & Director, Disease Management Association of India; and Dr.Ramin Moghaddam, President, Iranian Medical Informatics Association (IrMIA). Dr. Durrani presented on the Panacea project of IDRC. Rajendra P Gupta deliberated on the role of telehealth in disease management & chronic care and Dr. Moghaddam brought out the concept of patients roaming profile.
The concluding session of the conference held late afternoon on the final day was a special round-table, titled 'Way Forward for eHealth – follow up from Rockefeller Foundation's Bellagio Conference'. Chaired by Karl Brown, Associate Director (Applied Technology), Rockefeller Foundation, USA, the panel included Dr. Molly Cheah, President, Open Source HealthCare Alliance, Malaysia; Dr. Hammad Durrani, Dept of Community, Health Sciences, Aga Khan University, Pakistan; and Dr. Ravi Gupta, Editor-in-Chief, eHEALTH magazine.
TELECENTRE FORUM eASIA 2008
Between 11th and 13th November 2008, Ministry of Energy, Water and Communications,Malaysia played host to guests from all over the world. More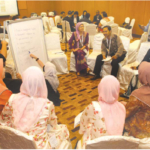 than 600 participants followed the invitation to attend the international conference eASiA2008. The conference organised by Centre for Science, Development and Media Studies and elect Technomedia Pvt. Ltd.
The event has seen deliberations on five thematic domains, namely governance, education, health, mobiles and telecentres. One of the most dynamic sessions of the conference was the Asian Telecentre Forum. The Asian Telecentre Forum 2008, third in the series of telecentre forums organised by CSDMS in collaboration with telecentre.org, focused on the knowledge sharing between the flagships and emerging telecentre networks in the region and beyond.
For an unprecedented few days, a team of telecentre practitioners – a small, but growing cadre – enjoyed the rare opportunity of meeting and learning from each other; discussing, clarifying, and codifying their common goals and disparate experiences; acknowledging the challenges to success – even as they began to shape realistic strategies for overcoming them.
The participants and their organisational titles ranged widely. They ranged from Heads, Vice-Presidents from corporate sector; Representatives from telecentre networks, to grassroots level telecentre managers; academicians. Indeed, the discussions were varied with in-depth deliberations.
The forum was constructed around seven topical sessions scheduled over two days. Some of the discussion topics were: Mapping the Asian Telecentre Movement, Telecentre Networks 2.0, Role of Telecentre Networks in National Scale-up Programme, Sustainability of Telecentres: A Systemic Approach, telecentre.org Academy, Content, Services and Innovations at the Last Mile and Mapping Different Telecentre Business Models. Each session began with a brief presentation, followed by vigorous discussion and debate.
From the beginning of the forum, it was clear that all the of the participants – those from the largest, most sophisticated national organisations to those from smaller local and regional groups shared few challenges: national level scale-up, sustainability of telecentres, capacity building of telecentre practitioners, lack of locally relevant content and business plan for sustaining them.
Key Outcomes of the Forum
Asia is big and late-comer to the global telecentre movement

Evolution of telecentres in Asia: Concept acknowledgement(1990s), Pilots (late 1990s), Scale-up (mid-2000s)

Emergence of Asia-Pacific Knowledge Network of Telecentres

Microsoft remains committed to empower and foster local innovation

Huge opportunity for different stakeholders and the future is bright

OneROOF, Inc. and D.Net demonstrated systemic approaches to ensure the sustainability of telecentres

Emerging telecentre networks from East and South East Asian region joined telecentre.org community

The forum has also paved the way for mutual knowledge exchange among the participants
In short, the forum was a gathering of peers. There were no experts dominating the proceedings, more interactive and participative. Rather, the participants took full advantage of an unusual opportunity for exhilarating collegial exchange and knowledge-sharing.
digitalLEARNING eASIA 2008
Digital Learning Asia 2008, one of the five seminal tracks,  committed to bring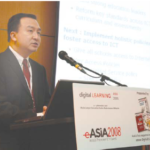 some of the key drivers from the leading countries of technology-enabled education to deliberate on the pressing challenges of technology-enabled education from capacity building to reengineering pedagogy; change management to providing digital access.
The experience of introducing different ICTs in the classroom and other educational settings all over the world over the past several decades suggests that the full realization of the potential educational benefits of ICTs is not automatic. The effective integration of ICTs into the educational system is a complex, multifaceted process that involves not just technology, but also curriculum and pedagogy, institutional readiness, teacher competencies, and long-term financing, among others.
The digital LEARNING ASiA2008 was 'powered by technology, fueled by information and driven by knowledge.' The conference aimed to provide the delegates with an understanding of the various trends and issues associated with the information age in the domain of development in education. The conference also aimed at bringing on board case studies, lessons learned, and best practices that could help the stakeholders including decision makers in addressing pertinent issues and drawing policy recommendations and strategies apt for the information economy striving hard to spread the word of education.
The Digital Learning track conference was inaugurated alongside the eASiA2008 on the second day with the start of this keynote session e-Education: The Asian Experience. The first key note presentation was presented by Prof. Rashid Navi Bax, Deputy Director General, Department of Higher Education, Ministry of Higher Education, Malaysia on e-Education in Malaysia: Policies and Initiatives. Sofian Azmi, Senior Assistant Director, Curriculum Development Division represented the Ministry of Education Malaysia and made his presentation on 'MOE Malaysia: Towards Digital Learning' which was focused on Vision 2020 leading to a Knowledge-based economy. The third speaker of the session was Toru Nakaya who is Director, International Cooperation Division, Ministry of Internal Affairs and Communications, Japan. Siek Kah Hee who is Education Programme Manager, Intel Malaysia, deliberated on various educational programme offerings of Intel Malaysia.
The Asia Knowledge Forum had its first planning meeting alongside the eASiA2008. It is a Forum designed to assist some of the poorest Asian countries in mobilizing best practices and knowledge around issues of integrating educational technology into learning environments. The Forum will endeavor to establish national and international partnerships to ensure the success of such structures. It will also provide a mechanism for exchange and networking between member countries and to promote cross country collaboration and communication. It would also explore opportunities for synergizing knowledge through the convergence of regional experiences and knowledge sharing from across the globe.
The planning meeting on "Asia Knowledge Forum" was convened by Global e Schools and Communities Initiative (GeSCI). The aim was to bring together ministries of education, opinion leaders, scholars and educators from Asian countries to exchange, collaborate and become engaged in an ongoing dialogue that will ultimately lead to the development of appropriate, innovative and possibly ground-breaking policy solutions to the impediments on ICT and Education that  confront policy makers.
As yet another successful session, Microsoft coordinated a workshop titled '21st Century Teaching and Learning', which provided the audience with an opportunity to know about various technical solutions that the teachers and learners can avail while effectively integrating ICTs in education.
The session on Building Capacity for a Learning Community had some enriching deliberations and paper presentations under the able leadership of Devadason Robert Peter, Sr Specialist-ICT, South East Asian Ministries Educational Organisation (SEAMEO) RECSAM, Malaysia.
The third day of the conference saw some interesting discussions happening on themes like 'Open and Distance Learning Practices', 'Towards a new agenda in higher education', and 'e-Learning Delivery Models: Re-engineering Pedagogy'.
The track came out with some major recommendations, like- implementing holistic policies to foster access to ICT, give all schools access to Internet, Key Access Policies?Universal Service policy?Spectrum policy?VoIP & Wireless Broadband, etc.The participants called for strengthening of cooperation and linkages between educational institutions and organisations across the globe