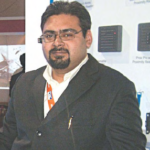 "India has seen lot of successful pilots using RFID undertaken for the micro finance schemes" says, Aditya Razdan, Regional Sales Manager -South Asia, Identification Technologies, HID Global  in an interview with egov

What are some of the latest trends that you have observed in the RFID market globally and in India?

Public transport and financial transactions markets are using RFID as a catalyst. Both above mentioned segments have penetrated the worldwide markets, bringing along ease of accounting and safety to the consumers. While public transport has seen rapid deployment in India viz: Delhi Metro and Mumbai Local Passes; financial transactions i.e contact less cards used for payments [i.e Credit Cards / Debit cards based on Europay, MasterCard, Visa (EMV) contactless chip instead of Magnetic stripe cards] as a business vertical is yet to develop. India has seen lot of successful pilots using RFID undertaken for the micro finance schemes in association with major banking institutions and hopefully shall have mass deployments by mid 2009.
Do you think that India has made full use of the potential of RFID technology?

The future of RFID as a technology, especially in the Indian context is very bright. It is more relevant in India, since it is the second largest producer as well as consumer of Fast Moving Consumer Goods (FMCG) and a major manufacturing hub worldwide. Added to that, the massive Information Technology (IT) capabilities present in India position it to be the biggest gainer.
As yet, we have not made full use of the potential of the technology. Most of the deployments and developments have been focused on replacement of either barcodes or punch card machines for time attendance. The advantages of having offline data processing and authentication capabilities are still not used.
We need to move away from online systems to offline systems wherein connectivity or the lack of it does not hamper a business process. This can be done using memory provided in the RFID transponders.
What are your important offerings in this space? What are some of your recent announcements for the RFID market?
The Identification division of HID Global has been into tag manufacturing since 1964 and our offerings are: mobile /desktop readers, reader boards and modules; cards and prelaminates; fobs, tokens and customised tags.
RFID based tags can easily be embedded into any product (condition applied as per environment). This benefit allows the tag to work in harsh environments providing permanent identification throughout the life of the product. Thus being able to customize a RFID tag as per client requisites gives life to a whole new range of possibilities and applications.
HID Global being a contactless EMV Certified Reader and Prelam Manufacturer promotes the local manufacturers worldwide. This position gives us enviable leverage since we have emerged as the largest source of applications for financial transactions.
What are the opportunities that RFID brings for the channel players?

The diversity and variety of applications and solutions which can be derived from the usage of RFID based tags enables channel players to have a unique opportunity to revive their oldest customers and attract repeat business from the same. Inventory Management or Asset Management/ Tracking are few of the examples that apply to almost all business verticals.
How are you engaging your channel partners in this space?
HID Global is the basic manufacturer of the tags and readers/ modules and do not engage the end clients directly. We empower our partners with the requisite knowledge and expertise from our side not only for hardware but also software implementation by getting together a consortium which then would be able to address end clients in the best possible way.
Follow and connect with us on Facebook, Twitter, LinkedIn, Elets video