For the developing countries what matters most in implementing e-Government is low cost, high speed and efficient access network infrastructure. This article discusses about the low cost, high efficiency of Passive Optical Network (PON) which can help to implement e-Government in an effective way.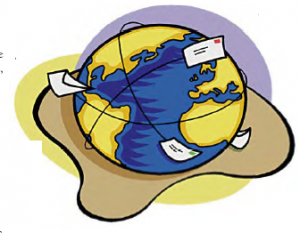 eGovernment is defined as the use of Information Communication Technologies (ICTs) to promote efficient and cost-effective government, facilitate more convenient services, allow greater public access to inform and make government more accountable to citizens [1]. Ideally,e-Government must increase opportunities for economic and social development and make government more transparent, responsive and democratic. This would require e-Government to offer services according to citizen's choice, make government and its services more accessible, ensure and assist inclusion of weaker sections, provide information responsibly and use public resources with greater efficiency and effectiveness. It is found that in most countries, e-Government is limited to computerisation of government information and procedures, provision and delivery of online information occasionally.
The focus is on information dissemination and the efforts are geared to the business sector to increase productivity rather than to the citizen for purposes of receiving feedback on government policies or addressing the needs of the excluded [1]. To implement e-Government in the true sense there is a need to do many things  but this article discusses about the emerging, cost effective and efficient Passive Optical Network (PON) architecture which can help in implementing e-Government more effectively. The public organisations/agencies not only needs to be computerised, but their systems should have Local Area Network (LAN) environment and make web portals and public organisation come into the e-Government environment.
It is also important to access and share the information within the organisation and with other government bodies and finally deliver the services and information to the citizens. Let's take an example of e-Police system. Nowadays, terrorism is a major concern for most of the countries and sometimes it is necessary to send the information about terrorism activities or updates from central headquarter to all of the district/province police offices. Use of high speed PON technology makes it possible to send that information immediately. PON is a broadcast network in the downstream and it enables easy access to large data, image or video file for video conferencing, which are required in e-Government .
To ensure effective e-Government system, it is required to transport data, voice and video in a bundle through access network. But currently, most of the Asian countries public offices use dial up or Digital Subscriber Line (DSL) or Asynchronous Digital Subscriber Line (ADSL ) or Cable Modem (CM) technologies which are not optimal and cannot provide support for long distance. Here, PON technology can be useful for developing network infrastructure in implementing e-Government.
PON, The Next Generation Access Network
PON are point-to-multipoint optical networks with no active elements in the signal path from source to destination. A PON consist of an Optical Line Terminator (OLT) located at Central Office (CO) and a set of associated Optical Network Units (ONUs) located on the customer premise. General PON architecture is shown in the Figure-1. The data carrying capacity of PON is 1Gbps in both the directions and a single PON support upto 64 ONUs at a distance of 20km from OLT to ONU. There are different kind of PON architectures, such as Asynchronous Transfer Mode PON (APON), Ethernet PON (EPON) and Gigabit PON (GPON).
The advantages of using PONs as an access network for implementing e-Government are numerous.
PONs allow to connect large areas such as main office and the local offices, operating at distances of over 20km.

PON minimise fiber deployment in both main office and the local loop.

PONs provides higher bandwidth due to deeper fiber penetration, offering gigabit-per second solutions.

Operating in the downstream as a broadcast network, PONs allows video broadcasting either as IP video, or analog video.

PON eliminates the need of installing active multiplexers at the splitting locations, thus relieving network operators from the gruesome task of maintaining curb-side units and providing power to them.

Instead of active devices, PONs use small passive optical splitters, located in splice trays, and deployment as part of the optical fiber cable plant.

Being optically transparent end-to-end, PONs allows upgrade to higher bit rates.
PON Technology for e-Government   
Emerging PON architecture is the best choice to make optimal and efficient infrastructure for implementing e-Government solutions. As shown in the Figure-2, let us consider that around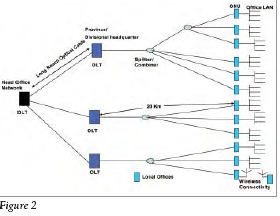 a province/division under the same ministry have many offices, and LAN of each office will be connected with one ONU and each ONU will be connected with OLT placed in province/divisional headquarter which will make one province/divisional PON and all the PONs will be connected with the head office (which may be situated at a distance and connected through long reach optical fiber cable). Also, if we consider that offices are situated in remote places where PON cannot be deployed, those remote office can be connected with nearest ONU with Base Station (BS) functionality through a wireless network. PON is the best candidate for implementing
e-Government, as data traffic is increasing at an unprecedented rate. More and more users are getting online and are using more bandwidth-intensive applications. Market research has shown that, after upgrading to a broadband connection, users spend about 35 per cent more time online than before [5].Voice traffic is also growing, but at a much slower rate of 8 per cent annually. According to most analysts, data traffic has already surpassed the voice traffic. More and more subscribers telecommute, and desire the same network performance as they see on corporate LANs. More services and new applications are likely to be available as bandwidth per user increases.
Neither DSL, nor cable modems can keep up with such demand. Both technologies are built on top of existing communication infrastructure which are not optimised for data traffic. In cable modem networks there are only a few Radio Frequency (RF) channels for data, while the majority of bandwidth is tied up servicing legacy analog video. DSL copper networks do not allow sufficient data rates at required distances due to signal distortion and crosstalk.Most network operators have come to the realisation that a new, data-centric solution is necessary. Such a technology would be optimized for Internet Protocol (IP) data traffic. The remaining services, such as voice or video, will converge into a digital format and a true full-service network will emerge.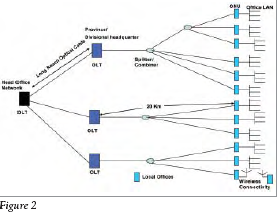 If we compare APON and EPON for e-Government, EPON is the best choice as almost 95 per cent of the network are Ethernet based and e-Government comes to the reality due to the expansion of Internet with is IP based solution and Ethernet looks like a logical choice for an IP data-optimised access network. Newly – adopted quality of service (QoS) techniques have made Ethernet networks capable of supporting voice, data and video. Ethernet is a inexpensive technology, which is ubiquitous and interoperable with a variety of legacy equipment.
In near future, we will see that the entire network will be optical based or optical wireless combined and most of the countries will be connected through inter continental optical cable such as submarine cable. In order to take the benefits of optical network, Asian and  third world countries should deploy the network infrastructure based on PON for implementing e-Government.
References
Teruhiko Yoshimura (Ph.D),Researcher,UNCRD,"ICT Strategy and e-government in Japan: Incorporating Participatory Planning and Human Security in e-government Initiatives".

ITU-T Recommendation G.981, "Broadband optical access systems based on passive optical networks (PONs)," 1998.

JP Morgan Securities,Inc.New York, "Broadband 2001.A Comprehensive Analysis of Demand ,Supply, Economics, and Industry Dynamics in the U.S. Broadband Market", April 2001.