Nirmal Kihsor Prasad
Principal
National Informatics Centre
nk.prasad@nic.in
SCORE (System for Computerised Registration) Version 2 i.e. (Vinayak) is an ICT solution incorporating all instruments under Acts for property registration in Bihar.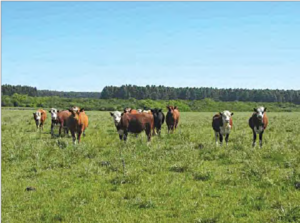 Land registration is mainly designed for the purpose of giving legitimacy to the land deed. At present there are 111 registration offices located at different places of Bihar functioning under the Registration Department. Out of these, 38 offices are at District Registration offices headed by District Sub-Registrars and 73 offices are Sub-registry offices headed by Sub-registrars. The vision is to have exemplary e-Governance in the registry offices, completely automated processes with less paper use, to provide the efficient Government to Citizens (G2C) services, and to have state-of-art record archival system at all registry offices of Bihar.
The objectives of the project are to do away with the manual land registration, design and development of work-flow based ICT solutions, rapid replication of the software solution to all 111 registry offices, quick delivery of original registered deeds to parties, extensive use of state-of-the-art technologies like web-camera, finger print scanners etc., and simplification, transparency, accountability to be achieved through Government Process Re-engineering (GPR).
SCORE-2

SCORE (System for Computerised Registration) Version 2 i.e. (Vinayak) – an ICT solution incorporating all instruments under Acts for property registration in Bihar has been designed, developed and implemented by the National Informatics Centre, Bihar State Centre, Patna. Hundred and eleven registry offices of the state have been SCORE-2 enabled in the record time of three months on an innovative as well as indigenously evolved cost-effective implementation model of Hardware on Hire Basis (HOHB) yielding sharp increase in state revenue, an accrual of INR  0.25 million of fund in BISCORE society (a society formulated to run the business) within 15 months, creating ample job employment and healthy competition among the local entrepreneurs. SCORE-2 also demonstrates the innovative use of the state-of-art technologies like finger print biometrics devices, web camera, and scanners etc. It completely and effectively transformed the 200 old system of manual property registration to Small Office Home Office (SOHO) with less-paper office. The SCORE-2 system is also exemplary in healthy result oriented public/ private collaboration and the entire scheme is self-sustainable and verifiable.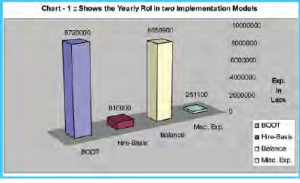 Moreover, a unique concept, which is innovative and first of its kind, was adopted in Bihar with the implementation of the bank challan (official receipt for payment or delivery) for the deposit of stamp duties/ registration fees/ additional stamp duties with the doing away of submitting stamp papers. The cash transaction is completely stopped. The SCORE-2 system not only facilitates quick registration and delivery of deeds but with numerous reforms such as the government process re-engineering, record keeping transactions have become very simple, transparent and accountable. SCORE-2's online instantaneous help-desk for public for verification of required stamp duty, registration fees and requisite enclosures has brought public more closer to each and every registry offices of the state. The monotonous jobs like maintaining so many registers for these registered deeds have been taken care by the SCORE-2 back-office computerisation modules. The overall revenue has increased manifold, through the induction of SCORE-2 for e-Registration of properties in Bihar.
Recently seeing the growing demand, the land and revenue department with the help of NIC has started Mobile Registration Offices at various identified locations of Patna. It worked for entire month of June 2007. This was again first of its kind in the country.
HOHB: Implementation Model
One of the key objectives of NIC was to formulate and put forth an innovative implementation model for those projects, which are citizen centric and large scale in nature. Effective management of 3MT (Men, Money, Materials, Technology) was also a prime objective for    devising this new implementation model. Hardware on Hire Basis (HOHB) model of implementation was evolved and SCORE project scored another landmark in HOHB implementation model rejecting the Build, Own, Operate and Transfer (BOOT) model, which was already deployed at the Registry Office, Patna Sadar by the Electronics Corporation of India Limited (ECIL).
Comparative figures of RoI (Return on Investment) assessment by taking into account an average load of 90 deeds per day and working days of 25 days per month along with an upper value of monthly rent on hire basis as INR. 30,000 and service tax at the rate of 12.5% implemented in two different models BOOT vis-à-vis HOHB, is discussed in the figure. Here, the assumption is deed comprising of 12 pages and service charge at the rate of INR. 30  per page as charged by ECIL. The comparative analysis reveal that only 8 per cent of total expenditure for one year through BOOT are being incurred in HOHB. Thus, a hefty amount of 92 per cent of the income is generated through HOHB. The objectives behind HOHB model is to give opportunity to local vendors for developing themselves as entrepreneurs.
It has created employment for 500 data entry operators, local trained youths, who have been entrusted with sales tax and other duties against hardware heavy purchase. A state level BISCORE (Bihar Society for Computerisation of Registry Offices) Society is being formulated to run the government business in the registry offices. The revenue is being saved in the BISCORE Society, which is presently worth INR 0.4 million. The intention is to use the fund in developing the infrastructure of the registry offices, facilitating best possible public facilities to the citizens coming for registration of deeds. In a nutshell, the experimentation was done to have model offices in the premises of district administration.
HOHB – An Overview

For 111 Registry Offices (i.e., 38 district registry offices and 73 sub-registry offices) 14 vendors have been identified, after a centralised tendering process. Property registration deals with confidential information of the citizens, and therefore, security features are embedded within the tendering system since any lapses on any part will not only lead to loss of public confidence on the system but also put the department at a heavy risk. The service spread for each vendor was further squeezed to maximum of 10 registry offices. The unit concept for set of hardware is proposed. One unit comprises of a server, four clients, two laser printers, scanner, finger print scanner, web camera, switch, anti-virus, operating system, oracle and one service engineer at the site. It is estimated that 50 to 60 deeds can be fairly registered with one unit. Likewise units will go in multiple proportion with the increase of deeds. The other expenses like generator, diesel, and consumables i.e., paper, toner cartridges, external storage media like CDs, USB based external hard disks, operator remuneration are borne by the registry offices.
These expenses are met by the income generated by collection of funds as service charges from citizens at the rate of INR 20 per page of deed for all types of deeds except sale, gift, exchange, where services charge per page is at the rate of INR 25. The extra money that is charged is for sending a printout of the deed for auto-mutation of the property at the circle level.   On an average, as per the statistics, per year 1 million deeds are registered across all 111 registry offices, leading to a revenue generation of INR. 14.85 million (approximately).  Thus, the HOHB leads to a self-sustainable system with huge saving, revenue earning and is therefore, a win-win implementation model.
HOHB – Advantages
Entire requirement in terms of hardware and system software as a unit is obtained on a monthly rental basis.

The monthly rental cost is cost-effective and affordable

Maintenance of the machines is the sole responsibility of the vendors

Vendors have a stock of spares for instantaneous service in order to avoid the heavy penalty for a day's failure

A service engineer at each office of the vendor is available for instantaneous rectification of any hardware related problems within the monthly rent

The service engineers have also been trained to provide software solutions like SCORE-2 installations, quick technical support on system software and application software.

Registry offices need not bother about the hardware related issues

Agreement with vendor is for one year and extension/renewal is be subject to their performance

Not less than 30 vendors are in the empanelled list to meet any exigency

Renewal imposes certain further requirements on hardware and software on vendors as per the requirement and prevailing hardware technology

There is healthy competition among the vendors for providing best services and getting more jobs

Industry gets ample opportunity to provide the competitive price and qualitative services

A helping attitude from vendors for project success and there is no expectation from vendors' side except timely payment of their monthly rent and a recognition of their pivotal role in overall success
Registration Business Processes
SCORE-2 has been a user-friendly software package designed on the Windows based clients/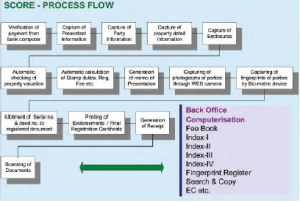 server technology. The database being used  is ORACLE8i and the front-end application is on D2K with security features like user-id, password along with roles and privileges.
The features of the SCORE-2 are: online capture of details of deed, auto-valuation of the property(s) based on the Minimum Value (MVR) requisite criteria, auto-calculation of required stamp duty, additional stamp duty, registration and other fees, capturing of photograph and fingerprints of parties, generation and printing of all endorsements, receipt, memo of presentation and final registration endorsement in Hindi. Last but not the least, scanning of the deed is done to mark the completion of registration process. Every deed bears a unique token number as a combination of running number and year. All registered deeds are allotted a running serial number and book wise deed number.
Advantages of ICT Solution
The SCORE-2 facilitates the Online Registration of deeds with following reforms in the business.
Simplification of the registration process with the help of automated procedures resulting in delivery of original deeds in about 20 to 25 minutes

Transparency and accountability of registered deeds

Speedy, reliabile and one-stop non-stop disposal of deed registration

Auto-valuation of property based on MVR

Auto-calculation of stamp duty, additional stamp duty (if any), registration fee and other subsidiary fees (if any)Photo and fingerprints capture of parties (executants and claimants), identifier

Generation and printing of memo of presentation, all endorsements, receipt and final registration endorsement and all statutory reports

Stamp duty, registration fee may be directly deposited in treasury banks

No need of stamp papers, resulting in elimination of black marketing of stamp papers as well as use of fake stamps
Preservation and archival of registered deeds on the electronic media like CD-ROMs
The implementation of the SCORE-2 project reveals the fact that despite best available solutions we should not simply adopt a particular solution, rather we should do a SWOT analysis. Some times they very well fit the requirement and  many a times they are not at all conducive to our own conditions and environments. Deep involvement and analysis on various alternatives result in devising models.
The outcome of the above exercise i.e. SCORE-2 on HOHB is that one can very well adopt the HOHB implementation model for rolling out large scale, public utility projects with the collection of token money from citizens for efficient services and disbursing a small part of the fund so collected on monthly rent payment to the involved entrepreneurs, The balance fund can very well be utilised for creating requisite facilities for public and other infrastructure for evolving a model office.
In the whole implementation of SCORE-2 and HOHB, the land and revenue department's own investment has been nil. Thus, it is an eye-opener for the other state government departments providing citizen-centric  services, wich can deploy their large scale ICT based solutions on the HOHB Model with multifaceted benefits. This is just a beginning, there is still miles to go.
Follow and connect with us on Facebook, Twitter, LinkedIn, Elets video