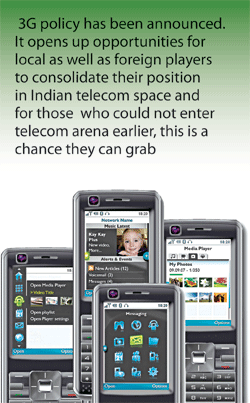 After three long years of agonising wait, India  finally announced its much awaited third generation (3G) policy for the telecom players. But there is a catch  this policy has some roadblocks for both local and foreign players who want to enter the Indian telecom space.
Ideally, the new policy for 3G mobile systems would bring greater consumer choice, lower prices, better competition and major opportunities for telecom players. However, with its hefty entry price and a few inconsistencies (discussed later in the article), this policy could well end up favouring Bharat Sanchar Nigam Limited (BSNL) and Mahanagar Telephone Nigam Limited (MTNL), the two state-owned telecom players, making competition and cut-throat for private players .

The 3G policy was recently unveiled  by the Union Telecommunications and IT, Thiru A. Raja. It opens up opportunities for local as well as foreign players to consolidate their position in Indian telecom space and for those who could not enter telecom arena earlier to try their luck now!
3G is the third generation or the next level of mobile phone standards and technology, based on the International Telecommunication Union (ITU) family of standards under the International Mobile Telecommunications (IMT) programme, IMT-2000. It supersedes 2G, currently the most widely-used standard that is meant mainly for voice.
Technically, the main difference between 3G and the earlier generation networks is the speed of sending and receiving the data. 3G networks allow data transmission at a much higher speed than 2G, which means that with 3G network access one can not only use the usual voice  call (better quality) and messaging services, but also video calls, live TV, Internet access and music and video downloads.
India is already late in joining 3G band wagon It is already in operation in around 40 countries, including our neighbour Pakistan. Even as India has emerged as the fastest-growing mobile market in the world, and is expected to continue the growth rate , falling call rates have resulted in major dip in Average Revenues Per User (ARPU) for telecom companies,who are betting big on  Value Added Services (VAS) give big boost to their ARPU's.
Also, 3G promises to be a boon for rural India as well, as it it pitched to revolutionise social and economic development services like e-Governance, tele-education, telemedicine etc. But its effectiveness on ground is a topic of debate as  initially 3G services will be launched in the metro and no time frame  has been given in ternms of the availability of services for rural India. Still, it comes with a severe entry barrier. The policy sets just two slots for 3G players in New Delhi and Mumbai – the two largest and most lucrative megacities in the country for telecom services – and one has been reserved for the state-owned telecom player, MTNL.
"Spectrum in 2.1 GHz band will be allocated for 3G telecom services throughout the country," Raja told a press conference, adding some 60 MHz of spectrum was available for wireless telephony in the country. He further added "We may give licences to up to 10 operators. It depends on the availability of spectrum. Initially, we will have five players. In Delhi and Mumbai, there will be two operators only. The validity of the licence will be 20 years."
He said a reserve price of INR 1.6 billion ($40 million) had been fixed for Delhi, Mumbai and all 'A' category circles, half that for Kolkata and 'B' category circles and INR 300 million ($7.5 million) for category 'C' circles. The base price would add up to INR 28 billion for an all-India licence and the government expects to earn more than INR 300 billion ($7.5 billion) from the auction of spectrum for 3G services.
Raja said his ministry was also in talks with the National Security Advisor M.K. Narayanan, who has been entrusted with the task of determining the amount of the spectrum available with the defence forces which can be used for civilian purposes. However, if one  recalls, release of spectrum by defence was a major cause of delay in  3G policy. Although, the minster says that India has "set aside 60 MHz of spectrum" for rolling out 3G services, the fact is that much of this – rumoured to be 45 MHz – is still lying with the country's defence establishment. The minister also said that "the army will release this spectrum soon," but there are lot of ifs and buts in this.
But even if 3G spectrum comes cheaper in other cities, the policy imposes a heavy burden for new players in another form. Besides paying for the 3G spectrum, new players winning the 3G bids will have to pay an additional US$392 million for a mandatory universal access service licence, which means that the new player will also have to roll out 2G along with 3G.
Then, there are other bottlenecks as well. The new players have to roll out their services to cover 90 percent of the area in cities like Chennai, Bangalore, and Hyderabad in five years – and 50 percent in all other cities. If the roll-out obligation is not met after a grace period of another year, the spectrum allocation would be withdrawn. Details are still awaited for clarification on what happens to the money paid initially. Those who would want to roll out 3G across the country, the price is mind boggling, with the reserve set at almost half a billion dollars for a pan-India 3G licence.
Another major issue that was  holding 3G back was the conflict between the strong but opposing lobbies of Global System for Mobile communications (GSM)-based and Code Division Multiple Access (CDMA)-based operators. The two have been battling, each blaming the other for 'sitting on spare spectrum' acquired in the past from the government by misrepresenting requirements. These two lobbies have been fighting with the government too, demanding a resolution of this issue before ushering in any new players or services in the country. Nevertheless, even if the minister is silent on how he plans to tackle these controversies before going ahead with the 3G auction – expected to start in about six months – there are indeed a few upsides.
Sandeep Budki is Senior Corenspondent, egov
sandeep@egovonline.net
Kerala Government Bans Mobile Phone Usage in Schools
Kerala government banned the use of mobile devices in the school premises following the rising instances of misuse of mobile phones in classrooms.
State Home Minister Kodiyeri Balakrishnan told the assembly, "What we had till now is merely a government order stating that mobile phones can't be used in schools. But now we will introduce new laws to this effect, banning the use of mobiles in all schools."
The ban would also be implimented in the higher secondary schools as well. This move of the government came after a girl student attempted suicide after she was allegedly trip-searched in class to check if she was carrying a mobile phone.
The incident was an outcome of a paranoia that has set in among the authorities due to the rampant misuse of mobile phones. Such incidences in the last couple of months led to a growing demand for banning mobile phones in schools.
iPhone 3G Launched in India, Singapore and Phillipines
At the stroke of the midnight on 22nd August 2008 iPhone 3G handsets were launched in India, Singapore and Phillipines. Enthusiastic presence of cutomers and people was witnessed at the launch parties in these countries.
In Singapore, the launch was organised and held by SingTel- the first of the three carriers in the country that inked an agreement with Apple to sell the mobile device. In India SingTel's-affiliate Bharti Airtel and Vodafone Essar have contracts with Apple to bring the phone to the Indian market.
Bharti has launched the same in Delhi, Mumbai and Bangalore. While Globe Telecom has exclusive distribution rights in Philippines. Operators are offering the iPhones in two variants: 8GB and 16GB, with different prices in different markets.